Culture geek
Joueur du Grenier. Publicité iPhone 6 - Anthony Kavanagh - une vidéo Comédie et Humour. WTF Japan Seriously. Mac vs. PC (pubs Apple)
Wii homme/femme. Alpine Legend. tRoU dU cULz hiDEoUt. Oh Crap. My Parents Joined Facebook. Teens on Facebook GOL (grumble out loud) as mothers become friends - latimes.com. Tim Burton's Secret Formula - CollegeHumor video. Webcomics. LE DEMOTIVATIONAL POSTER, ICONE DE L'INDUSTRIE AMERICAINE DU LOL. Pris dans sa globalité, le web français est un peu gros chat que sa maitresse aurait trop gavé de viandes en sauce.
Il a du mal à bouger son gros cul, il est très prévisible et n'est franchement pas très marrant. L'inverse d'un LOLcat quoi. Moi je vous dis ça comme ça mais dans le fond j'en ai un peu rien à foutre que les gens soient sinistres. En fait, c'est surtout Vincent Glad que ça chiffonne. Pour ceux qui ne lisent pas BienBienBien, l'ami Vincent, qui avait sorti son ton de maitre de conférence à l'ESJ pour l'occasion, nous expliquait en début de semaine que la France Numérique n'est globalement pas LOL.
Very Demotivational Posters That Demotivate Us. Google Releases New "Fuck You iPhone" Phone. The Secret Lives of Stormtroopers. Crackpot index. John Baez A simple method for rating potentially revolutionary contributions to physics:
Guy Posts His Sister's Hookup List To Facebook… And Tags All The. A girl named Katie found a twelve-pack of beer in her teenage brother's room and ratted him out to their parents.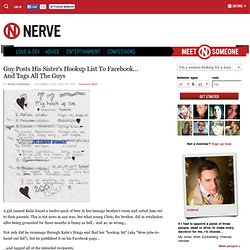 This is not news in any way, but what young Chris, the brother, did in retaliation after being grounded for three months is funny as hell... and so, so wrong... Not only did he rummage through Katie's things and find her "hookup list" (aka "blow-jobs-to-hand-out list"), but he published it on his Facebook page... ...and tagged all of the intended recipients. Then he engaged in a comment war with his sister while the subjects of this list weighed in: The awful thread continues here. Chuck Norris Facts. Mozinor. Mozinor.
---