Copie, plagiat & faux
Get flash to fully experience Pearltrees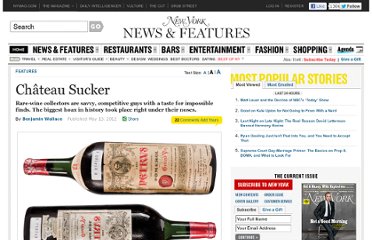 E ven at Rudy Kurniawan's coming-out party in September 2003, there were questionable bottles of wine. A score of Southern California's biggest grape nuts had gathered at the restaurant Melisse in Santa Monica that Friday for a $4,800-a-head vertical tasting of irresistible rarities provided by Kurniawan: Pétrus in a dozen vintages, reaching as far back as 1921, in magnums.
The internet has made plagiarism much easier and by most accounts plagiarism is increasing rapidly. As a result, over a million instructors now use services like Turnitin , a plagiarism detector that compares submitted manuscripts against a large database of material, including previously submitted manuscripts. What is less well appreciated is that Turnitin also sells its services to students.
Nearly everything we buy nowadays is electronically scanned to ensure that we paid for the items in our bags—and under our coats.
[Liens en chinois] A la sortie de Shenzhen (深圳) se trouve un village dont vous n'avez probablement jamais entendu parler : Dafen (大芬). Il est récemment passé d'une population d'à peine 300 habitants à une colonie de 8000 artistes à temps plein qui produisent le montant incroyable de 60% des peintures à l'huile faites dans le monde.
Ils sont une poignée en France : universitaires victimes directes ou collatérales du plagiat, ils investissent la Toile pour lutter contre cette pratique restée longtemps taboue.
Dans un chat avec Jean-Noël Darde , maître de conférences en sciences de l'information à Paris-VIII, les lecteurs du Monde s'étonnaient d' apprendre qu'il n'est pas rare que des thésards, voire des universitaires plus gradés, aient le culot de plagier entièrement d'autres travaux, passés inaperçus, ou, mieux encore, rédigés dans une autre langue.
By Ed Dante Editor's note: Ed Dante is a pseudonym for a writer who lives on the East Coast. Through a literary agent, he approached The Chronicle wanting to tell the story of how he makes a living writing papers for a custom-essay company and to describe the extent of student cheating he has observed.
De plus en plus d'universités utilisent des outils permettant de traquer les étudiants plagiaires. Est-il réellement nécessaire de mener le combat contre ces pratiques issues d'une évolution culturelle? L'Ontario vient de faire l'acquisition du programme Turnitin de détection du plagiat, lequel sera opérationnel dans toutes les écoles publiques de la province à l'automne prochain.
Plagiaires, faussaires & arnaqueurs dans l'art