Les 3 blogs indispensables & le Framapack
Framapack - L'installeur de logiciels libres. Framapack : le logiciel libre a son marché en ligne - Numerama. Qui a dit que le logiciel libre n'était pas une alternative crédible aux logiciels propriétaires ?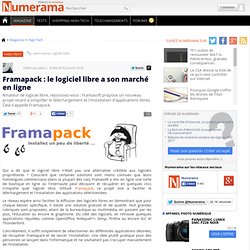 Conscient que certaines solutions sont moins connues que leurs homologues commerciaux (dans la plupart des cas), Framasoft a mis en ligne une sorte de boutique en ligne où l'internaute peut découvrir et récupérer en quelques clics n'importe quel logiciel libre. Intitulé Framapack, ce projet vise à faciliter le téléchargement et l'installation des applications sélectionnées. Information aesthetics - Information Visualization & Visual Comm. A Periodic Table of Visualization Methods. 40 Useful and Creative Infographics.
Information graphics (or infographics) are graphical depictions of data and information.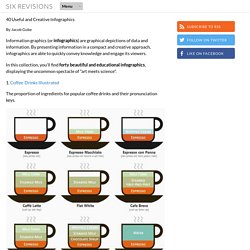 By presenting information in a compact and creative approach, infographics are able to quickly convey knowledge and engage its viewers. In this collection, you'll find forty beautiful and educational infographics, displaying the uncommon spectacle of "art meets science". 1. Coffee Drinks Illustrated The proportion of ingredients for popular coffee drinks and their pronunciation keys. 37 Data-ish Blogs You Should Know About | FlowingData. You might not know it, but there are actually a ton of data and visualization blogs out there.
I'm a bit of a feed addict subscribing to just about anything with a chart or a mention of statistics on it (and naturally have to do some feed-cleaning every now and then). In a follow up to my short list last year, here are the data-ish blogs, some old and some new, that continue to post interesting stuff. Data and Statistics By the Numbers - Column from The New York Times visual Op-ed columnist, Charles Blow, who also used to be NYT's graphics director.Data Mining - Matthew Hurst, scientist at Microsoft's MSN, also the co-creator of BlogPulse.Statistical Modeling - We might disagree on certain things, but Andrew's blog is one of the few active pure statistics blogs.The Numbers Guy - Data-minded reporting from Carl Bialik of the Wall Street Journal.Basketball Geek - Like statistical analysis and basketball?
Le "densitomètre". Le "scanographe" Outils Froids. Christophe Deschamps (crid) Une mindmap pour mettre Outils Froids au service des veilleurs. Ressources Outils Froids - Infos Outils Froids Après 7 ans d'activité il était temps de mettre un peu d'ordre dans les quelques 1887 (+1) billets publiés sur ce blog, ou plus exactement de faire apparaître leur cohérence.
Ceux qui me suivent depuis longtemps connaissent mes thèmes favoris, en revanche ceux qui découvrent Outils Froids peuvent passer du temps à en chercher le fil rouge. Quel est-il?
---