BDD de vidéos
Cours académiques / Enseignement supérieur
YouTube Insight Overview
We launched YouTube Insight a year ago to help you better understand your viewers and how they engage with your videos. Along the way, we've introduced features like Demographics, Hot Spots and Community to give you sophisticated ways of analyzing viewer data. Whether you want to know how old your audience is, how many times your most viewed video was rated last week, or which minute of your clip is most engaging, YouTube Insight can give you the answer.
Insight Data: Any Way You Want It, That's the Way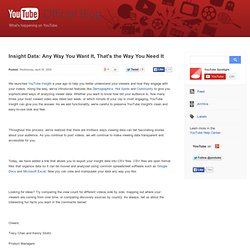 Insight into YouTube videos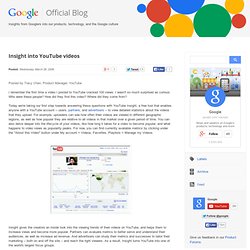 Posted by Tracy Chan, Product Manager, YouTube I remember the first time a video I posted to YouTube cracked 100 views. I wasn't so much surprised as curious: Who were these people? How did they find this video?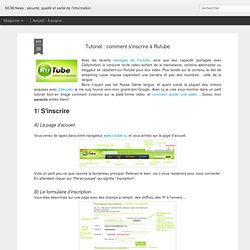 Tutoriel : comment s'inscrire à Rutube
Avec les récents ménages de Youtube, ainsi que leur capacité (partagée avec Dailymotion) à censurer toute video sortant de la bienséance, certains webmaster ou bloggeur se rabattent sur Rutube pour leur vidéo. Plus laxiste sur le contenu, le site de streaming russe impose cependant une barrière et pas des moindres : celle de la langue. Alors n'ayant pas fait Russe 3ième langue, et ayant oublié la plupart des notions acquises avec Zakouski, je me suis tourné vers mon grand ami Google. Avec lui je vais vous montrer dans un petit tutoriel tout en image comment s'inscrire sur la plate-forme video, et comment poster une vidéo ...Suivez mon panache smiley blanc! 1/ S'inscrire A) La page d'accueil
Il y a quelques temps je vous avais présenté la plate-forme de video streaming Rutube, et avais traduit le processus d'inscription. Aujourd'hui nous allons voir comment poster une video sur le site russe. 1/ S'inscrire Pour cela, rendez vous ici, et suivez les instructions.
Tutoriel : comment poster une video sur Rutube