[2010] Top secret America, by The Washington Post
References for the project by the WaPo team
Official & unofficial answers from the US government
Monday, July 19, 2010; 4:50 PM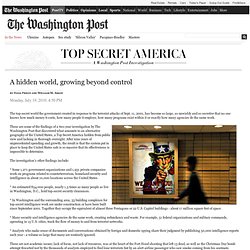 Gallery : Day 1 - A hidden world
An estimated 854,000 workers hold top-secret security clearances.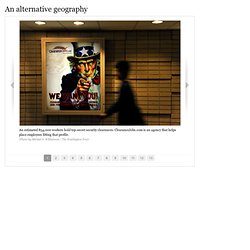 New Directorate of National Intelligence Headquarters and National Terrorism Center Birdseye
Nombreuses photos du bâtiment décrit dans l'article du Post : "Liberty Crossing, the nickname for the two headquarters of the Office of the Director of National Intelligence and its National Counterterrorism Center. [...] Liberty Crossing is at the center of the collection of U.S. government agencies and corporate contractors that mushroomed after the 2001 attacks. But it is not nearly the biggest, the most costly or even the most secretive part of the 9/11 enterprise." by moktarama Jul 19
July 20 : National Security Inc. (Printer friendly version)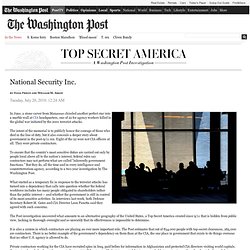 Tuesday, July 20, 2010; 12:24 AM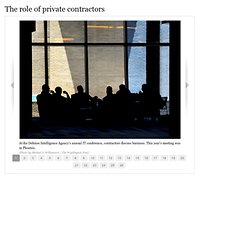 At the Defense Intelligence Agency's annual IT conference, contractors discuss business. This year's meeting was in Phoenix.
Gallery : Day 2 - National security Inc.
Video : Day 2 - National security Inc.
July 21 : The secrets next door (Printer friendly version)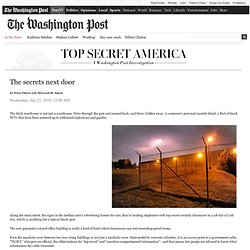 Wednesday, July 21, 2010; 12:00 AM The brick warehouse is not just a warehouse. Drive through the gate and around back, and there, hidden away, is someone's personal security detail: a fleet of black SUVs that have been armored up to withstand explosions and gunfire.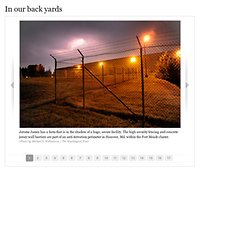 Jerome James has a farm that is in the shadow of a huge, secure facility. The high security fencing and concrete jersey wall barriers are part of an anti-terrorism perimeter in Hanover, Md. within the Fort Meade cluster. (Photo by Michael S.
Gallery : Day 3 - The secrets next door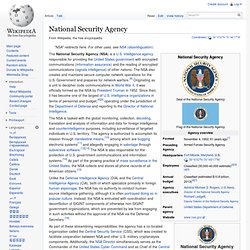 The National Security Agency ( NSA ) is a cryptologic intelligence agency of the United States Department of Defense responsible for the collection and analysis of foreign communications and foreign signals intelligence , as well as protecting U.S. government communications and information systems , [ 1 ] which involves information security and cryptanalysis / cryptography .
National Security Agency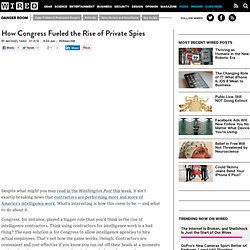 How Congress Fueled the Rise of Private Spies | Danger Room
Despite what might you may read in the Washington Post this week , it ain't exactly breaking news that contractors are performing more and more of America's intelligence work . What's interesting is how this came to be — and what to do about it.
Gallery of anti-deception technologies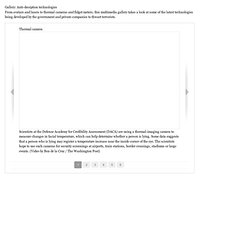 Gallery: Anti-deception technologies From avatars and lasers to thermal cameras and fidget meters, this multimedia gallery takes a look at some of the latest technologies being developed by the government and private companies to thwart terrorists. Previous