Tarocchi
Tarot cards, reviews, information and insight, at Illumination Tarot. Illumination Tarot - Reading for Others. Illumination Tarot - Original Spreads: Introduction. Mystic Dreamer Tarot. Wiccan Moonsong - Tarot Readings. Tarot and Oracle Card Reading Merry Meet :)) I have been working with the tarot for several years now.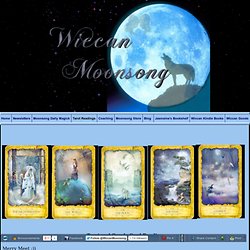 The tarot is a divination method that can help to shed insight to the questions you have in your life. The main deck that I work with is the Mystic Dreamers tarot deck. It was the first tarot deck that I ever worked with and it still is my favorite. The Tarot Garden Database. Welcome to the Tarot Garden -- Your Source for Unusual, Hard-to-Find, and Rare Collectible Tarots! Tarot - Free Tarot Readings from Byzant. FREE Tarot Readings. Free Tarot Readings. Free Tarot Readings. Tarot eCards Universal Tarot App. Tarot: Crowley Thoth Deck On-line Reading. Tarot Spread Tutorial : 3 Card Spread. What the Spread Reveals This is a very simple yet useful spread, that can have a wide range of meanings assigned to each of the three positions.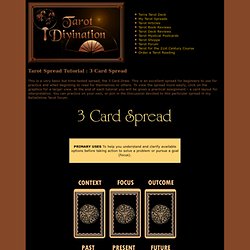 Two of these are presented here for your consideration. Tarot Spread | Celtic Wings | Planet Waves. Peeling The Cosmic Onion – Tarot And Quantum Physics | Relativity OnLine. From India Corespondent Divyaa Kummar… On such things as matter, we have all been wrong- what we called matter is energy whose vibration has been so lowered as to be perceptible to the senses.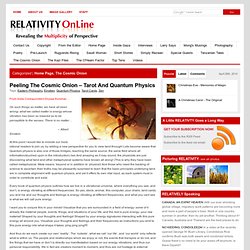 There is no matter… – Albert Einstein At this point I would like to include our more rational readers to join us, by adding a new perspective for you to view tarot through! Tarot: a tribute in seven parts. By Sarah Taylor As of this week, I'm changing tack away from the mid-week tarot article to focus on other areas of my professional life.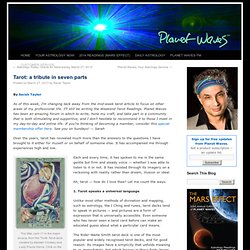 I'll still be writing the Weekend Tarot Readings. Aces in Tarot - Tarot. In the Tarot, the Aces are equivalent to the number 1.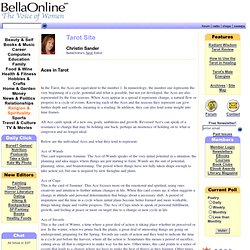 In numerology, the number one represents the very beginning of a cycle, potential and what is possible, but not yet developed. the Aces are also represented by the four seasons. When Aces appear in a spread it represents change, a natural flow or progress to a cycle of events. About | innerstellarmedium. The innerstellarmedium is a place in cyberspace where we can meet face-to-face.Astrology + Tarot Readings via live video consultation with interactive graphics.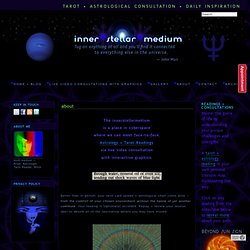 Better than in-person, your tarot card spread + astrological chart come alive — from the comfort of your chosen environment without the hassle of yet another commute. Your reading is [optionally] recorded. Replay + review your session later to absorb all of the fascinating details you may have missed. Wielding the sword of integrity: Justice and Adjustment. Editor's Note: If you want to experiment with tarot cards and don't have any, we provide a free tarot spread generator using the Celtic Wings spread, which is based on the traditional Celtic Cross spread.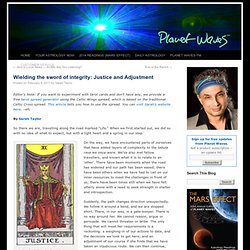 This article tells you how to use the spread. You can visit Sarah's website here. –efc By Sarah Taylor So there we are, travelling along the road marked "Life." Sagittarius in the Major Arcana - the Alchemical link! Let's start our exploration of Sagittarius in the tarot with the Major Arcana.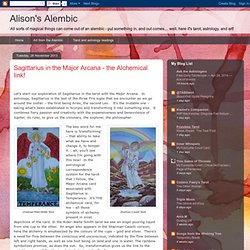 In astrology, Sagittarius is the last of the three Fire signs that we encounter as we go around the zodiac – the first being Aries, the second Leo. It's the mutable one – taking what's been established in Scorpio and transforming it into something else. It combines fiery passion and creativity with the expansiveness and benevolence of Jupiter, its ruler, to give us the visionary, the explorer, the philosopher. The key word for me here is 'transforming' – that ability to take what we have and change it, to temper it... ah, you'll see where I'm going with this now! The tower tarot. Tarot Suit of Wands – Keen. Feeling creative?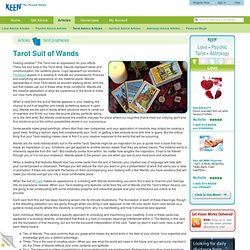 The Tarot has an expression for your efforts. There are four suits in the Tarot deck. Swords represent ideas and communication, the cerebral plane. Cups represent our emotions. Pentacles appear in a reading to indicate our possessions, finances and everything we experience on the material plane. The Tarot. Introduction Tarot cards are popular.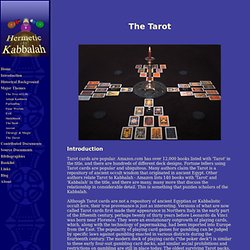 Amazon.com has over 12,000 books listed with 'Tarot' in the title, and there are hundreds of different deck designs. Fortune tellers using Tarot cards are popular and ubiquitous. Many authors claim the Tarot is a repository of ancient occult wisdom that originated in ancient Egypt. Other authors relate Tarot to Kabbalah - Amazon lists 140 books with 'Tarot' and 'Kabbalah' in the title, and there are many, many more that discuss the relationship in considerable detail. Tarot. Divinity, sacrifice, suspension. A reversal of values. The Hanged Man from the 1701-1715 classic "Tarot de Marseille" tarot deck of Jean Dodal. Odin hung upside down from the world-tree, Yggdrasil, for nine days to attain complete wisdom and knowledge. Tarot cards were developed in the early 15th century in parts of Europe for playing trick-taking card games like tarocchini (Italy) and tarot (France). The growth of tarot as a game was tied to the invention of the printing press and the availability of paper.
Tarot Cards. Lenormand. Main Page - Tarotpedia. Tarot_notes [the libarynth] Parn:tarot_tutorial [the libarynth] The Tarot Garden Database. Discover Tarot. How to Choose a Tarot Deck... Tarot -- what's the deal with so many decks? 15 | April | 2012 | Perspectives On Tarot.
Decca Haindl. Decca Thoth. The Pictorial Key to the Tarot. Museo dei Tarocchi - Riola (Bologna) Italy. Tarot Talk: News, Reviews. Diary Dates and Decks. Oracula.
---