Recycle Reuse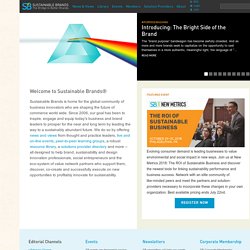 Sustainable Brands is home for the global community of business innovators who are shaping the future of commerce world wide. Since 2006, our goal has been to inspire, engage and equip today's business and brand leaders to prosper for the near and long term by leading the way to a sustainably abundant future. We do so by offering news and views from thought and practice leaders, live and on-line events, peer-to-peer learning groups, a robust resource library, a solutions provider directory and more -- all designed to help brand, sustainability and design innovation professionals, social entrepreneurs and the eco-system of value network partners who support them, discover, co-create and successfully execute on new opportunities to profitably innovate for sustainability.
Sustainable Brands | The Bridge to Better Brands
Call2Recycle | United States
Make the Drop - Orange Drop
Recycling Directory - Throwplace.com - earth friendly resources
Find Your Nearest Recycling Group | Recycling Group Finder
Almost all lead is recycled, among the only elements on the periodic table to earn that distinction. With good reason, mind you: the soft metal is a potent neurotoxic known to impact children's brain development, among other nasty health effects. Today, nearly all lead is used in batteries (though it was once put into gasoline, leading to widespread contamination, and, in places like Afghanistan, still is.)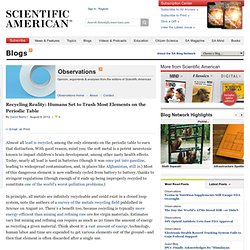 Recycling Reality: Humans Set to Trash Most Elements on the Periodic Table
America Returns
I've often wondered about this. I was shocked with the automakers came out with a unified stand, vehemently against the Open Fuel Standard Act. Robert Zubrin gives a plausible answer in an article in National Review Online entitled, "A Conspiracy in Restraint of Trade." Here it is: In a previous article for National Review Online, I reported on how easy it is to enable the flex-fuel capabilities in modern automobiles, allowing them to run equally well on methanol, ethanol, or gasoline, thereby giving the customer fuel choice and, with it, a substantial opportunity for savings. For example, at current gasoline and methanol prices, the miles per dollar achieved by running my 2007 Chevy Cobalt on methanol is 40 percent higher than that possible with gasoline.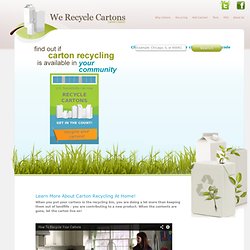 Your community provides for recycling and/or composting of your cartons – either at curbside or drop-off. Check with your local community recycling coordinator to determine which bin to place the cartons in. If your community is not on the list, carton recycling is not available yet. The Carton Council is working to improve carton recycling availability and we hope to include your community soon. Please check later for updates. Interested recyclers can mail-in cartons for recycling.
Recycling Milk and Juice Cartons in your Community and School | Carton Council
Cartons near zip or address, city, state - Recycling Centers - Earth911.com
As we've done for the past several years, EcoGeek went to this year's North American International Auto Show (the Detroit Auto Show) to see what is new in clean and green transportation. However, this year's displays continue to move away from a focus on environmental awareness as a major selling point. This has seemed to be the trend over the past few years. In retrospect, it seems that the peak of the green focus was probably the 2009 Detroit Show. Green isn't gone entirely.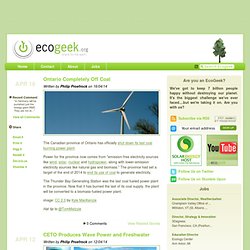 EcoGeek - Brains for the Earth
AfriGadget | Solving everyday problems with African ingenuity
Sulaiman Famro is a cheerful, 65 year old engineer, and a master of branding. He built the prototype "Farmking" three years ago and claims he can save the country $1 billion a year, just in savings on starch importation. The Farmking is a one-stop processing plant for cluster and farm-site processing of root crops and grains.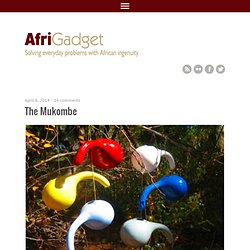 A Kenyan Teen's Discovery: Let There Be Lights To Save Lions : All Tech Considered
YouTube Richard Turere's story is told in a TED Talent Search video from 2012. hide captionRichard Turere speaks at the TED2013 conference in Long Beach, Calif. With a simple invention, the Kenyan teen figured out a way to keep cows and their predators safe.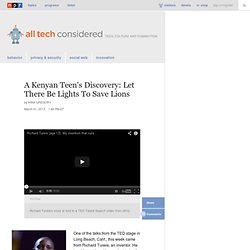 Olympia Dumpster Divers | This Re-Usable Life: recycled art in Olympia, the Pacific Northwest, the USA and around the world with Ruby Re-Usable
Springtide Dancers by Diane Kurzyna Ruby Re-Usable has been reusing plastic bags in her art work since 1999 (Wonder Bread bags since 2000). In 2004 she was commissioned by the City of Olympia to create a piece of art that would be used as the cover image for the spring Arts Walk map, and also become part of the city's public art collection.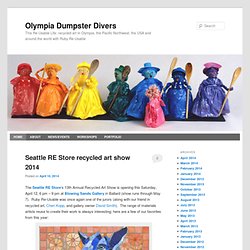 Recyclart, The art of recycling, reusing & upcycling !
The expanding working arena of robotics has made humans obliged to accept them as co-workers, friends and even entertainers in some scenes. Since, the robots are the future; then how about crafting robots from recycled material? Sounds cool and green at the same time! Yes, the robots which will not only serve as a mechanical agent for you but at the same time will also help your motherly earth from the landfills.
Recycled Art: Amazing robots made from trash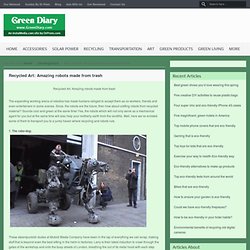 Lion made of Tires AWESOME !
Plastic is Forever - Barbara de Vries
Nope, you didn't read that wrong. Human hair is compostable and recyclable. Hair from your hairbrush or fur from your pet are full of useful nitrogen that can be thrown in the compost pile. Donating your hair could help clean up future oil spills. San Francisco nonprofit Matter of Trust collects human and pet hair to create booms that soak up oil. Currently, warehouses are full, but you can be placed on the email alert list when the need arrives again.
10 Things You Never Knew Were Recyclable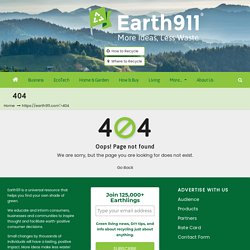 What To Do With Plastic Bags?
When I was staying in a guest house in Bangkok, I taught one of the women working there how to crochet. She was thrilled! And the next day, the guest house owners helped me round up all the kids from the neighborhood and I taught a plastic bag crochet class.
Christmas Tree Made Using 32,000 Plastic Bottles
trash nothing!
Don't throw it away – give it away on Freegle! You might not need that old sofa or wheelbarrow any more – but there might be someone just round the corner who does. Or if there's something you'd like, someone nearby might have one. Lurking in sheds, attics and cupboards all over the UK are items that are too good to throw away, but are not loved or needed anymore. Freegle online groups can help!
Freegle: Don't throw it away - give it away!
The Freecycle Network
FullCircles is a Canadian network of local freecycling communities engaged in re-using and re-absorbing the excess unused, unwanted "stuff" generated by our overheated consumer society. Canadians striving for simpler, less cluttered lives. Click HERE to instantly find a group near you!
FullCircles, Canadians Striding toward Sustainability through Full Circles
ReUseIt.org
Anshu Gupta brings 'clothing for dignity' to India
Anshu Gupta's journey began in 1992 after a 6-year-old girl in New Delhi told him that she hugged dead bodies through the night to keep her warm. Skip to next paragraph Subscribe Today to the Monitor
Unconsumption – Page 1
Unconsumption (unconsumption) on Pinterest
Unconsumption
Recycle it Right – Electronics TakeBack Coalition
Piranha - E-Waste - Services
Target
iFixit: The free repair manual
Réutilisez vos coquilles d'œufs !