NeWeb
EU researchers create prototype for a server-free future internet
Researchers at one of the world's oldest universities, Cambridge, have come up with a prototype for a possible future internet infrastructure that does away with the need for servers. This could help solve the network capacity problems that arise out of the profusion of bulky online content such as video.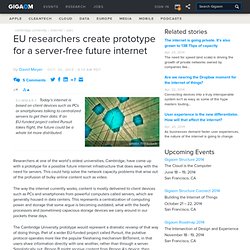 A Hitchhiker's Guide to the Internet: A Brief History of How the Net Came to Be You walk over to your laptop, wiggle your mouse to wake up the screen, then fire up your browser to come visit Null Byte. Catching the article about Anonymous and how they presumably will not take down the Internet, you find yourself wondering... how would someone take down the Internet?
A Hitchhiker's Guide to the Internet: A Brief History of How the Net Came to Be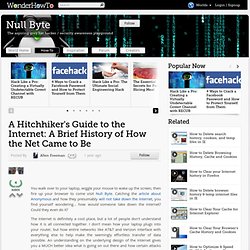 A Hitchhiker's Guide to the Internet: Today and Now, How It All Connects In the first part of this series, we took a factual and technical look at the history of the Internet. I explained how all of these wires and servers got here in the first place.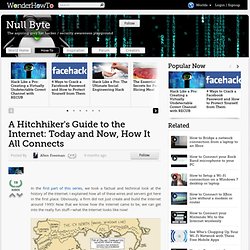 A Hitchhiker's Guide to the Internet: Today and Now, How It All Connects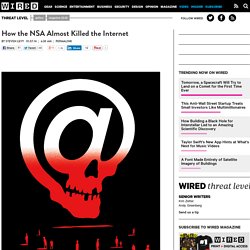 How the NSA Almost Killed the Internet | Threat Level
On June 6, 2013, Washington Post reporters called the communications depart­ments of Apple, Facebook, Google, Yahoo, and other Internet companies.
The Invisible Web refers to the part of the WWW that's not indexed by the search engines. Most of us think that that search powerhouses like Google and Bing are like the Great Oracle"¦they see everything. Unfortunately, they can't because they aren't divine at all; they are just web spiders who index pages by following one hyperlink after the other.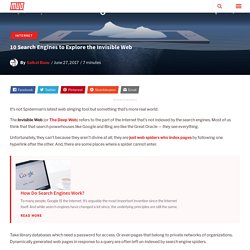 The open source community is vibrant, continually growing, and just loves to create applications and tools to make lives easier. Here are 50 of our favorite open source apps that help us do everything from managing pictures on our computer to learning about Jupiter and Mars. Chandler – An information management application for personal use or small group collaboration. Includes integrated calendaring, data organization tools, and allows backup and data sharing via web access. Tomboy – A cross-platform note-taking application packed with features text highlighting, font styling, inline spellchecking, and more. BasKet Note Pads – More than just a note-taking app, BasKet lets you organize in track data in several different ways, import information from other apps, and easily share your notes with others.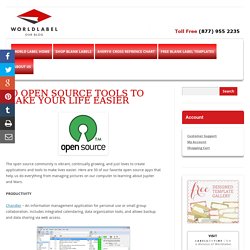 5 reasons you want Google Fiber in your city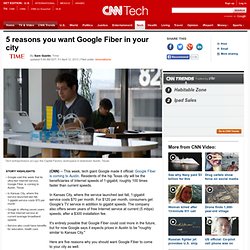 Tech entrepreneurs occupy the Capital Factory workspace in downtown Austin, Texas. Google said this week that its ultra-fast Internet service, Google Fiber, is coming to Austin, TexasIn Kansas City, where the service launched last fall, 1-gigabit service costs $70 per monthGoogle is offering seven years of free Internet service at current average broadband speedsService also could have benefits for education, health care (CNN) -- This week, tech giant Google made it official: Google Fiber is coming to Austin. Residents of the hip Texas city will be the beneficiaries of Internet speeds of 1-gigabit, roughly 100 times faster than current speeds.
OpenDocument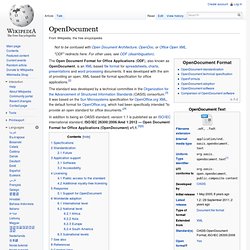 The Open Document Format for Office Applications (ODF), also known as OpenDocument, is an XML-based file format for spreadsheets, charts, presentations and word processing documents. It was developed with the aim of providing an open, XML-based file format specification for office applications.[2] In addition to being an OASIS standard, version 1.1 is published as an ISO/IEC international standard, ISO/IEC 26300:2006/Amd 1:2012 — Open Document Format for Office Applications (OpenDocument) v1.1.[5][6] Specifications[edit]
Comparison of Office Open XML and OpenDocument