Ideas
Readable. Three-Minute Meditation. For those who don't have time to go on a 10-day retreat, here's my 3-minute version.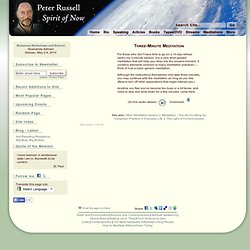 It is a very short guided meditation that will help you relax into the present moment. It contains elements common to many meditation practices — think of it as a basic generic meditation. Although the instructions themselves only take three minutes, you may continue with the meditation as long as you like. The magic button — Make Everything OK. 40 maps that explain the world. Part two: 40 more maps that explain the world Maps can be a remarkably powerful tool for understanding the world and how it works, but they show only what you ask them to.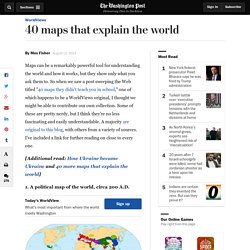 So when we saw a post sweeping the Web titled "40 maps they didn't teach you in school," one of which happens to be a WorldViews original, I thought we might be able to contribute our own collection. Some of these are pretty nerdy, but I think they're no less fascinating and easily understandable. A majority are original to this blog (see our full maps coverage here), with others from a variety of sources.
I've included a link for further reading on close to every one. Born Today - Chatter of Life and Death. Edible Geography. Rent the Chicken. Interesting Structures Archives - Experiment with Nature | Shwood Blog. Everyday Edisons | Emmy & Telly Award Winning PBS Invention Show | Ordinary People Extraordinary Ideas. Liga Contra el Cáncer "15,000" The Peruvian League of fight against cancer, ask us to create a campaign for the no-smoker day in which they had to emphasis the damage that a person who smokes causes on his family, friends and all the people around him.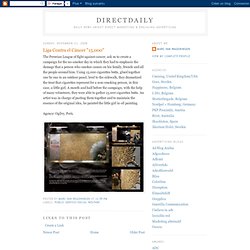 Using 15,000 cigarettes butts, glued together one by one in an outdoor panel, level to the sidewalk, they dramatized the treat that cigarettes represent for a non-smoking person, in this case, a little girl. A month and half before the campaign, with the help of many volunteers, they were able to gather 15,000 cigarettes butts. An artist was in charge of pasting them together and to maintain the essence of the original idea, he painted the little girl in oil painting. Agency: Ogilvy, Perú. DebateGraph. DebateGraph is an award-winning, web-platform for visualizing and sharing networks of thought – and opening reasoning and action to collaborative learning and iterative improvement.Create your own maps and explore and contribute to maps created by amongst others: CNN, the White House, the UK Prime Minister's Office, The Independent, and the Foreign Office.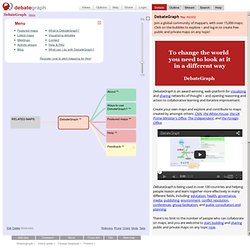 DebateGraph is being used in over 100 countries and helping people reason and learn together more effectively in many different fields, including: education, health, governance, media, publishing, environment, conflict resolution, conferences, group facilitation, and public consultation and planning.There's no limit to the number of people who can collaborate on maps, and you are welcome to start building and sharing public and private maps on any topic now.
Copyright © 2014 Thoughtgraph Ltd. Amusing, but kind of weird quotes... A Freudian slip is when you say one thing but mean your mother.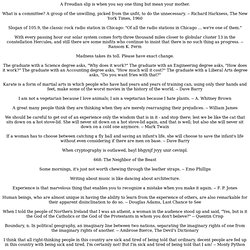 What is a committee? A group of the unwilling, picked from the unfit, to do the unnecessary. -- Richard Harkness, The New York Times, 1960. Things We Forget. Instants! Collection. Cool Material - Stuff Guys Want. Chain Maille. Tribal Theme Illuminated Wall Art and Home Decor. Etruscan Dodecahedra. Fiverr: Graphics, marketing, fun and more online services for $5. Everest - Live your dreams and achieve personal goals. Book Chapters. Sam Harris has contributed chapters to the following books: What should we be worried about?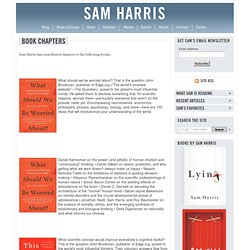 That is the question John Brockman, publisher of Edge.org ("The world's smartest website"—The Guardian), posed to the planet's most influential minds. He asked them to disclose something that, for scientific reasons, worries them—particularly scenarios that aren't on the popular radar yet. Encompassing neuroscience, economics, philosophy, physics, psychology, biology, and more—here are 150 ideas that will revolutionize your understanding of the world. Mystical - Tarot, Symbols, Kabbalah, Biography, Astrology, Quotations, Festivals, Poetry.
Vintage Nudes Playing Cards. 54 Unique by vintageeroticatarot. Sometimes we call them "naked lady cards," sometimes "vintage erotica," sometimes "naughty french postcards.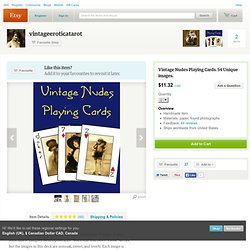 " You could find other "erotic" decks, but the images in this deck are sensual, sweet, and lovely. Each image is carefully chosen for how it captures an instant in time, giving us a glimpse of a woman from the distant past. The images are feminine, sensual, and sometimes just a little bit silly. And not only the women are beautiful, the cards bring you into another world of beautiful lingerie, costumes, Edwardian and 1920s furniture, jewelry, and decor. Bring these cards to your next poker game or ladies bridge club and give your friends a fun treat. Fantasy Portraits | A Story of You. For Everyone.
Maximum Wage. Ishmael.org. Ishmael Meet IshmaelComments and Reviews of IshmaelThe Ishmael Companion -- Ishmael in the classroomThe Annals of Ishmael -- History and Memorabilia of Ishmael Ishmael excerpts Meet Ishmael.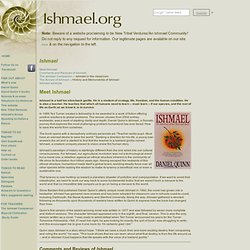 BIM - Mission. The mission of the (B)IM Project is to make theatre accessible in Lebanon by performing for free, in site -specific locations across Lebanon.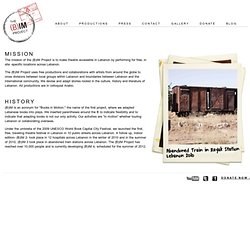 The (B)IM Project uses free productions and collaborations with artists from around the globe to cross divisions between local groups within Lebanon and boundaries between Lebanon and the international community. We devise and adapt stories rooted in the culture, history and literature of Lebanon. All productions are in colloquial Arabic. (B)IM is an acronym for "Books in Motion," the name of the first project, where we adapted Lebanese books into plays. We inserted parentheses around the B to indicate flexibility and to indicate that adapting books is not our only activity. IndyAct. Learn in this section about what IndyAct is all about, how it started, its structure, how it functions and more.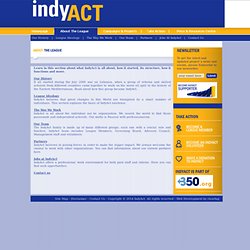 Our History It all started during the July 2006 war on Lebanon, when a group of veteran and skilled activists from different countries came together to work on the worst oil spill in the history of the Eastern Mediterranean. Read about how this group became IndyAct. League Ideology IndyAct believes that great changes in this World are transpired by a small number of individuals. This section explains the basis of IndyAct existence. A Timothy Leary for the Viral Video Age - Ross Andersen. Meet Jason Silva, the fast-talking, media-savvy "performance philosopher" who wants you to love the ecstatic future of your mind. I want to introduce you to Jason Silva, but first I want you to watch this short video that he made. It will only take two minutes, and watching it will give you a good idea if it's worth your time to read the extensive interview that follows: If you ever wondered what would happen if a young Timothy Leary was wormholed into 2012, complete with a film degree and a Vimeo account, you have your answer: Jason Silva.
Video - Nostalgia for Obsolete Technology Meets DIY Culture in the USB Typewriter. OpenID Explained. OpenID Site Directory. Page: 1 2 3 4 5 6 7 8 9 10 11 12 13 14 15 16 17 18 19 20 21 22 23 24 25 Order: Most Recent First | By Name National Public Radio delivers breaking national and world news. Yamaha Gateway for home entertainment products. Literature, comparisons, technical information, customer support and dealer locator. The Daily Beast. Strong National Museum of Play - The Art of the Brick. Team SeriousFun Landing Page - Home. Team SeriousFun is the new endurance training and fundraising program for SeriousFun Children's Network founded by Paul Newman. Through Team SeriousFun, you will run or walk 13.1 miles or train for a marathon as you make a difference in the life of a child facing a serious illness.
By participating, you will be empowered and given the necessary tools, including a personal coach, to help you raise funds to achieve your physical goals and finish your endurance event. Your hard work and dedication will benefit SeriousFun global network. Join our team today, get in shape, meet new people and have some SeriousFun helping children face the toughest challenges of their lives. A unique online Harry Potter experience from J.K. Rowling. Darwin Awards: Darwin Awards. Books. Words Over Pixels - Daily Photo Inspiration. Benjamin Thomas' One Photo a Day. The Idea Swap. Omer bar-or . past projects. Past Projects Note: float over any of the elements below to see more information about them. · Fun · Projects and creative writing pieces that I found particularly entertaining to create or to use afterwards. · Open Source · This section contains projects on which I worked as part of the open source community. · Programs for Class · A rather self-explanatory group, these are programs that I originally made because they were class assignments.
PocketMod: The Free Recyclable Personal Organizer. How to nap. Quotatio. Personalidad. Mind Maps.
---