G2Done
Google's Ranking System, OKR
as a low effort GTD tool « Licorize' Blog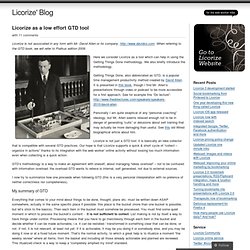 Licorize is not associated in any form with Mr. David Allen or its company, http://www.davidco.com.
The art of the doable to-do list
SExpand Click to viewYour boss needs the updated PowerPoint presentation file by Tuesday. Your spouse wants to know how many vacation days you've got left this year.
Separate your email from your to-do's
Empty Your Inbox with the Trusted Trio
Getting into the Weekly Review habit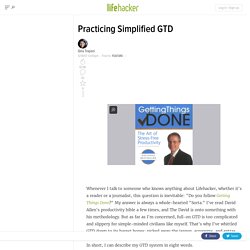 SExpand Whenever I talk to someone who knows anything about Lifehacker, whether it's a reader or a journalist, this question is inevitable: "Do you follow Getting Things Done?" My answer is always a whole-hearted "Sorta."
Looking for the Inbox Zero video? The full 1-hour video for Merlin's Inbox Zero pre­sen­ta­tion at Google is avail­able for free over here — or check out this 43 Folders post for more infor­ma­tion about the video. What's "Inbox Zero?"
Original Inbox Zero Articles (2006) | Inbox Zero
Test Your GTD-IQ