G2Done
Google's Ranking System, OKR. The Pomodoro Technique™ As a low effort GTD tool « Licorize' Blog. Licorize is not associated in any form with Mr.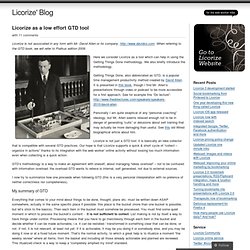 David Allen or its company, When referring to the GTD book, we will refer to Piatkus edition 2009. Here we consider Licorize as a tool which can help in using the Getting Things Done methodology. We also briefly introduce the methodology. Getting Things Done, also abbreviated as GTD, is a popular time management productivity method created by David Allen. The art of the doable to-do list. Separate your email from your to-do's. Empty Your Inbox with the Trusted Trio. Getting into the Weekly Review habit. Practicing Simplified GTD. SExpand Whenever I talk to someone who knows anything about Lifehacker, whether it's a reader or a journalist, this question is inevitable: "Do you follow Getting Things Done?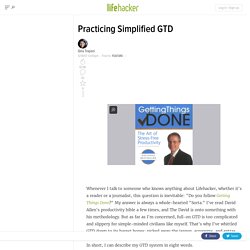 " My answer is always a whole-hearted "Sorta. " Original Inbox Zero Articles (2006) | Inbox Zero. Looking for the Inbox Zero video?
The full 1-hour video for Merlin's Inbox Zero pre­sen­ta­tion at Google is avail­able for free over here — or check out this 43 Folders post for more infor­ma­tion about the video. What's "Inbox Zero?" Test Your GTD-IQ.
---