G2Done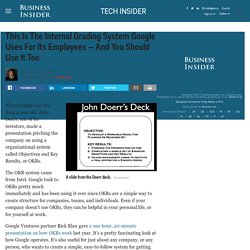 Screenshot A slide from the Doerr deck. When Google was less than a year old, John Doerr, one of its investors, made a presentation pitching the company on using a organizational system called Objectives and Key Results, or OKRs. The OKR system came from Intel. Google took to OKRs pretty much immediately and has been using it ever since.OKRs are a simple way to create structure for companies, teams, and individuals. Even if your company doesn't use OKRs, they can be helpful in your personal life, or for yourself at work.
Google's Ranking System, OKR
as a low effort GTD tool « Licorize' Blog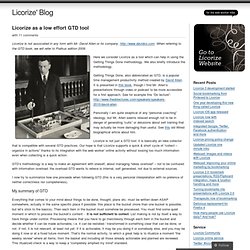 Licorize is not associated in any form with Mr. David Allen or its company, http://www.davidco.com. When referring to the GTD book, we will refer to Piatkus edition 2009. Here we consider Licorize as a tool which can help in using the Getting Things Done methodology. We also briefly introduce the methodology. Getting Things Done, also abbreviated as GTD, is a popular time management productivity method created by David Allen.
The art of the doable to-do list
Separate your email from your to-do's
Empty Your Inbox with the Trusted Trio
Getting into the Weekly Review habit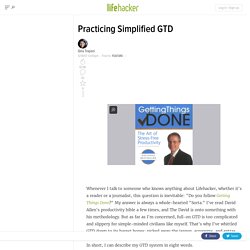 SExpand Whenever I talk to someone who knows anything about Lifehacker, whether it's a reader or a journalist, this question is inevitable: "Do you follow Getting Things Done?" My answer is always a whole-hearted "Sorta."
Looking for the Inbox Zero video? The full 1-hour video for Merlin's Inbox Zero pre­sen­ta­tion at Google is avail­able for free over here — or check out this 43 Folders post for more infor­ma­tion about the video. What's "Inbox Zero?"
Original Inbox Zero Articles (2006) | Inbox Zero
Video: Watch an episode of David's insightful "2 Minutes" series, a GTD Connect exclusive. GTDTube requires JavaScript Audio: Listen to excerpts from David's teleseminar about GTD-Q, and the power of control and perspective. Part 1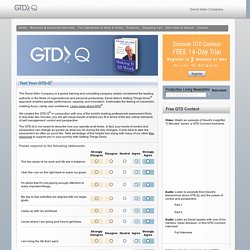 Test Your GTD-IQ