G2Done
Google's Ranking System, OKR
as a low effort GTD tool « Licorize' Blog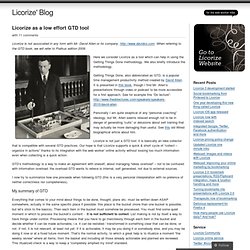 Licorize is not associated in any form with Mr. David Allen or its company, http://www.davidco.com. When referring to the GTD book, we will refer to Piatkus edition 2009. Here we consider Licorize as a tool which can help in using the Getting Things Done methodology. We also briefly introduce the methodology. Getting Things Done, also abbreviated as GTD, is a popular time management productivity method created by David Allen.
The art of the doable to-do list
Separate your email from your to-do's
Empty Your Inbox with the Trusted Trio
Getting into the Weekly Review habit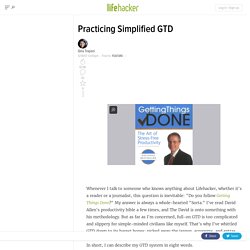 SExpand Whenever I talk to someone who knows anything about Lifehacker, whether it's a reader or a journalist, this question is inevitable: "Do you follow Getting Things Done?" My answer is always a whole-hearted "Sorta."
Looking for the Inbox Zero video? The full 1-hour video for Merlin's Inbox Zero pre­sen­ta­tion at Google is avail­able for free over here — or check out this 43 Folders post for more infor­ma­tion about the video. What's "Inbox Zero?"
Original Inbox Zero Articles (2006) | Inbox Zero
Test Your GTD-IQ