Ecohabitat
SAGE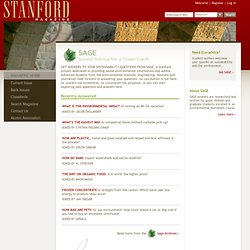 Get answers to your sustainability questions from SAGE, a Stanford project dedicated to providing sound environmental information and advice. Advanced students from the environmental sciences, engineering, business and journalism look forward to answering your questions—no calculation is too hard, no concern too existential, no conundrum too picayune—or you can start exploring past questions and answers here.
Climate Code Red
Solar at Home: Scientific American Blogs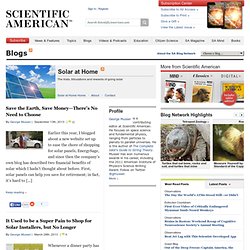 By George Musser | March 28th, 2013 | Whenever a dinner party has an awkward pause and could use a horror story to liven it up, I tell my story of shopping for solar panels. My wife and I started in 2008 and spent months finding an installer.
Equinox Passive House doubles as solar calendar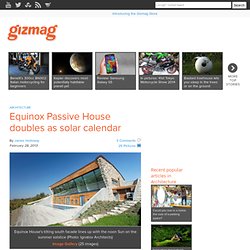 Modern passive house it may be, but as its name suggests, the showstopper at Equinox House in Bulgaria harkens to ancient times when humans built buildings in veneration to heavenly bodies.
Assarag is a photographic project about Berber culture and habitat in Morocco. In Tachelhit , the southern Berber language, assarag indicates the central place in the village where people meet for major events. It is also the core of the house where family life takes place.
The Berbers and their habitat in Morocco by Bart Deseyn - Statement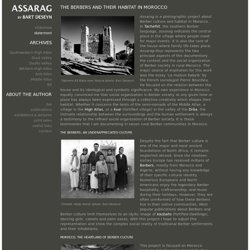 quote from photographer/author: In Amazigh communities building and living are integrated as collective activities. This implies an approach that assigns a preeminent role to the users, the inhabitants. What I'm trying to show is how the habitat emerges in dialogue with the geographical constraints, how habitat fulfills the cultural and social needs of a people, and how Imazighen manage the natural elements in extreme environments to make space habitable.
Ultimate in EcoHabitation. by mojojuju Mar 8
12 Most Amazing Bionic Buildings
12 Most Amazing Bionic Buildings sciencetech" /> This is a guest post written by Andy Boyd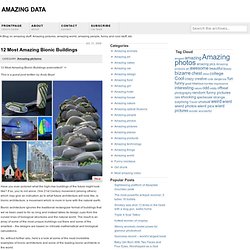 Green Builders | Green Builders
This collection of buildings lets you into the natural aesthetic beauty of bamboo architecture.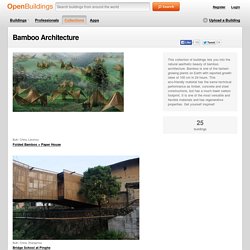 Home - Gaia Psychology
greenopedia
NewEdge Organics
Renew Economy - News and analysis for the clean energy economy : Renew Economy