Ecohabitat
SAGE. Get answers to your sustainability questions from SAGE, a Stanford project dedicated to providing sound environmental information and advice.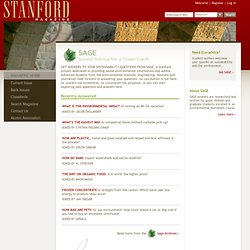 Advanced students from the environmental sciences, engineering, business and journalism look forward to answering your questions—no calculation is too hard, no concern too existential, no conundrum too picayune—or you can start exploring past questions and answers here. Student authors welcome your queries on sustainability and the environment. Ask SAGE » SAGE answers are researched and written by upper division and graduate students enrolled in an environmental journalism course. Learn more »
Climate Code Red. Equinox Passive House doubles as solar calendar. Modern passive house it may be, but as its name suggests, the showstopper at Equinox House in Bulgaria harkens to ancient times when humans built buildings in veneration to heavenly bodies.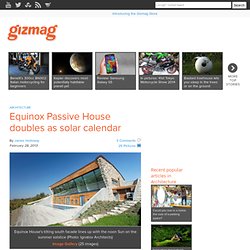 A narrow aperture in the roof transforms the house into a solar calendar leading it's designer, Ignatov Architects, to refer to the house as a "celestial instrument. " View all Essentially a shrunken skylight, the oculus creates a concentrated sunspot inside the living room on clear days. Being Somewhere - Low Impact Living. Tumbleweed Tiny House Company. 12 Most Amazing Bionic Buildings.
12 Most Amazing Bionic Buildings sciencetech" /> This is a guest post written by Andy Boyd Have you ever pictured what the high-rise buildings of the future might look like?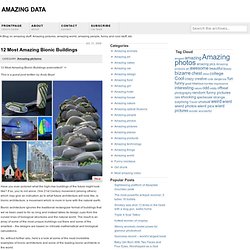 If so, you're not alone. One 21st Century movement (among others) which may give an indication as to what future architecture will look like, is bionic architecture; a movement which is more in tune with the natural earth. Bionic architecture ignores the traditional rectangular format of buildings that we've been used to for so long and instead takes its design cues from the curved lines of biological structures and the natural world.
Green Builders | Green Builders. Bamboo Architecture Collection. This collection of buildings lets you into the natural aesthetic beauty of bamboo architecture.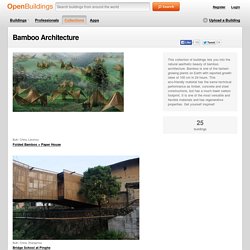 Bamboo is one of the fastest-growing plants on Earth with reported growth rates of 100 cm in 24 hours. This eco-friendly material has the same technical performance as timber, concrete and steel constructions, but has a much lower carbon footprint. It is one of the most versatile and flexible materials and has regenerative properties. Get yourself inspired!
Green Products, Green Building Materials | Green Depot. EcoGeek - Brains for the Earth. Home - Gaia Psychology. Greenopedia. Green Society Association :: Welcome. Green design will save the world | Inhabitat. Inhabitat | Design For a Better World! Organic Consumers Association. Find Locally Grown Food. NewEdge Organics. Renew Economy - News and analysis for the clean energy economy : Renew Economy. One World. Recycle Reuse.
Hearth Home Base. Homestead Planning & Design. Economy. Cultural References. Polymath Renaissance. Practicum. Tending Produce. New Ecology. Neo Eco Ethica. New Healthy Energy. New Practicum. Live Long and Prosper.
GROK. Ensemble. Populating Reality.
---