Ecohabitat
SAGE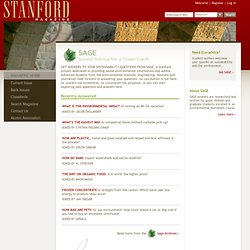 Get answers to your sustainability questions from SAGE, a Stanford project dedicated to providing sound environmental information and advice. Advanced students from the environmental sciences, engineering, business and journalism look forward to answering your questions—no calculation is too hard, no concern too existential, no conundrum too picayune—or you can start exploring past questions and answers here. Student authors welcome your queries on sustainability and the environment. Ask SAGE » SAGE answers are researched and written by upper division and graduate students enrolled in an environmental journalism course. Learn more »
Climate Code Red
Countries round the world have pledged to try and limit the average global temperature rise to 2°C above pre-industrial figures. That's way too high and would threaten major dislocations for civilization say a group of prominent scientists. by Tim Radford, Climate News Network Governments have set the wrong target to limit climate change.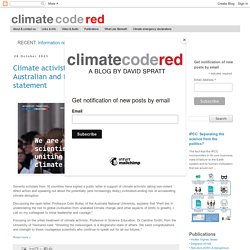 Equinox Passive House doubles as solar calendar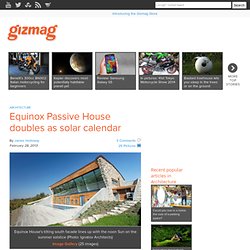 Modern passive house it may be, but as its name suggests, the showstopper at Equinox House in Bulgaria harkens to ancient times when humans built buildings in veneration to heavenly bodies. A narrow aperture in the roof transforms the house into a solar calendar leading it's designer, Ignatov Architects, to refer to the house as a "celestial instrument." View all Essentially a shrunken skylight, the oculus creates a concentrated sunspot inside the living room on clear days.
Since 2003 we have been living and building on the land, working in environmental projects and community. We have found that for a few thousand pound and a few months work it is possible to create simple shelters that are in harmony with the natural landscape, ecologically sound and are a pleasure to live in. There is something powerfully alluring in such natural buildings. Their simplicity and cost makes them accessible; their beauty and use of natural materials remind us of our ancestral right and ability to live well as part of the landscape/nature/earth. We believe this dream is possible for anyone with genuine intention, will and hard work.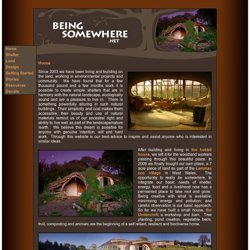 12 Most Amazing Bionic Buildings sciencetech" /> This is a guest post written by Andy Boyd Have you ever pictured what the high-rise buildings of the future might look like? If so, you're not alone. One 21st Century movement (among others) which may give an indication as to what future architecture will look like, is bionic architecture; a movement which is more in tune with the natural earth. Bionic architecture ignores the traditional rectangular format of buildings that we've been used to for so long and instead takes its design cues from the curved lines of biological structures and the natural world.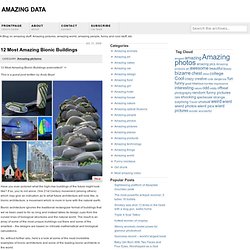 Green Builders | Green Builders
This collection of buildings lets you into the natural aesthetic beauty of bamboo architecture. Bamboo is one of the fastest-growing plants on Earth with reported growth rates of 100 cm in 24 hours. This eco-friendly material has the same technical performance as timber, concrete and steel constructions, but has a much lower carbon footprint. It is one of the most versatile and flexible materials and has regenerative properties. Get yourself inspired!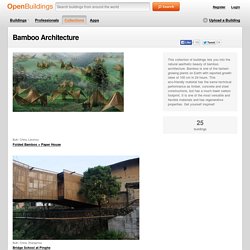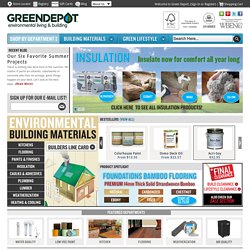 Green Depot is the nation's leading supplier of environmentally friendly building and lifestyle products, services and home solutions. Our mission is to make green building products readily accessible to homeowners and builders so that sustainable practices can easily be adopted into standard construction operations. We utilize a sophisticated, proprietary Green Filter that focuses on Conservation, Local Resources, Energy Efficiency, Air Quality and Corporate Responsibility to show what makes our products sustainable.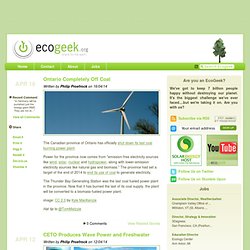 As we've done for the past several years, EcoGeek went to this year's North American International Auto Show (the Detroit Auto Show) to see what is new in clean and green transportation. However, this year's displays continue to move away from a focus on environmental awareness as a major selling point. This has seemed to be the trend over the past few years. In retrospect, it seems that the peak of the green focus was probably the 2009 Detroit Show.
Home - Gaia Psychology
Gaia Psychology is a global benefit organization dedicated to creating an organic emotional healthcare system that mirrors a respect for humanity and guardianship of planet Earth by providing online education, and onsite workshops, in Ecoemotional Intelligence (EEQ) to individuals, groups, professionals, and organizations. Ecoemotional Intelligence (EEQ) is the organic process of how our relationship to Nature influences our relationships with self, others, and our global community. The personal and social practices taught here can enrich your personal life, enhance your professional practices, and give you a sense of planetary belonging. Like all species, humans are an integral part of and share a reciprocal relationship with Nature.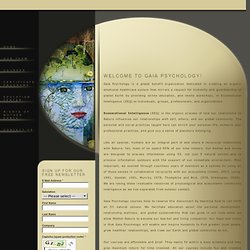 greenopedia
"We are an association of persons, business and organizations that create local and global support systems that develop sustainable resource based communities", Green Society Association - GSA Eco-Village Development The Green Society Association is in the planning stages of developing Green Society Eco-Villages internationally. Our eco-village system creates a "Green Economic Engine" to its cooperative living members.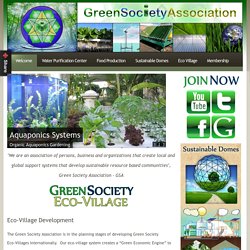 Children in school today spend less time outdoors than ever before, and face increasing rates of obesity, asthma and allergies, ADHD, and other mental and behavioral health problems. At the same time, our civilization is facing catastrophic climate change, which we as a society are totally unequipped to deal with. So how can we improve our children's health and well-being while also teaching them environmental literacy so that they are able to respond to looming ecological problems? How can classrooms be made less toxic and more environmentally friendly? How can school food be made healthier?
Today's Stories Legal Experts Reject Food Industry Claims that GMO Labeling Laws Are Unconstitutional This Week's Newsletter: Sorry, Big Food.
NewEdge Organics
Renew Economy - News and analysis for the clean energy economy : Renew Economy
Homestead Planning & Design