Food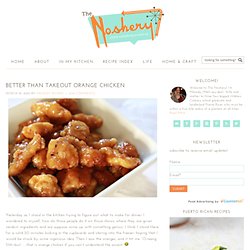 Better Than Takeout Orange Chicken - StumbleUpon
Yesterday as I stood in the kitchen trying to figure out what to make for dinner I wondered to myself, how do those people do it on those shows where they are given random ingredients and are suppose come up with something genius. I think I stood there for a solid 20 minutes looking in the cupboards and staring into the freezer hoping that I would be struck by some ingenious idea. Then I saw the oranges, and it hit me "O-raang Shh-ikun"….that is orange chicken if you can't understand the accent. I love orange chicken, and I almost always order # 14 Orange Chicken when we order Chinese take out and I wondered to myself if I could make it better at home.
Pizza Braid | Busy Mommy: An Iowa Mom Blog - StumbleUpon
- StumbleUpon
Avocados are amazing things—they're delicious on their own, but they also have a lot of healthy fats, dietary fibers, and vitamins, and despite their high caloric value, they're remarkably easy to prepare. If you have an avocado that's too firm to use for something else, or you're just in the mood for something new and healthy for breakfast, slice it in half, remove the pit, and carve out a little space in the center. Crack an egg where the pit was, and bake. In a few minutes, you'll have a delicious, protein and vitamin-packed breakfast treat that's rich enough to keep you going all morning. The recipe itself is pretty simple, and comes to us thanks to reddit user fungz0r: preheat oven to 425, have cast iron pan in thereSlice avocado in half, take out pittake pan out, put avocado half on, crack egg input whatever you want on topplace in oven and cook till your eggs [are done how you] desire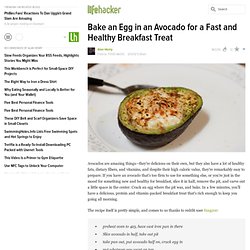 Slutty Brownies - StumbleUpon
Now I don't want to over sell this, so I'm going to be conservative and simply say, that these are... The Best Brownies In The WORLD. I know, big statement. They're called Slutty Brownies because they're oh so easy, and more than a little bit filthy. They're best served warm from the oven, with good quality vanilla ice cream (devastatingly I didn't have any in the freezer this time, so I guess I'll just have to make them again). They take about 45mins to make, including baking time.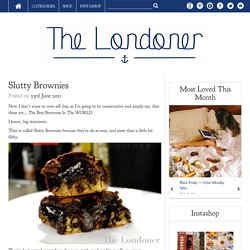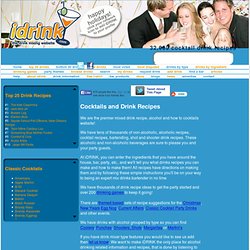 We are the premier mixed drink recipe, alcohol and how to cocktails website! We have tens of thousands of non-alcoholic, alcoholic recipes, cocktail recipes, bartending, shot and shooter drink recipes. These alcoholic and non-alcoholic beverages are sure to please you and your party guests. At iDRINK, you can enter the ingredients that you have around the house, bar, party, etc., and we'll tell you what drinks recipes you can make and how to make them!
Drink recipes: 32000 mixed drink alcohol cocktail recipes - StumbleUpon
Mac and Cheese Cups - Cupcakes and Cashmere - StumbleUpon
Share this image Share It Pin It When I first graduated from college, and was living in a dreary little apartment, mac and cheese was one of my few specialties. Granted it was straight from a box, but it was one of those meals that made me feel like I was home.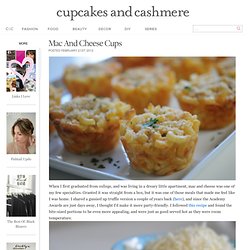 Kjetil Kjernsmo's illustrated guide on Finding the directions without a compass You are lost. I mean really lost. Standing in the middle of nowhere, and you have no idea where to go. If you are really in trouble, remember two things first of all: stay calm, think rationally, and you can survive a long time without food.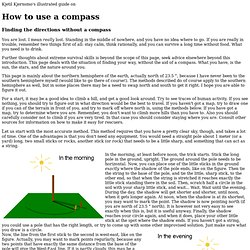 How To Use a Compass - when you have no compass.... - StumbleUpon
"Scalloped" is an attractive word, isn't it? When I hear it I think of several things: first, there's scallops, as in the seafood—totally delicious. Then there's the scalloped shape that can live on the edge of a pair of shorts or on the collar of a woman's blouse—always pretty and dainty. And of course scalloped potatoes also comes to mind, which carries my imagination to a land of crispy potato skins drenched in a sea of cheese and cream. I can think of no better place to exist, actually. So when I came across TK member Shelbi Keith's recipe for Scalloped Hasselback Potatoes, I knew we were going to become fast friends.
Scalloped Hasselback Potatoes | Tasty Kitchen Blog - StumbleUpon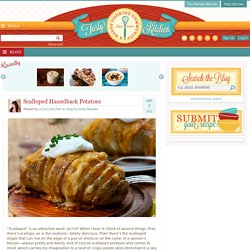 Stuffed Chicken | Zen Can Cook - StumbleUpon
Like many chefs, what I crave on a day off is the comfort of a simple roast chicken. However, in this blog you probably noticed we aren't in the business of keeping it that simple, are we? Stuffing it under the skin is a great way to infuse more flavor into a chicken while keeping the breast meat moist and the skin crispy. The delicious stuffing consists of sauteed mushrooms, chestnuts and pine nuts deglazed with Cognac and mixed with panko, herbs and butter. You could pull out all the stops and replace the wild mushrooms with black truffle and foie gras but let's keep it budget friendly for now.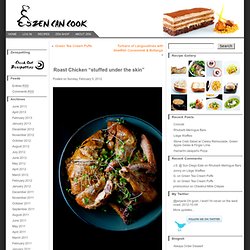 Best Recipes for Party Hosting: 25 Sophisticated-Looking Meals Recipe - DinnerTool.com - StumbleUpon
Death By Oreo Cupcakes - StumbleUpon
They are probably the best Oreo cakes I have ever tried. A lot of cake's that I have experimented with before are like a vanilla cake with bits of Oreo in them, which didn't really give them enough Oreo flavor. But these were a lot better. I used a dark chocolate fudge cake mix instead of just a regular chocolate cake mix, which went really well with the cookies and gave the cakes just a little more flavor. So, in this recipe there is Oreo's in the cake, in the frosting, and at the bottom is a Oreo surprise. That's right, you put a whole Oreo at the bottom of the cake.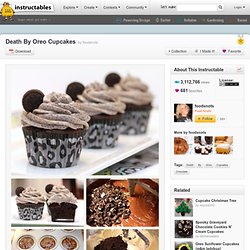 Nutrition March 26, 2010 Lilli Day / Getty Images Whether you exercise in the morning, afternoon or evening, try to eat before and after you train. You'll boost energy levels to stay sharp, both mentally and physically, throughout even the toughest workouts—and help your body recover better afterwards.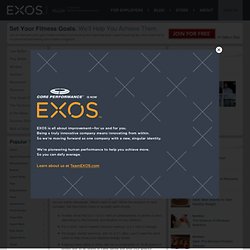 20 Simple Workout Snacks | Nutrition | Core Daily | Core Performance - StumbleUpon
Forbidden Fruit: Illegal Fruits & Foods - StumbleUpon
While out roving you aren't always (or even often) anywhere near a hospital or pharmacy. But, if you pack these nutritional supplements and natural medications wherever you go, you'll be able to cope just fine. #1: Kratom The Situation
The Traveller's Medicine Cabinet: 5 Essential Drugs for the Road - StumbleUpon
Welcome to the easiest soup ever. Ever ever. Just 30 minutes and you can have a big, steaming bowl of chicken soup with a cute and cheesy toasted baguette and tons of other stuff piled on top. In a snap I tell you. You are going to like this.
Simple Buffalo Chicken Soup Recipe | How Sweet It Is - StumbleUpon
Gangrule - The History of the Mafia - StumbleUpon
Gangrule The Black Hand An ethnic phenomenon beginning in 1903, and lasting fifteen years.
Scirus - for scientific information - StumbleUpon
Twix Cheesecakes – Gingerbread Bagels - StumbleUpon
s Picks: Top Healthy Recipes Recipe - DinnerTool.com
GAIN Fitness - Personal Trainer Quality Workouts - StumbleUpon
10 Search Engines to Explore the Invisible Web - StumbleUpon
The Invisible Web refers to the part of the WWW that's not indexed by the search engines. Most of us think that that search powerhouses like Google and Bing are like the Great Oracle"¦they see everything. Unfortunately, they can't because they aren't divine at all; they are just web spiders who index pages by following one hyperlink after the other. But there are some places where a spider cannot enter.