Crowdsourcing
Magic? How INRIX Traffic Crowd-Sourcing Really Works » INRIX Traffic Blog | Global Brain. How crowdsourcing will give Hilton Head better mobile coverage — Mobile Technology News. You Can Crowdfund a Politician but you Can't Crowdfund an Entrepreneur? Hatari: Battling Corruption in Kenya. Victory for crowdsourced biomolecule design.
An enzyme designed by players of the protein-folding game Foldit was better than anything scientists could come up with.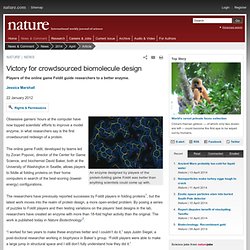 Obsessive gamers' hours at the computer have now topped scientists' efforts to improve a model enzyme, in what researchers say is the first crowdsourced redesign of a protein. The online game Foldit, developed by teams led by Zoran Popovic, director of the Center for Game Science, and biochemist David Baker, both at the University of Washington in Seattle, allows players to fiddle at folding proteins on their home computers in search of the best-scoring (lowest-energy) configurations.
The researchers have previously reported successes by Foldit players in folding proteins1, but the latest work moves into the realm of protein design, a more open-ended problem. The Science Behind Foldit | Foldit. Foldit is a revolutionary new computer game enabling you to contribute to important scientific research.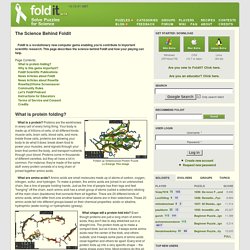 This page describes the science behind Foldit and how your playing can help. What is a protein? Proteins are the workhorses in every cell of every living thing. Your body is made up of trillions of cells, of all different kinds: muscle cells, brain cells, blood cells, and more. Open Source Cities. Open Source Cities is co-hosting a panel discussion and meetup on urban mobility, cities and the built environment in New York City on May 2nd from 4-6pm at the offices of BMW i Ventures.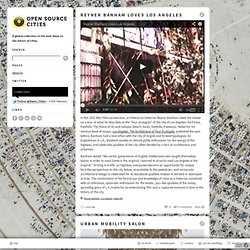 The event co-hosts are Green Parking Council, AECOM, BüroNY, and TimHaahs. Presentations by: #1 Site for Crowdsourcing, Crowdfunding, & Open Innovation News | Daily Crowdsource. Bey2ollak: An Egyptian start-up success story to aspire to. Bey2ollak is one of two Egyptian start-ups which are US bound, following their participation in the NexGen IT Entrepreneurs Boot Camp last month.
Hearing the news that American and Danish entrepreneurs were flying in to Cairo, to host a seminar especially for Egypt's up-and-coming start-ups, one of Bey2ollak's five co-founders, Mohamed Rafea snagged a spot at the table. Bey2ollak is the brainchild of five cousins. Aly Rafea, Mohamed Rafea and Gamal Sadek, all computer science graduates, were responsible for development. Mostafa Beltagy, a business administration graduate, took on marketing, while Yehia Ismail, an architect by profession, was responsible for the design and UI. Bey2ollak is a cross-platform mobile app allowing users to share real-time information about Cairo and Alexandria traffic. Bey2ollak.com. Michael Nielsen: Open science now! Top 11 Citizen Science Projects of 2011 | SciStarter Blog | more learning. Developing Citizen Science Programs | more learning. How do crowdsourcing, the Internet of things and big data converge on geospatial technology? | Spatial Sustain | the internet of things, open data and the city.
---