Crowdsourcing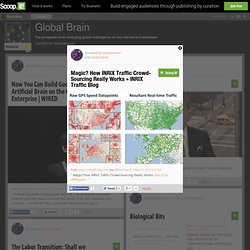 How does a computer know what a car looks like? How does it know sheep are white? Can a computer learn all these just by browsing images on the Internet? We believe so!NEIL (Never Ending Image Learner) is a computer program that runs 24 hours per day and 7 days per week to automatically extract visual knowledge from Internet data. It is an effort to build the world's largest visual knowledge base with minimum human labeling effort – one that would be useful to many computer vision and AI efforts.
Magic? How INRIX Traffic Crowd-Sourcing Really Works » INRIX Traffic Blog | Global Brain
How crowdsourcing will give Hilton Head better mobile coverage — Mobile Technology News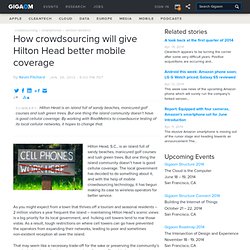 Hilton Head, S.C., is an island full of sandy beaches, manicured golf courses and lush green trees. But one thing the island community doesn't have is good cellular coverage. The local government has decided to do something about it, and with the help of mobile crowdsourcing technology, it has begun making its case to wireless operators for better service.
Keith Bacongco On Tuesday January 24, 2012 President Obama delivered the State of the Union Address. He highlighted the challenges the economy faces and the direction in which we need to take the country. One of the nation's biggest challenges he highlighted was unemployment. Obviously, jobs are the solution to unemployment.
You Can Crowdfund a Politician but you Can't Crowdfund an Entrepreneur?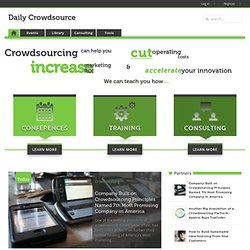 mwanasimba In the 2011 edition of the Corruption Perceptions Index, Kenya is ranked one of the most corrupt countries in the world, coming in at #154 out of 182 countries on a list that ranks countries from least corrupt to most corrupt. In fact, bribery is such a common practice in Kenya that it's estimated that Kenyans pay, on average, 16 bribes per month. But now Kenyans are fighting back against their country's stigma, and in order to do so they're using the power of the Internet and of crowdsourcing.
Hatari: Battling Corruption in Kenya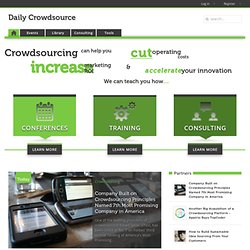 An enzyme designed by players of the protein-folding game Foldit was better than anything scientists could come up with. Obsessive gamers' hours at the computer have now topped scientists' efforts to improve a model enzyme, in what researchers say is the first crowdsourced redesign of a protein. The online game Foldit, developed by teams led by Zoran Popovic, director of the Center for Game Science, and biochemist David Baker, both at the University of Washington in Seattle, allows players to fiddle at folding proteins on their home computers in search of the best-scoring (lowest-energy) configurations. The researchers have previously reported successes by Foldit players in folding proteins1, but the latest work moves into the realm of protein design, a more open-ended problem.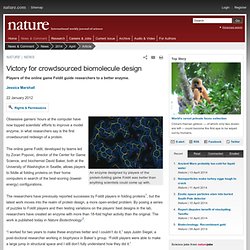 Victory for crowdsourced biomolecule design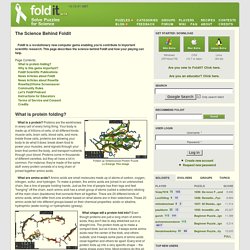 Foldit is a revolutionary new computer game enabling you to contribute to important scientific research. This page describes the science behind Foldit and how your playing can help. What is a protein? Proteins are the workhorses in every cell of every living thing. Your body is made up of trillions of cells, of all different kinds: muscle cells, brain cells, blood cells, and more.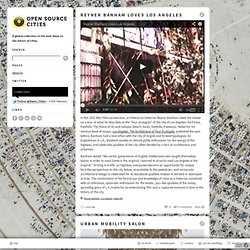 Open Source Cities is co-hosting a panel discussion and meetup on urban mobility, cities and the built environment in New York City on May 2nd from 4-6pm at the offices of BMW i Ventures. The event co-hosts are Green Parking Council, AECOM, BüroNY, and TimHaahs. Presentations by:
Open Source Cities
Bey2ollak: An Egyptian start-up success story to aspire to
Bey2ollak is one of two Egyptian start-ups which are US bound, following their participation in the NexGen IT Entrepreneurs Boot Camp last month. Hearing the news that American and Danish entrepreneurs were flying in to Cairo, to host a seminar especially for Egypt's up-and-coming start-ups, one of Bey2ollak's five co-founders, Mohamed Rafea snagged a spot at the table. Bey2ollak is the brainchild of five cousins. Aly Rafea, Mohamed Rafea and Gamal Sadek, all computer science graduates, were responsible for development. Mostafa Beltagy, a business administration graduate, took on marketing, while Yehia Ismail, an architect by profession, was responsible for the design and UI. Bey2ollak is a cross-platform mobile app allowing users to share real-time information about Cairo and Alexandria traffic.
Bey2ollak.com
Top 11 Citizen Science Projects of 2011 | SciStarter Blog | more learning
"Abstract This qualitative phenomenological study involving in-depth interviews with seven educators in K-12 and higher education examines the role that the microblogging service Twitter plays in the formation and development of Personal Learning Networks (PLN) among educators. A double hermeneutic data analysis shows that Twitter plays a role in the formation and development of PLNs by allowing educators to; engage in consistent and sustained dialogue with their PLN, access the collective knowledge of their PLN, amplify and promote more complex thoughts and ideas to a large audience, and expand their PLN using features unique to Twitter. This research also examines the nature of a PLN and shows that participants believe their PLN extends beyond their Twitter network to encompass both face-to-face and other ICT mediated relationships.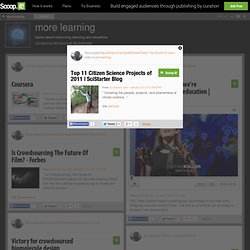 Developing Citizen Science Programs | more learning
Login Sign up Discover Guided Tour more learning "topics about improving learning and education" Curated by Mohammad Abdelkhalek 130 Views
How do crowdsourcing, the Internet of things and big data converge on geospatial technology? | Spatial Sustain | the internet of things, open data and the city
"Today, TED announced the winner of the 2012 TED Prize: the City 2.0. Breaking from their tradition of recognizing an individual global innovator, TED is embracing the concept of crowd-sourcing urbanism (an idea we obviously support at Open Source Cities). The organizers published this call-to-arms in seeking ideas on the City 2.0: "The City 2.0 is the city of the future … a future in which more than 10 billion people on planet Earth must somehow live sustainably, together. The City 2.0 is not a sterile utopian dream, but a real-world upgrade tapping into humanity's collective wisdom. The City 2.0 promotes innovation, education, culture and economic opportunity.