Web
home mail lists help status donate about-us Request an email account This form will step you through the process of creating a riseup.net account. There are two ways to have your account approved: you can either get invite codes from existing users you know or wait for us to approve your request. It is sometimes difficult for us to keep up with the volume of requests, so it may take us up to a few weeks to get back to you. If you know two different riseup.net users, you can use the invite method, and your account will be created and be ready to use immediately.
user.riseup.net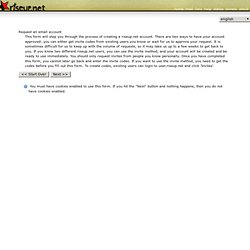 Petites annonces en ligne: création de la table utilisateur (1) MYSQL
100 Percent - CSS Layout: A collection of 224 Grid and CSS Layouts
Have Fun w/ Borders | CSS Border Tricks by Soh Tanaka
Resources | Design Bombs CSS GALLERY - Web Gallery & Web Design Resources, Tutorials, Online Community, CSS, jQuery, Mootools, Photoshop, Illustrator, and more.
BestBlogBox
Photo Rack - Stock Photos
En une seule minute, une quantité monstrueuse de données est échangée sur le web. Chaque minute de chaque heure de chaque journée. L'agence...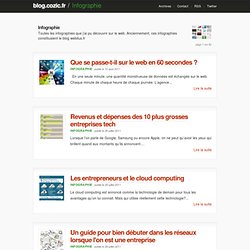 MillionID, first drag'n drop portal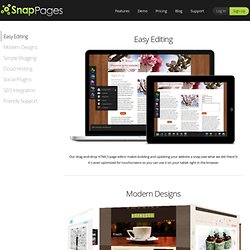 Our drag-and-drop HTML5 page editor makes building and updating your website a snap (see what we did there?)! It's even optimized for touchscreens so you can use it on your tablet right in the browser.
Create a Website
couleur web
blog » Utiliser des polices originales sur vos sites – sIFR
Bonjour, me revoilà (et oui, je ne suis pas mort, enfin pas encore)… Aujourd'hui nous allons apprendre à utiliser un outil très très très utile. En effet, nous allons apprendre à utiliser un petit script qui nous permet de pouvoir utiliser n'importe quelle police sur vos sites internet. Magique non? La technique employé porte le doux nom de sIFR, je ne vais pas vous mettre le nom complet car cela ne vous servirait à rien.