GT
CouchSurfing
Assurances MMA - PARIS ALESIA - TANTOT ANNE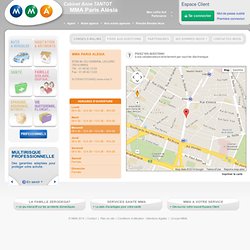 Conditions d'utilisation En accédant à ce site l'utilisateur s'engage à se conformer à ses conditions d'utilisation et déclare disposer au préalable d'un accès Internet, en connaître les règles et les usages, les capacités et performances techniques et disposer de tous matériels et logiciels nécessaires à la navigation sur Internet. L'utilisateur garantit l'Agent Général MMA et MMA contre toute utilisation illicite, non conforme et/ou non autorisée des informations accessibles via ce site. L'utilisateur est seul responsable de l'utilisation des informations accessibles via ce site que l'Agent Général MMA et/ou MM A se réserve le droit de modifier à tout moment, notamment en actualisant ce site. L'Agent Général MMA et/ou MMA se réserve le droit de supprimer ou de modifier de plein droit, certaines des fonctionnalités du site, sans préavis ni indemnité.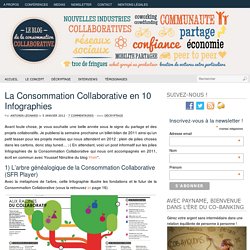 Avant toute chose, je vous souhaite une belle année sous le signe du partage et des projets collaboratifs. Je publierai la semaine prochaine un billet-bilan de 2011 ainsi qu'un petit teaser pour les projets medias qui nous attendent en 2012 : plein de jolies choses dans les cartons, donc stay tuned… ;-) En attendant, voici un post informatif sur les jolies Infographies de la Consommation Collaborative qui nous ont accompagnés en 2011, écrit en commun avec Youssef Nimzilne du blog Ynim *. 1) L'arbre généalogique de la Consommation Collaborative (SFR Player) Avec la métaphore de l'arbre, cette Infographie illustre les fondations et le futur de la Consommation Collaborative (vous la retrouvez ici page 16) 2) 100 sites pour consommer autrement (Nouvel Observateur)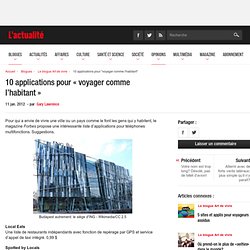 Pour qui a envie de vivre une ville ou un pays comme le font les gens qui y habitent, le magazine Forbes propose une intéressante liste d'applications pour téléphones multifonctions. Suggestions. Budapest autrement: le siège d'ING - Wikimedia/CC 2.5 Local Eats Une liste de restaurants indépendants avec fonction de repérage par GPS et service d'appel de taxi intégré. 0,99 $ Spotted by Locals Une application qui donne accès à un site fort intéressant, bourré de bonnes adresses généralement peu connues, alimenté librement par une kyrielle de critiques dans 39 villes européennes.
10 applications pour "voyager comme l'habitant" | Le blogue Voyage
Genius Trip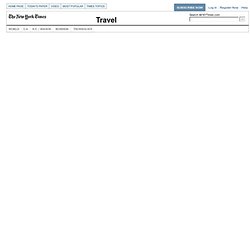 Looking for sales on a specific route, or just want to go somewhere cheap? AirfareWatchdog .com hunts down deals computers tend to miss, like promo codes airlines include in e-mail newsletters. It also finds sales from Allegiant and Southwest, which typically aren't listed on major airfare search engines.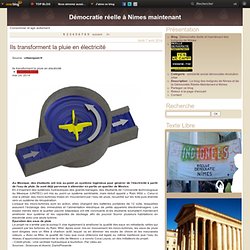 Consommer autrement - 100 sites pour… - En Suisse, les «…
https://sites.google.com/site/lafindelacrise/francais/ecovillage/l-ecolieu/l-ecollectivite/la-microconsommation (*pour accéder aux liens, maintenir appuyer la touche "Ctrl" de votre clavier + cliquer gauche (souris) sur la ligne du lien) La norme microconsommation impose une maintenabilite realisable sur place avec peu de moyens et un faible apprentissage. A ce titre il est impose des durees de garanties particulierement severes :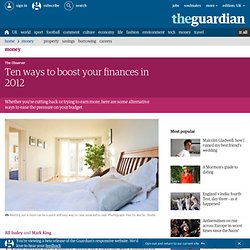 Ten ways to boost your finances | Money | The Observer
During previous ages of austerity, renting out a room has been a mainstay for many families wanting extra cash. So I decided to see just how easy it was by listing my own property on Wimdu.co.uk . The only part of my house that can be easily rented out is the attic conversion, which comprises a separate bathroom and my bedroom. I spent a whole weekend cleaning and clearing out books and all the personal stuff from surfaces ready for the Wimdu photographer to take pictures. I set up a tray with a kettle, tea, coffee and hot chocolate so my guests could help themselves in the morning without having to parade through the house in their jimjams.
1. "We're growing so fast..." S ince 2008, when Americans spent $24 billion on vacation rentals, the industry has undergone a veritable sea change, thanks to a new breed of travel-booking websites, like Airbnb, Roomorama, FlipKey and VRBO. These DIY-style rental marketplaces help travelers find hotel alternatives like houses, condos, even a couch to crash on. How fast is the insurgency -- er, industry -- growing?
10 Things Vacation-Rental Sites Won't Say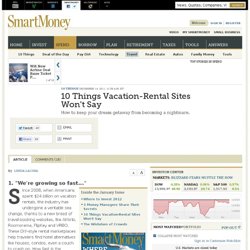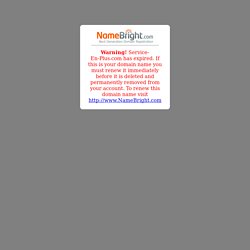 A partir du logo « Collaborative Lifestyles » de Collaborative Voici une liste de plus de 430 initiatives à travers le monde fonctionnant sur le principe d'une ÉCONOMIE DU PARTAGE . N'hésitez pas à m'en proposer d'autres ! (Merci aux membres de OuiShare pour leur collaboration plus qu'active !) L'Économie du partage
CONSOMMATION COLLABORATIVE : ANNUAIRE ÉCONOMIE DE L'ÉCHANGE | service
Tourism Conferences Worldwide Upcoming events in tourism, travel and related fields