Travel
How to Save Money to Travel the World | First for Everything. I wrote an article earlier this year about ways to travel cheap.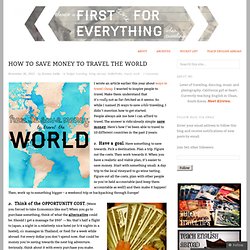 I wanted to inspire people to travel. Make them understand that it's really not as far-fetched as it seems. City. 38 Places To See In The United States - In Pursuit of Happiness. If you google "extended travel", you will find pages and pages of information about people from all walks of life who check out of the rat race in order to travel.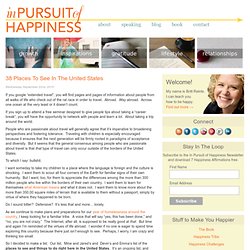 Abroad. Way abroad. Across one ocean at the very least or it doesn't count. Airplane Travel Tips - 100 Words or Less - Gadling. Don't take sleep aids until you're in the air - Airplane tip by Melanie Linn Gutowski (RSS feed) on Aug 9th, 2010 at 11:16AM Though it may seem appealing to sleep through those long waits on the tarmac, avoid the temptation to take a sleep aid until you're up in the air.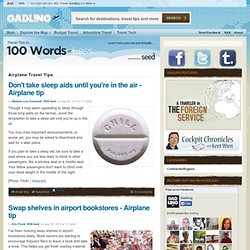 In pictures: romantic travel destinations. 101 Ways to be Happy. Do you want to be happy?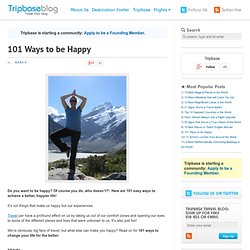 Of course you do, who doesn't?! Here are 101 easy ways to achieve a better, happier life! How Many Days Can I Travel In [Insert Country Here] With $1,000? - The Expeditioner Travel Magazine - The Expeditioner Travel Magazine. I decided to research the costs to travel around the world and create a chart showing how many days a traveler can travel in a particular country with $1,000.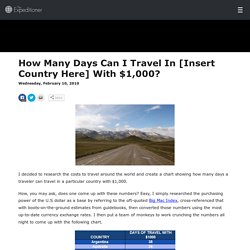 How, you may ask, does one come up with these numbers? Easy, I simply researched the purchasing power of the U.S dollar as a base by referring to the oft-quoted Big Mac Index, cross-referenced that with boots-on-the-ground estimates from guidebooks, then converted those numbers using the most up-to-date currency exchange rates. I then put a team of monkeys to work crunching the numbers all night to come up with the following chart. As you can see, and not surprising to most travelers, Asia is the cheapest place to travel, with a $1,000 budget lasting you over 40 days in many countries. 29 life lessons learned in travelling the world for 8 years straight. EDIT: This blog post was written on my 8 year travel anniversary in 2011.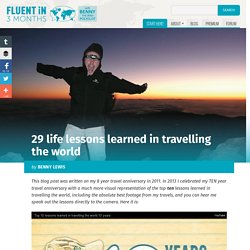 THIS year (2013) I celebrated my TEN year travel anniversary with a much more visual representation of the top ten lessons learned in travelling the world, including the absolute best footage from my travels, and you can hear me speak out the lessons directly to the camera. Here it is: If you liked this video, please copy and paste this: 10 Phrases You Won't Learn in Spanish Class. I studied Spanish for years and taught it for several as well.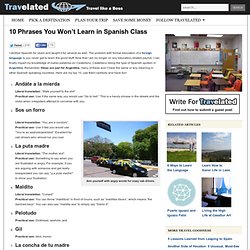 The problem with formal education of a foreign language is you never get to learn the good stuff. Now that I am no longer on any education-related payroll, I can finally impart my knowledge of malas palabras en Castellano, Castellano being the type of Spanish spoken in Argentina. WorldTravelist.com | Sharing The Best Travel Content On The Web. Bucket List: 225 Things to Do Before You Die. The essence of any good bucket list consists of overcoming fears, achieving goals, realizing dreams and even simple pleasures.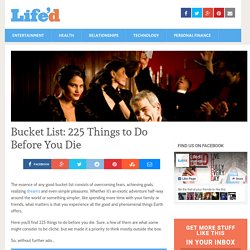 Whether it's an exotic adventure half-way around the world or something simpler, like spending more time with your family or friends, what matters is that you experience all the good and phenomenal things Earth offers. Here you'll find 225 things to do before you die. Sure, a few of them are what some might consider to be cliché, but we made it a priority to think mostly outside the box. 10 Beautiful Places In The World That Actually Exist.
Couch surfing a cave in southern Jordan. Ghassab Al-Bedoul's cave in Petra, Jordan, is listed on travel site CouchSurfing.com.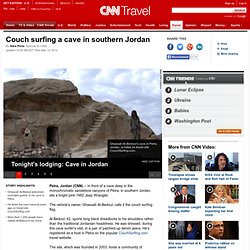 Several guests often spend the night on thin mats inside the cave. Al-Bedoul's bright pink jeep, "the couch surfing flag," is parked outside. Al-Bedoul estimates he's welcomed more than 1,200 guests to his cave near the ancient city of Petra. Food is prepared outside. Candles light the inside. Eagle Eye » Top 10 most dangerous cities in the world in 2011. RoadTrip America - Road Trip Planning for North America. Around the World Travel Community for Indie Travel - BootsnAll. 10 Unbelievably Beautiful Places You've Probably Never Heard Of.
---