Tools/other
How to Make Cheesecake. + enlarge image To cut a cheesecake into clean slices, use a nonserrated knife with a thin blade.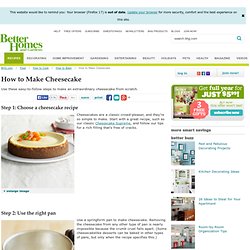 Before cutting each slice, dip the knife in hot water and wipe it dry with a towel. Tip: If the top of your cheesecake has cracked, you can always cover it up by spreading a thin layer of sweetened whipped cream over the entire chilled cake before you present it to your guests. Embellish with berries or chocolate curls, if you like. Tip: Cheesecake needs to be refrigerated for storage. 31 Things You Can Freeze To Save Time and Money. This post is brought to you by Amazon where you can get deals on freezer bags!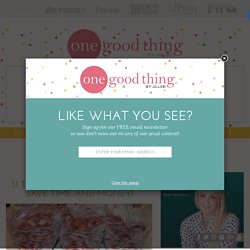 The last few weeks I have been in "squirrel mode". I have been buying large amounts of grapes and FREEZING them before the season ends! I do NOT like the grapes that they have in the grocery stores during the winter months. They are yucky. :-) And since frozen is my PREFERRED way of eating these sweet little gems…freezing a bunch for winter is a no-brainer. Yummy Presents: 40 Homemade Gifts from The Kitchn Recipe Roundup. How to Make American Cheese. As our regular readers know, I'll go to my grave defending processed, pasteurized American cheese.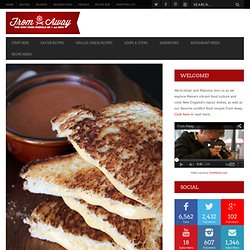 I understand your objections to this position. I've heard all of the arguments. It's bland. It's lowbrow. Heck, it's not even technically cheese, but more of a sciency slurry of milk, whey, milkfat, artificial flavorings and oil, dyed orange and laid flat in individually-wrapped squares of cellophane. Kitchen Basics: How To Make Pesto. Homemade pesto is super easy to make and can add so much flavor to dishes you probably already make.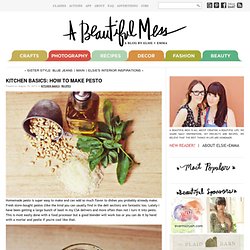 Fresh store-bought pestos (like the kind you can usually find in the deli section) are fantastic too. Lately I have been getting a large bunch of basil in my CSA delivers and more often than not I turn it into pesto. This is most easily done with a food processor but a good blender will work too or you can do it by hand with a mortar and pestle if you're cool like that. 100 Days of Real Food. What To Do With...? 75 Tips for Leftovers and Ingredients.
Canning (the rundown: recipes, ideas, and information)Canning (the run down: recipes, ideas, and information) This summer I've fallen in love with canning.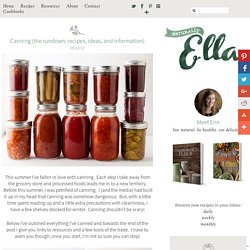 Each step I take away from the grocery store and processed foods leads me in to a new territory. Before this summer, I was petrified of canning. Extra Large Round Stainless Steel Pastry Tip by BakersBlingShop. Decorate your confections like a pro with our Extra Large Round stainless steel pastry tip.This tip measures 2" high with a 5/8" wide opening at the top.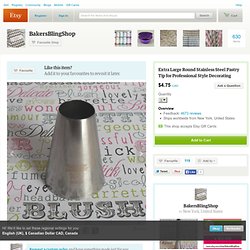 Easy to use with our 12" or18" professional grade disposable pastry bags, It's amazing what the right pastry tip cando to turn your cupcakes from ordinary into extraordinary. Also great for piping merengueand trims on your fabulous cakes. Bake, Bling and Enjoy! View BAKEWARE / SPOONS/ FORKS by thebakersconfections. We have the best cupcake supplies, baking supplies and party supplies!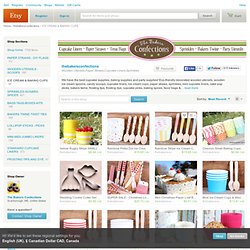 Eco-friendly decorated wooden utensils, wooden ice cream spoons, candy scoops, cupcake liners, ice cream cups, paper straws, sprinkles, mini cupcake liners, cake pop sticks, bakers twine, frosting tips, frosting dye, cupcake picks, baking spices, favor bags & boxe! For fun photos, projects, promotions, coupon codes and more check our any of our social media accounts! Feel free to share photos of your creations using our products since we love to see what our fabulous customers are making! Make Your Own Coffee Syrup (Gift Idea)
Do you have any coffee lovers on your holiday gift list this year?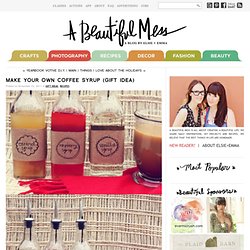 (If not, feel free to go ahead and put me on your list!) This is a cute little idea for making your own flavored coffee syrups that you can use at home to take your morning cup of joe to the next level. 100 Ways to Use Strawberries. Strawberry season comes but once a year, and before you know it, you've spent way too much at the farmers' market buying an entire flat of them, only to panic when you remember they go bad faster than bananas.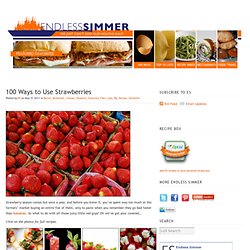 So what to do with all those juicy little red guys? Oh we've got your covered… Click on the photos for full recipes. 100 Ways to Use an Apple From bacon to bananas, find the rest of our 100 Ways here. 10 Fascinating Food Facts. 25 Foods You'll Never Be Able To Eat Again. How to Cook. Favorite Collections let you organize your favorite ATK content.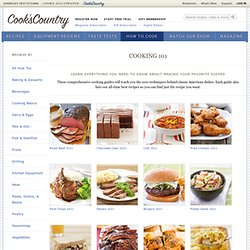 Are you building a menu for an upcoming birthday dinner? You can keep those recipes in a collection called "John's 50th Birthday," for example. How to Pipe Icing Roses. I baked this spring bouquet of cupcakes for my Weekend Baker post on the Cooking Channel blog. I was limited in space and wanted to go into a bit lot more detail on how to pipe the icing roses.
Creating these flowers is not at all difficult, but it helps to have some simple tricks of the trade. The Perfect Pantry Article. Food Pyramid Submissions. 12 Fascinating Food Facts. TasteBook - Cookbooks, recipes, and friends. All-Purpose Baking Mix Recipe : Sandra Lee. Food Delivery | Restaurant Takeout | Order Food Online | GrubHub. 50 of the World's Best Breakfasts from Around the World. - Written by Victoria Philpott Salivating. That's the only way to describe me after looking at all this food porn. I love to eat breakfast, it's the best meal of the day as far as I'm concerned. Commonly Used Measurements & Equivalents Article.
---