Snacks
Vegan food inspiration!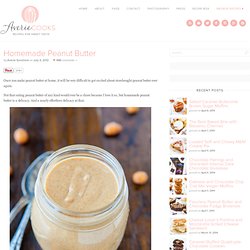 Once you make peanut butter at home, it will be very difficult to get excited about storebought peanut butter ever again. Not that eating peanut butter of any kind would ever be a chore because I love it so, but homemade peanut butter is a delicacy. And a nearly effortless delicacy at that.
Hmmm, ranch seasoning. Tangy, versatile, and goes with everything. I could eat cardboard if you slathered it in enough ranch. So the other day I tootled into my kitchen to make my version of Baked Ranch Crackers, the perfect snack for anyone wanting a handful of something savory, and I happened to flip over the packet of ranch seasoning mix and took a peek at the ingredients list. Let's see here....Sodium, sodium, and whoa that's a lot of sodium...Monosodium Gluta-what? Is that MSG?
Homemade Ranch Seasoning Mix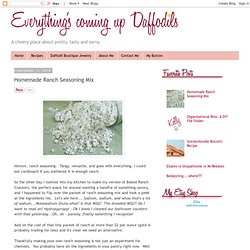 How To Make Nacho Cheese Sauce
One more fake food comes off my list of guilty pleasures. I'm a sucker for nachos with cheese sauce. I've had the "cheese" sauce in jars and in cans. Have you ever read the ingredients in those things? Some of them don't list a single dairy ingredient. That's so nasty.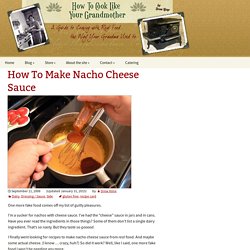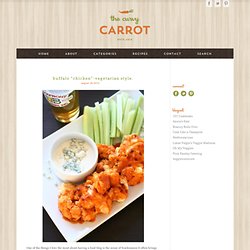 One of the things I love the most about having a food blog is the sense of fearlessness it often brings me when it comes to trying new twists on vegetarian recipes. Take this one, for example. Yes, I totally miss "real" hot wings, especially during football season. Yes, I miss making things with buffalo sauce because it's just so delicious. But, in an effort to decrease my intake of all things processed (and yes, I know there are some buffalo sauces out there that are riddled with preservatives and additives…I actually tried a new one from Whole Foods this time..Bella's…and I recommend it), I didn't want to go the route of "fake chicken" (READ: frozen, heavily-breaded, tasteless chunks of soy……)
Buffalo "Chicken"-Vegetarian Style.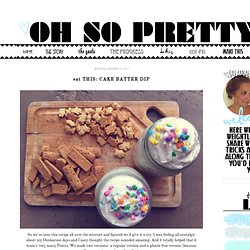 OH SO PRETTY the SKINNY: eat THIS: CAKE BATTER DIP
So we've seen this recipe all over the internet and figured we'd give it a try. I was feeling all nostalgic about my Dunkaroos days and Casey thought the recipe sounded amazing. And it totally helped that it wasn't very many Points. We made two versions- a regular version and a gluten free version (because Casey requires a gluten free diet).
Dip mushrooms in egg first then roll in breadcrumbs and parm cheese. Bake on sprayed foil lined pan…..dip in ranch… delish!!! | Pinporium
GroceryBudget101.com- - Maple Almond Scone Bites with Vanilla Glaze
The following content was Provided by www.GroceryBudget101.com "We're Not Penny Pinching, We're Benji Pinching!" The perfect combination of maple syrup and almonds in a light flaky scone with fresh vanilla bean glaze. These delicious morsels are reminiscent of the considerably more expensive Starbucks Maple Almond Scones. Enjoy an entire batch of 24 for the price of a single Starbucks scone!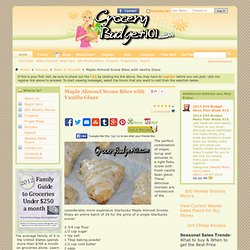 Individual Seven-Layer Dips
Homemade Jello Fruit Snacks Recipe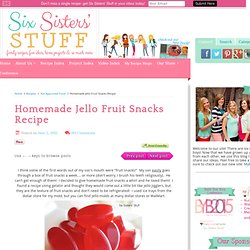 I think some of the first words out of my son's mouth were "fruit snacks!" My son easily goes through a box of fruit snacks a week.... or more (don't worry, I brush his teeth religiously). He can't get enough of them!
If french fries and onion rings ever got married and had a baby, I think it would be something like this…a potato ring. You have a light and crispy outer coating with a soft potato and caramelized onion center…why? Because we can I guess, who knows…but it's kind of fun, right?!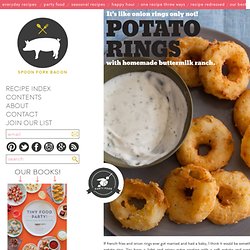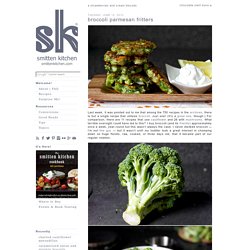 Last week, it was pointed out to me that among the 750 recipes in the archives, there is but a single recipe that utilizes broccoli. Just one! (It's a great one, though.) For comparison, there are 11 recipes that use cauliflower and 26 with mushrooms.
These weren't as crazy amazing(cramazing?)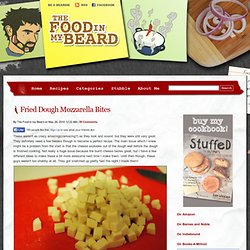 I've said it once and I'll say it again: sometimes the best creations are the ones you don't set out to create!
Homemade Soft Pretzel Bites
Active time: 30-45 min; Total time: 2 hr 15- 2hr 30 min (a bit longer if making extra toppings)