IceCream
Strawberry sorbet. I have a strawberry related joke!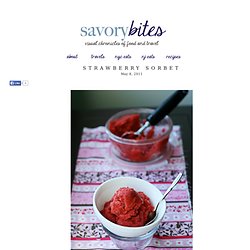 Why did the strawberry cry? Because it was stuck in a jam! [womp womp womp...] How to make popsicles. Popsicles!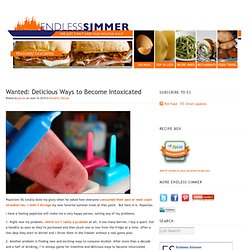 BS totally stole my glory when he asked how everyone consumed their east or west coast strawberries. I didn't divulge my new favorite summer treat at that point. But here it is. Watermelon Margarita Popsicles for Casual Friday. Watermelon Margarita Popsicles for Casual Friday Hello weekend!
How would you like to join me for a cocktail for Casual Friday? This week's cocktail comes in popsiscle form. Watermelon Margarita Popsicles are definitely an adult treat. Snack Attack #1: Strawberry Lemonade Popsicles. Did you see Joy the Baker's recent popsicle post?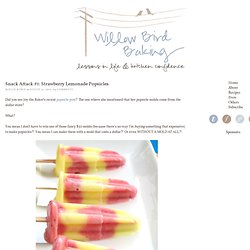 The one where she mentioned that her popsicle molds come from the dollar store? What? Cookies 'n Cream Ice Cream. Strawberry Frozen Yogurt. July 16, 2009 | Print | E-mail | Filed under strawberry Last week, I finally used up all of the strawberries hubby and I got when we went strawberry picking.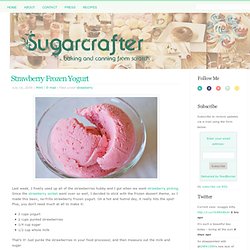 Since the strawberry sorbet went over so well, I decided to stick with the frozen dessert theme, so I made this basic, no-frills strawberry frozen yogurt. On a hot and humid day, it really hits the spot! Plus, you don't need much at all to make it: 2 cups yogurt2 cups puréed strawberries1/4 cup sugar1/2 cup whole milk. Fruity creamy swirly yogurt pops.
The summer here is lazily taking its time to set in, and I love it.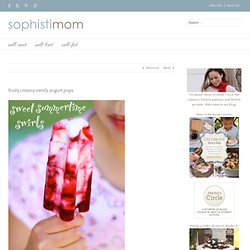 The days will heat up, and just when I think it's going to be too warm, a breeze kicks up and nags me to grab a sweater. I'm a winter clothes kind of gal, so any extra day to wear socks is like a gift from heaven. (Socks keep my hardwood floors shiny — so that's a bonus, too.) What about all of you, are you ecstatic when the fall clothes collection comes out at Banana Republic? Or do you prefer shorts and sunscreen and flip flops? Milk chocolate truffle ice cream. Every once in awhile, I will tap into my foodie self and become a fan of dark chocolate.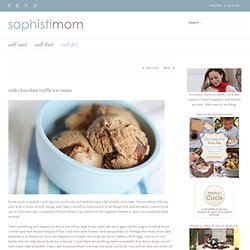 The snobbery fills my soul with a sense of well-being, and I fancy myself a connoisseur of all things fine and elevated. I cannot look upon a Snickers bar, or a Reese's Peanut Butter Cup with even the slightest tolerance, and I am a sophisticated woman. Then something will happen to throw me off my high horse, and I am once again off the wagon (Look at those cliches! Peppermint Ice Cream. I'm not a fan of candy canes on their own—they're too sticky, too hard, too minty, and have a slight bitter aftertaste.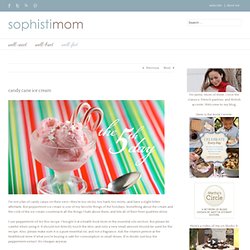 But peppermint ice cream is one of my favorite things of the holidays. Something about the cream and the cold of the ice cream counteracts all the things I hate about them, and lets all of their finer qualities shine. I use peppermint oil for this recipe. I bought it at a health food store in the essential oils section. But please be careful when using it. Nutella Hot Fudge Sauce: 2 Ingredients, 33 seconds. Here at Babble, one of our most viewed posts of all times is Sophistimom's Hot Chocolate in 99 Seconds, which is a really simple and brilliant rendition of a microwaved ganache.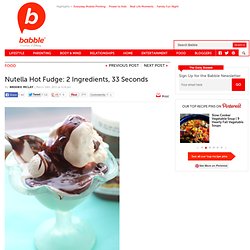 Her snappy approach to hot fudge inspired me today when I had a neighbor over for lunch. We'd just eaten some spicy Indian food, so a cool creamy snack was in order. But, I had less than a minute to pull something clever together. So, I grabbed a scoop of vanilla ice cream, a scoop of Nutella, zapped them together in the microwave, and holy hazelnuts! Watermelon Margarita Ice Pops Recipe at Epicurious. Peppermint Ice Cream. Peppermint Ice Cream has a special place in my family's heart.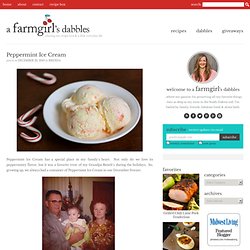 Not only do we love its pepperminty flavor, but it was a favorite treat of my Grandpa Renelt's during the holidays. So, growing up, we always had a container of Peppermint Ice Cream in our December freezer. with Grandpa & Grandma Renelt, my first Christmas, 1971 We never made Peppermint Ice Cream from scratch on the farm, however. Ice Cream | annie's cooking lab. During a particularly hot and humid week earlier this summer so I decided to experiment with a lemon pie ice cream. Initially it was going to be lemon meringue pie ice cream, but I decided it was just too hot to have the oven on long enough to bake meringue cookies, so I scrapped the meringue and decided to just do a graham cracker crust which requires a much shorter baking time. I was so happy with how this ice cream turned out, the lemon flavor is very refreshing on a hot summer day and I love the crunch from the graham cracker crust crumble.
The lemon flavor comes from two sources, the first is some lemon zest that is combined in a food processor with sugar. Crafts: Nutella Ice Cream. This simple recipe isn't really ice cream, but you'll think it is when you're eating it. Actually you'll just think it's the best thing you've ever eaten. Pay attention to the health bits, Strawberry Yogurt Granita.
Over the past few months I have come to determine that I don't enjoy foods at extreme temperatures. Warm drinks like coffee, or dirty water as I like to call it, make me feel queasy and cold foods, like popsicles, hurt my teeth and take too long to eat. If it can't get into my belly in .5 seconds, I'm not interested. As expected, ice cream has always fallen into this category too. It has never been my go-to dessert. And if I do have it, I want texture – think chunks, swirls, sprinkles, and syrups. Watermelon Lime Sorbet Slices.
A sweet and tangy watermelon lime sorbet is a great way to cool off in the summer. As a bonus, this recipe is frozen back in the watermelon rind and cut off into slices. It's hot. The type of heat where when you step outside the door and your skin is wet before the door swings shut behind you. It's a hot that hangs in the air, letting you breathe it in, that is cured only by two things: being completely immersed in water or hiding indoors, the air conditioning cranked as far as it will go.I find that the heat makes me very unmotivated to do things like take a walk, water and weed the garden (though I have forced that one on myself) and prepare food and eat it.
However, when the promise of cooking provides ice cold watermelon sorbet, I just may be convinced. Chocolate Truffle Ice Cream. Hurricane Irene has come and gone. I'd like to think the batch of Chocolate Truffle Ice Cream I had sitting in the freezer helped me get through it. Luckily, all is well here in the Cats and Casseroles household today. The winds were less than forecasted, and we live on top of a hill, which means we've avoided most of the flooding.
Blackberries and Cream Popsicles. Guest Blogged: Nutella and Yogurt Popsicles.
---