Dyi bondage
‎whip-basics.com/images/gallery/Nylon_whip_tutorial_part_2.pdf
Shibari Tutorial: Consequence Collar & Cuff
Sartan's BDSM Workshop
Comments and questions welcome: paul@saroftreve.com. NOTICE: The pages that follow have relatively large pictures, and lots of them. This is necessary to communicate on the topic. If you have a slow connection, expect to wait.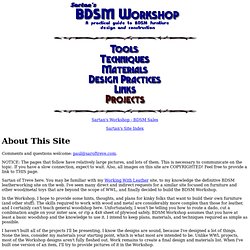 Tutorial: Safe, Sane, Suspension
Home > Writing > Suspension Who hasn't looked at a suspended body with a touch of awe? Each ligament stands out; breasts are erect and proud, and the sense of helplessness overwhelming, perhaps for this reason, many people think of suspension as something they must do; not so, Safe suspension is difficult and can be dangerous. It is something like bullwhipping; if you want to do it, be prepared to put in a lot of work and preparation. If it isn't a "must do," something that your soul or the soul of your submissive cries for, direct your play to areas with less potential for disaster.
Wooden bondage suspension frame
Let's face it, most metal suspension frames are huge and look horrible. You not only wouldn't be able to fit one in your bedroom, but you wouldn't want it there since most likely it just won't match anything else in the room. So, here's an alternative - a frame that looks good and is small enough to fit in your bedroom.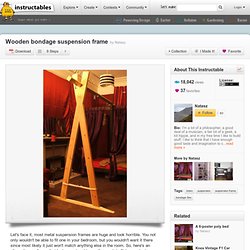 Sartan's BDSM Workshop: Projects: St. Andrew's Cross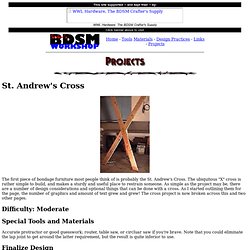 The first piece of bondage furniture most people think of is probably the St. Andrew's Cross. The ubiquitous "X" cross is rather simple to build, and makes a sturdy and useful place to restrain someone. As simple as the project may be, there are a number of design considerations and optional things that can be done with a cross. As I started outlining them for the page, the number of graphics and amount of text grew and grew! The cross project is now broken across this and two other pages.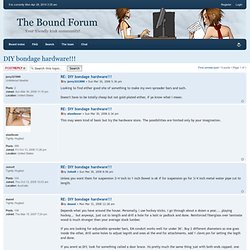 Depends what you have around the house. Personally, I use hockey sticks. I go through about a dozen a year.... playing hockey.,. but anyways, just cut to length and drill a hole for a bolt or padlock and done. Reinforced fiberglass over laminate wood is much stronger than your average stock lumber. If you are looking for adjustable spreader bars, EM conduit works well for under 36". Buy 2 different diameters so one goes inside the other, drill some holes to adjust legnth and ones at the end for attachments, add 1 clevis pin for setting the legth and done.
The Bound Forum • View topic - DIY bondage hardware!!!
Gallow Frame Suspension Rope (BDSM) by D3icidal
St Andrew's Cross hardware Kit Dungeon Delights
DIY BDSM
Gallow Frame Suspension Rope (BDSM) by D3icidal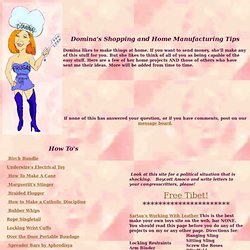 Lady Kate of Lancaster had these ideas: The bungee-jump rope floggers are a breeze to make. Visit your local dollar store, or a discount store if you must, and purchase the longest bungee cord you can get plus one cheep jump rope.
Home Manufacturing and Toy Making
How To Make Your Own Bondage Gear | Kasidie.com, July 2008
Velcro 101 Inside your box of industrial strength Velcro you will find two different feeling 15-foot belts. One belt will feel soft and fuzzy. So we'll refer to this as the side . The other belt will feel rough and is covered in tiny hooks.
A collection of 13 tips and tricks I've found helpful around the workshop. Another tip I found on leather craft forums is to use super glue to lock the thread ends in place - a technique that could be used for machine or hand stitching. You would just have to be very careful not to get any glue on the front side of the workpiece. The main reason I purchased an anvil was to have a firm curved shape I could use to help shape and flatten the seam allowance on hoods - particularly around the nose and chin areas. The horn on this 24lb. anvil is just the perfect shape for this type of work. The face (the flat part on top) is also great for setting the stud and post (flat) side of your snaps.
A fetish leathercrafters journal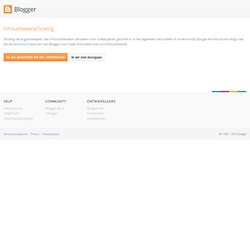 Acorn APABP 0230 Ring Pull - Interior Black Iron (each)
Quick Metric Conversions: 25mm = 1 inch (approx), 2.5cm = 1 inch (approx), 96mm = 3.75 inches AVAILABLE FINISHES: Some products may be available in different materials such as Brass, Bronze, Iron or Stainless Steel and many finishes such as Polished Brass, Antique Brass, Polished Chrome, Satin Nickel, Oil Rubbed Bronze, Antique Pewter, Black, Antique Copper, and other finishes. If so, these finish options are displayed on the individual product detail pages. PRICING NOTE: All prices displayed on our website are based on "EACH" unit, unless otherwise specifically mentioned on the product detail page(s). A lot of our products can be configured for different sizes, functions, finishes, etc.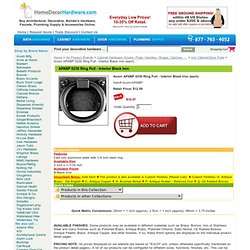 DIY Bondage Gear » Swindle Leather Blog
Acorn : Categories
cast iron ring pull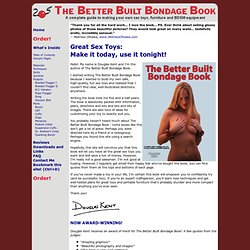 The Better Built Bondage Book
"I was completely impressed with this book. You have done a fabulous job!" Read review -- Kayla Kuffs, editor of The Dominant's View e-zine Hello!
Bondage Tutorials on the Web
What's New? | Modern Dungeon Quarterly
Theme Update Disaster Really not sure what happened, all I did was update the theme. Hopefully, I can fix this shortly. Sorry, everyone, for the eyesore. Changing Formats and Submission Guidelines
Basic Bondage Furniture Construction
Bondage furniture is fairly common within BDSM pornography. However, companies actually producing such furniture are few and far between. Fortunately, with ingenuity and some basic woodworking tools, you can construct many of them yourself.
JT's Stockroom: Steel Suspension Bar
A heavy black steel bar, 36" long, with heavy eye-bolts on each end on the top and bottom of the bar. The top eyelets have 18" lengths of chain permanently welded onto them. The chains and eyelets are also black, and can be used to hang the bar from either 1 or 2 points overhead. It comes with a metal horseshoe bolt that can be used to join the two chains together at the top.
BONDAGE FORTE
A DIY Winch
Basic Bondage Furniture Construction
BDSM Events, Fetish Events, Leather Events, BDSM Groups at The BDSM Events Page
Do it yourself BDSM equipment and converting common items from grocery and drug stores into sex toys for D/s play. - Do-it-yourself S&M projects and pervertables
Saint Andrews Cross - Pendorbound
DIY BDSM Toys
Outfitters Supply is the best source for trail riding and horse packing equipment