Dyi bondage
‎whip-basics.com/images/gallery/Nylon_whip_tutorial_part_2.pdf
Sartan's BDSM Workshop
Comments and questions welcome: paul@saroftreve.com.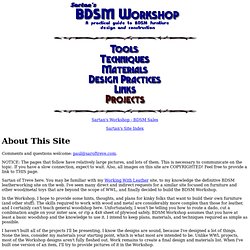 Tutorial: Safe, Sane, Suspension
Home > Writing > Suspension
Wooden bondage suspension frame
Let's face it, most metal suspension frames are huge and look horrible. You not only wouldn't be able to fit one in your bedroom, but you wouldn't want it there since most likely it just won't match anything else in the room. So, here's an alternative - a frame that looks good and is small enough to fit in your bedroom.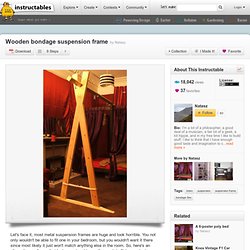 Sartan's BDSM Workshop: Projects: St. Andrew's Cross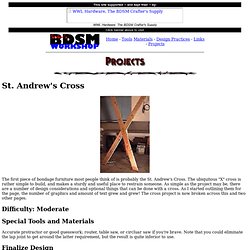 The first piece of bondage furniture most people think of is probably the St. Andrew's Cross.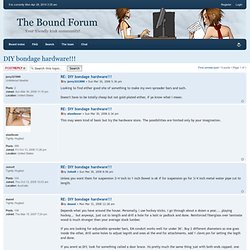 Depends what you have around the house. Personally, I use hockey sticks.
The Bound Forum • View topic - DIY bondage hardware!!!
Gallow Frame Suspension Rope (BDSM) by D3icidal
St Andrew's Cross hardware Kit Dungeon Delights
DIY BDSM
Gallow Frame Suspension Rope (BDSM) by D3icidal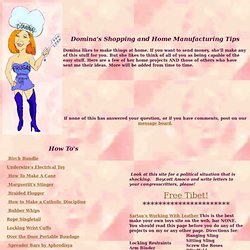 Lady Kate of Lancaster had these ideas: The bungee-jump rope floggers are a breeze to make. Visit your local dollar store, or a discount store if you must, and purchase the longest bungee cord you can get plus one cheep jump rope.
Home Manufacturing and Toy Making
How To Make Your Own Bondage Gear | Kasidie.com, July 2008
Velcro 101 Inside your box of industrial strength Velcro you will find two different feeling 15-foot belts.
A fetish leathercrafters journal
Acorn APABP 0230 Ring Pull - Interior Black Iron (each)
Quick Metric Conversions: 25mm = 1 inch (approx), 2.5cm = 1 inch (approx), 96mm = 3.75 inches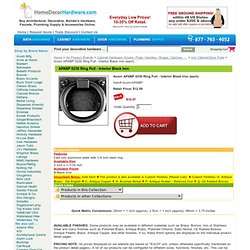 DIY Bondage Gear » Swindle Leather Blog
Acorn : Categories
cast iron ring pull
The Better Built Bondage Book
Bondage Tutorials on the Web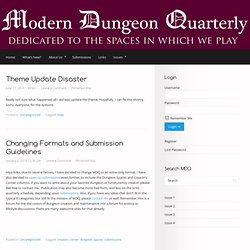 What's New? | Modern Dungeon Quarterly
Theme Update Disaster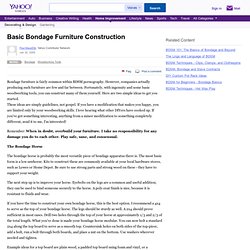 Basic Bondage Furniture Construction
Bondage furniture is fairly common within BDSM pornography. However, companies actually producing such furniture are few and far between. Fortunately, with ingenuity and some basic woodworking tools, you can construct many of them yourself.
JT's Stockroom: Steel Suspension Bar
A heavy black steel bar, 36" long, with heavy eye-bolts on each end on the top and bottom of the bar.
BONDAGE FORTE
The DIY Winch is a simple one way tightening device that works with rope. I have dozens of these at hand because they work so well.
A DIY Winch
Basic Bondage Furniture Construction
BDSM Events, Fetish Events, Leather Events, BDSM Groups at The BDSM Events Page
Do it yourself BDSM equipment and converting common items from grocery and drug stores into sex toys for D/s play. - Do-it-yourself S&M projects and pervertables
Important Note These plans should be considered "beta" quality at this point. The cross I currently have built was made before I figured out all of the trig displayed below, and some fudging was necessary... I think the numbers all come out correctly, but I'll want to build another cross strictly following these measurements before I'm comfortable calling them correct.
Saint Andrews Cross - Pendorbound
DIY BDSM Toys
Outfitters Supply is the best source for trail riding and horse packing equipment