Instruments
ANALOG MODULAR SYNTH TINYSIZER! Synthesizer module link page for more synth details. A Video Displaying The Power Of TAL Audio Plugins « bedroom producer's blog. Many people say that you can't achieve good results with freeware plugins because they are 'crap'.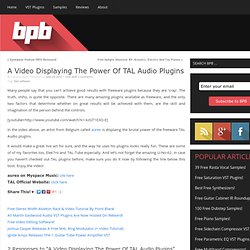 The truth, imho, is quite the opposite. There are many amazing plugins available as freeware, and the only two factors that determine whether on great results will be achieved with them, are the skill and imagination of the person behind the controls. [youtube= Products. TAL-BassLine-101 & TAL-U-NO-LX updated 17.01.2014 We updated TAL-BassLine-101 and TAL-U-NO-LX-V2.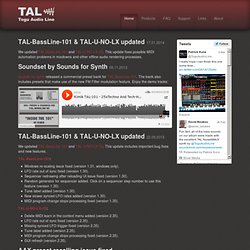 This update fixes possible MIDI automation problems in mixdowns and other offline audio rendering processes. Soundset by Sounds for Synth 08.11.2013 Sounds for synth released a commercial preset bank for TAL-BassLine-101. The bank also includes presets that make use of the new FM Filter modulation feature. Insert Piz Here - Mr. Alias Pro. Mr.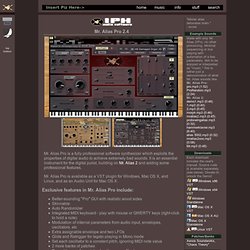 Alias Pro 2.4 Mr. Alias Pro is a fully professional software synthesizer which exploits the properties of digital audio to achieve extremely bad sounds. It is an essential instrument for the digital purist, building on Mr. Alias 2 and adding some professional features. Bleep Labs » Welcome!
---
kathologist Nov 2 2011

Have you ever checked out Metasonix products?
---