Instruments
ANALOG MODULAR SYNTH TINYSIZER! Synthesizer module link page for more synth details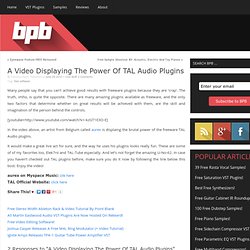 Many people say that you can't achieve good results with freeware plugins because they are 'crap'. The truth, imho, is quite the opposite. There are many amazing plugins available as freeware, and the only two factors that determine whether on great results will be achieved with them, are the skill and imagination of the person behind the controls. [youtube=http://www.youtube.com/watch?
A Video Displaying The Power Of TAL Audio Plugins « bedroom producer's blog
Release of the iPhone game Toad's World . I made this game together with a friend. It was a hard piece of work, but i'm thinking we created a really funny little game. Its hard to master, but when you get it, you will rule this game :) The arcade style sound effects were all made with TAL-NoiseMaker . Also the background tune uses TAL synths and effects.
Products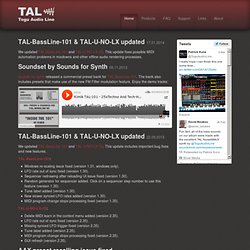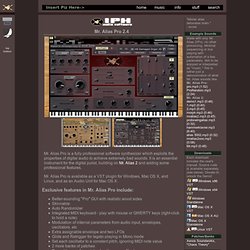 Mr. Alias Pro 2.4 Mr. Alias Pro is a fully professional software synthesizer which exploits the properties of digital audio to achieve extremely bad sounds. It is an essential instrument for the digital purist, building on Mr. Alias 2 and adding some professional features.
Insert Piz Here - Mr. Alias Pro
Bleep Labs » Welcome!