Random Stuff
The busy mockingbird | a messy collection of art projects, crafts, and various random things… Living with roommates is tough. Free Template Maker. What is this good for?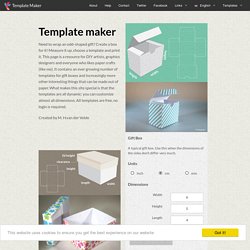 This generator simply creates a paper model for a box or an envelope. It does the math and all the drawing-work for you. Some of the uses for a paper-box: A nice gift-wrap for a present with an irregular shape, for example a sphere or a jar. Profesional-looking package.
StumbleUpon!
Fav memes. Youtube fun. The beauty of nature. Random funny. Happenings. Random musical stuff. Observar. Random ideas. The Museum of Ridiculously Interesting Things | a collection of ridiculously interesting art, objects, ideas, and history.
---