Mnstrmdvncs
Alberto
Windmills and trains
Süßer schmeckt was sauer verdient ist..
During University Projects
This amazing informational video illustrates the differences between porn sex and real sex by using food as an analogy. Using zucchinis, cilantro, nutella, hot dogs, various sliced fruits and a lightly-bondaged chicken, this video makes use of everyday accoutrements to demonstrate the difference between pornland and our own bedrooms. The result is a hilariously intelligent bit of sex-education, we'd recommend it to (almost) all age groups, especially if your own midnight romps aren't living up to the glamour of the waxed-up video world.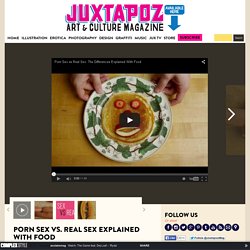 Porn Sex vs. Real Sex Explained With Food
喜羊羊