Les expéditions
Campagnes MUSORSTOM : exploration de la faune marine bathyale de l'Indo-Pacifique tropical
Panglao Marine Biodiversity Project 2004™, All Rights Reserved (http://www.panglao-hotspot.org)
CAFOTROP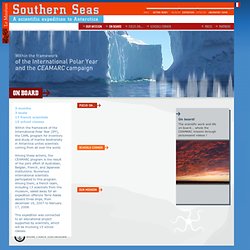 Mers Australes
Within the framework of the International Polar Year (IPY), the CAML program for inventory and study of marine biodiversity in Antarctica unites scientists coming from all over the world. Among these actions, the CEAMARC program is the result of the joint effort of Australian, Belgian, French, and Japanese institutions. Numerous international scientists participated to this program. Among them, a french team, including 13 scientists from the museum, sailed away for an expedition offshore Terre Adelie aboard three ships, from december 16, 2007 to february 17, 2008.
Our Planet Reviewed :: Home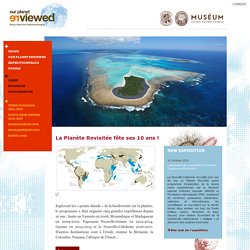 Les derniers sachets de spécimens sont triés, les équipes de la station de recherche de la mission terrestre plient bagages et se rapatrient par vague sur Madang, tandis que les équipes de la mission marine terminent les dernières collectes. Il est de coutume de produire un premier bilan « à chaud » pour servir d'épilogue. Un premier bilan ne va pas tout seul, et ne va pas sans chiffre : 301 plongées dans eaux de Madang, 3 100 m d'ascension au coeur des forêts, plus d'une centaine de scientifiques impliqués... Mais l'histoire s'arrête-t-elle là ? Retrouvez toute l'expédition et découvrez la suite sur le blog !
Facebook
Jean-Louis Etienne - Expédition à Clipperton
SANTO 2006