Hungry Girl
Chocolate Shake. Summer may be coming to an end, but chocolate shakes are DELICIOUS any time of the year.
And we've been dying to make a HUGE guilt-free version of those thick, creamy ice cream shakes you find at every fast food chain under the sun. After various attempts (even our blender was becoming irritated with us), we came up with the perfect chocolate shake swap. Not only is it HUGE and low in both calories and fat, but it even has 7 grams of fiber -- WE ROCK SO MUCH! Pumpkin Cheesecake. We're year-round pumpkin freaks, but fall is when all the "normal" people celebrate the fat orange squash.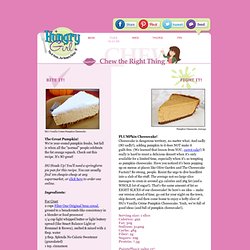 Check out this recipe. It's SO great! HG Heads Up! You'll need a springform pie pan for this recipe. Eggnogg. Oatmeal Cookies. We've searched high and low for the ULTIMATE guilt-free soft oatmeal raisin cookie.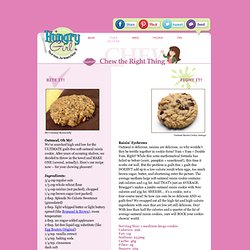 After years of scouring shelves, we decided to throw in the towel and MAKE ONE (several, actually). Here's our recipe now -- for your chewing pleasure! Ingredients:3/4 cup regular oats1/3 cup whole-wheat flour1/4 cup raisins (not packed), chopped1/4 cup brown sugar (not packed)2 tbsp. Splenda No Calorie Sweetener (granulated)2 tbsp. light whipped butter or light buttery spread (like Brummel & Brown), room temperature2 tbsp. no-sugar-added applesauce2 tbsp. fat-free liquid egg substitute (like Egg Beaters Original)1/4 tsp. vanilla extract1/4 tsp. baking soda1/4 tsp. cinnamondash salt Directions:Preheat oven to 350 degrees. Pumpkin Eggnogg. There are just two short days 'til Christmas, people, so NOG IT UP!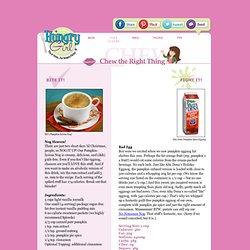 Our Pumpkin-licious Nog is creamy, delicious, and (duh) guilt-free. Even if you don't like eggnog, chances are you'll LOVE this stuff. And if you want to make an alcoholic version of this drink, nix the rum extract and add 5 oz. rum to the recipe. Each serving of the spiked stuff has 174 calories.
---