Geekery
Australian Diprotodon Fossil: Scientists unearth fossil of largest marsupial in Queensland
File photo by Gabriel Bouys/AFP/Getty Images. Australian scientists have uncovered the remains of 3-ton marsupial the size of a rhinoceros that lived 2 million years ago. The Daily Telegraph reports that paleontologists in Queensland have unearthed a nearly complete skeleton of the wombat-like creature, known as a diprotodon. Scientists say the find is one of Australia's most significant prehistoric discoveries. "It was the biggest of them all—the biggest marsupial that ever lived on any continent," said Sue Hand, one of the researchers involved in the discovery. "It was a bit like a wombat but looked more like a massive, rhino-type beast. ...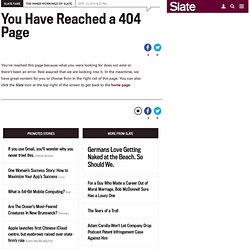 Nobel Prize honors super-strong, super-thin carbon
Hello ladies. Here's another stupid video.
The online dating website OkCupid has performed a statistical analysis of the photos their users post, in order to study patterns.
mental_floss Blog » OkCupid Analyzes Online Dating Data; Surprising Conclusions Revealed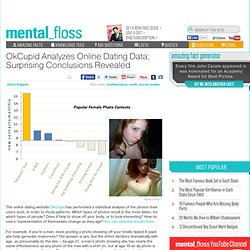 One thing that every geek can do is quote their favorite geek-culture media, whether it's movies, books, television, theater or music. The GeekDads have tried to compile a list of such quotes for your enjoyment. This list is certainly not definitive. Indeed, it's only the beginning!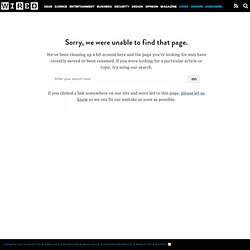 The Settlers of Catan's Photos - Wall Photos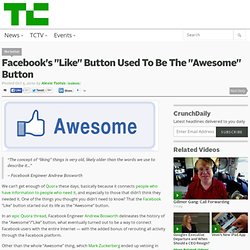 "The concept of "liking" things is very old, likely older than the words we use to describe it…" – Facebook Engineer Andrew Bosworth We can't get enough of Quora these days, basically because it connects people who have information to people who need it , and especially to those that didn't think they needed it. One of the things you thought you didn't need to know? That the Facebook "Like" button started out its life as the "Awesome" button. In an epic Quora thread , Facebook Engineer Andrew Bosworth delineates the history of the "Awesome"/"Like" button, what eventually turned out to be a way to connect Facebook users with the entire Internet — with the added bonus of rerouting all activity through the Facebook platform.
Facebook's "Like" Button Used To Be The "Awesome" Button
Welcome to tvtropes.com - Search Results for "tvtropes.com"