ADSL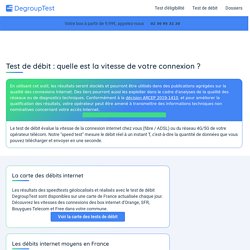 Test de débit mis à jour le 05/01/2010 - Page mise à jour le 28/09/2010 Ce test va vous permettre de tester la vitesse (bande passante) de votre connexion Internet (ADSL, ADSL 2+, câble ou fibre optique). Le test va effectuer trois mesures : Le temps de réponse de votre connexion (ping). Le débit (ou bande passante) Internet descendant de votre connexion (download).
Speed tests and problem diagnosis tools - dslreports.com
DegroupTest vous permet de connaître en quelques secondes vos possibilités d'abonnement Internet : quels sont les opérateurs pouvant vous raccorder et les technologies utilisées pour la connexion Internet. Ce test va effectuer plusieurs demandes aux différents Fournisseurs d'Accès Internet (FAI) pour tester comment il est possible de raccorder votre ligne à Internet : ADSL, dégroupage partiel ou total, câble, fibre optique etc. Il permettra de vérifier les services disponibles (téléphone, TV ADSL, TV HD etc.).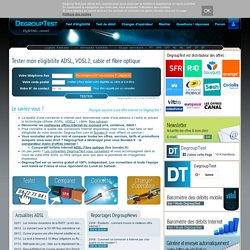 Speedtest VivilProject
voici un modèle de mise en demeure[b] NomAdresse N° de client :N° de téléphone :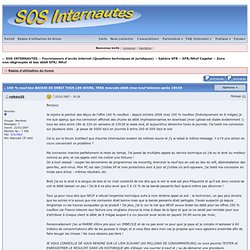 Procédure résiliation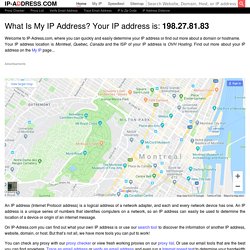 An IP address (Internet Protocol Address) is a logical address of a network adapter. The IP address is unique and identifies computers on a network. Welcome to IP-Adress.com, where you can quickly and easily determine your IP address or the IP address of another device. An IP address (Internet Protocol address) is a logical address of a network adapter, and each and every network device has one. An IP address is a unique series of numbers that identifies computers on a network, so an IP address can easily be used to determine the location of a device or origin of an internet message. Here, you can find your own IP address or use our Whois tool to discover the information of another internet user using their IP address.