Social 8
Publications Listen Up, Marketers: The Focus Group Is Dead 03/18
CampusBuddy.com | Welcome!
It took a while. Even though tens of millions of users were flocking to social media sites every day, most marketers stayed away. They either didn't understand how to join the conversations—without sounding like shills—or they were frightened away by the prospect of associating their brands with questionable content. But things are changing. Companies are learning how to leverage social media and tap into the rising tide of consumers participating in social network sites, blogs, wikis and Twitter. According to the "The ROI on Social Media Marketing" report from the Aberdeen Group, sponsored by Visible Technologies, marketers have developed the tools and methodologies to drive marketing ROI by listening to and learning from customers and prospects.
Marketers Moving to Social Media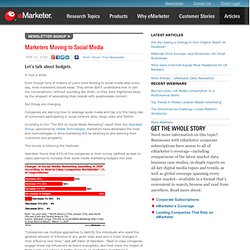 Slideshare: Embed or Download this ReportThe Collaborative Economy Movement Changes Business This report offers critical insight for big brands who are grappling with the emergence of the Collaborative Economy, and for the startups that are driving this growth. For those new to the term, the collaborative economy is a powerful, if nascent, movement in which people are getting the things from each other, it's a combination of trends like the sharing economy, maker movement, and co-innovation. That means that people go to a site like LendingClub to get funding for their new project, rather than a traditional bank. Or, they may go to a site like Etsy or Shapeways to get custom made goods, or go to a site like eBay to buy pre-owned goods, instead of buying new products from retailers.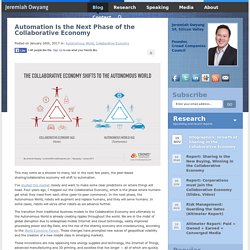 by Josh Bernoff Last year, we surveyed interactive marketers and found a strong desire to continue investing in social applications, even with a recession looming. Now the recession is here.
Recession resistant: 95% of social media marketers will maintain