Social 2
Meetango
If you saw "Star Trek" over the weekend , you might be wondering how you can use the Web to connect with other fans. It's not as hard as you might think. From Ning social networks to Facebook groups, there are a variety of ways to connect with "Star Trek" fans around the world. Social "Star Trek"
Seven sites that connect trekkies | Webware - CNET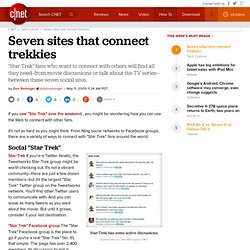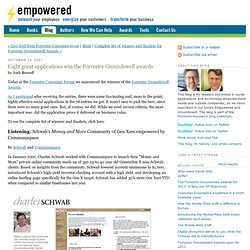 by Josh Bernoff Today at the Forrester Consumer Forum we announced the winners of the Forrester Groundswell Awards . As I mentioned after receiving the entries, there were some fascinating and, more to the point, highly effective social applications in the 78 entries we got. It wasn't easy to pick the best, since there were so many good ones. But, of course, we did. While we used several criteria, the most important was: did the application prove it delivered on business value.
Eight great applications win the Forrester Groundswell awards
What is SocialSpace? - Help Center—Knowledge Base and FAQ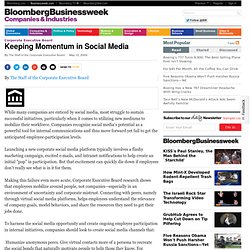 Keeping Momentum in Social Media
By The Staff of the Corporate Executive Board
We're running a special series on recommendation technologies and in this post we look at the different approaches - including a look at how Amazon and Google use recommendations. The Wikipedia entry defines "recommender systems" as "a specific type of information filtering (IF) technique that attempts to present information items (movies, music, books, news, images, web pages, etc.) that are likely of interest to the user."
A Guide to Recommender Systems - ReadWriteWeb
15 Top Privacy Policies, Analyzed - ReadWriteEnterprise
Welcome to Poken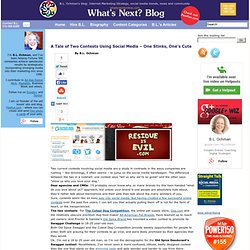 By B.L. Ochman Two current contests involving social media are a study in contrasts in the ways companies are rushing – like lemmings, it often seems – to jump on the social media bandwagon.
B.L. Ochman's blog: A Tale of Two Contests Using Social Med
Dan Schawbel is the author of Me 2.0: Build a Powerful Brand to Achieve Career Success , and owner of the award winning Personal Branding Blog . Social media resumes are important for attracting hiring managers directly to you, without you having to submit your resume, blindly, to them. The problem with submitting your resume online to job postings is that most job postings aren't even vacant, might not exist, and 80% of jobs offers are received through networking. With a social media resume, you're able to paint a completely different portrait of yourself for hiring managers and customize it to reflect your personal brand.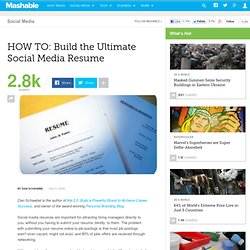 Skittles Site Receives an Extreme Social Makeover
1. Restrictions apply: The $8.95 commission does not apply to foreign stock transactions, large block transactions requiring special handling, or restricted stock transactions. All broker-assisted and automated phone trades are subject to service charges. A minimum deposit of $1,000 is required to open most Schwab brokerage accounts. Waivers may apply. See the Charles Schwab Pricing Guide for full fee and commission schedules.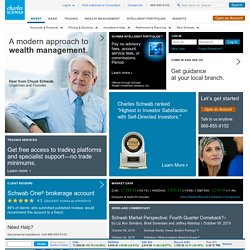 Charles Schwab
How Doctors Are Using Social Media
Social media has become an integral part of modern society. There are general social networks with user bases larger than the population of most countries. There are niche sites for virtually every special interest out there. There are sites to share photos, videos, status updates, sites for meeting new people and sites to connect with old friends.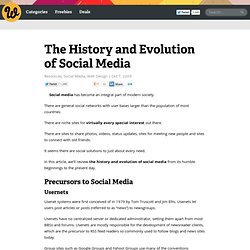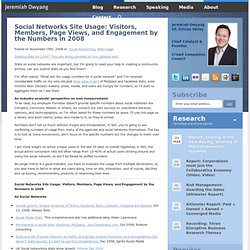 Seeking stats for 2009? They are being compiled on this updated post . Stats on social networks are important, but I'm going to need your help in creating a community archive, can you submit stats as you find them?
Social Networks Site Usage: Visitors, Members, Page Views, and E
What's Your Favorite Brand of 2009? #openwebawards
Open Web Awards Nominations will remain open until 11:59 pm ET on Sunday, November 15th. Submit your nominations here . Social media has not only transformed how we communicate with each other, but it has even changed how we, as consumers, interact with brands, companies, and agencies. The old forms of customer service and customer relationships have been challenged by the direct and open access that Twitter , YouTube , Facebook , and other social media services have sparked. That's why the #OpenWebAwards for Brands, Startups, Companies, and Agencies are so intriguing.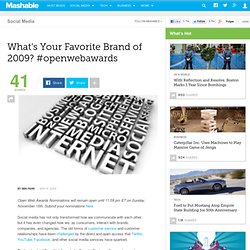 R/GA: Digital AOY 2008
Stepping into R/GA's New York headquarters, a visitor notices, amid the general bustle of a busy shop, the beautiful, sometimes haunting images on the walls. They are pieces from Bob Greenberg's personal collection of "outsider art," created by the institutionalized. "What I find in outsider art is the opposite of what I find in the digital world: no compromise and complete expressive freedom," Greenberg wrote about the collection, in a book published a decade ago. Indeed, Greenberg's choice of art is the inverse of how, in his own idiosyncratic way, he has crafted R/GA's place in the evolving world of brand building.
At the Altimeter Group, I cover Customer Strategy, which encompasses not only marketing, but also support, expect our discussion to grow as social technologies impact the whole enterprise. The Social Support movement is afoot (see opportunities) , and more companies will be connecting existing marketing and support systems with the social web. Many companies, like Comcast, Wells Fargo, Intel, BestBuy, JetBLue are responding to customers and in some cases, supporting them in near real time. The challenge is that these teams are unable to scale, even a support team of ten full time folks at Comcast will have a hard time responding to all customers in all social channels.
Matrix: The Four Social Support Strategies « Web Strategy by Jer
6 Ways to Use Ning for Business
David Spinks is the Community Manager for Scribnia , where the world's bloggers and columnists are reviewed by their readers. He also blogs at The Spinks Blog about business, careers and professional communities. There is an almost overwhelming number of options on the social web for businesses to create and participate in communities. You hear a lot about Facebook Fan Pages, Twitter communities, and even LinkedIn Groups; but businesses have another option when looking to build a community online that's often overlooked despite having nearly 40 million users: Ning . Ning allows businesses to create their own off-site social network for their brand's community, and participate in existing conversations with the communities they are looking to engage.
6 Ways To Protect Your Brand With So
by Mike Mulvihill Photo: yospyn.com
Social Media: How Much Is A Good Thing?
Editorial Tools
On Hiring for Social Media Roles – Get It Together, People.
There's a lot of talk in the blogosphere right now about hiring social media managers — what the roles and responsibilities should be and how much current community managers and socmed managers are being paid. We have to tell ya, what we're seeing is not encouraging. Hiring for Social Media: The Ugly Side (Amber Naslund) Hiring For Social Media: Good Moves (Amber Naslund) Amber's two posts frame this issue quite nicely, I think.
The Last Campaign: How Experiences Are Becoming the New Advertis
B.L. Ochman's blog: 10 Things Social Media Can't Do
view-all-whitepapers :: Razorfish
Winners of the 2009 Forrester Groundswell Awards
Social Media Time Management: Selecting Tools | Brand Elevation
Twitter Cluelessness : The World
Social media: the best and worst of 2009 | Blog
Web 2.0 Square
Social Media Marketing Applications - 10 Proven Ideas - Online M
YouTube Launches Real-Time Discussion Search and Tracking
Five reasons corporations are failing at social media
Social Media Business Council
2009 Tribalization of Business Study | Deloitte LLP | Ed Moran
The 10 commandments of social optimisation (#SOCOP) | Blog | Eco
What's the Worst Thing That Can Happen with Social Media? – The