Performance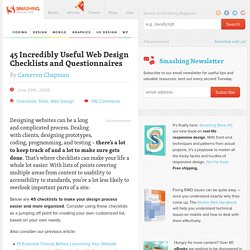 Advertisement Designing websites can be a long and complicated process. Dealing with clients, designing prototypes, coding, programming, and testing – there's a lot to keep track of and a lot to make sure gets done. That's where checklists can make your life a whole lot easier.
MySpace's Performance Tracker
MySpace's Performance Tracker is a browser plugin that help developers to improve their code performance by capturing and measuring possible bottlenecks on their web pages. MySpace's Performance Tracker Features Measure the CPU hit and memory footprint of your pages as they render on the client's browser Review screen shots of the page while it renders Review the rendered HTML on each point of the page's lifecycle Measure and show estimates of the time it takes to render each section of the page in different connection speeds Validate the content of your page against a set of proven "best practice" rules of web development Review downloaded files and show download time estimation on different bandwidths MySpace's Performance Tracker currently supports Internet Explorer 6 and up . License Agreement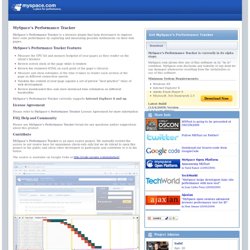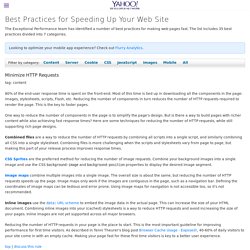 Best Practices for Speeding Up Your Web Site
The Exceptional Performance team has identified a number of best practices for making web pages fast. The list includes 35 best practices divided into 7 categories. Minimize HTTP Requests tag: content 80% of the end-user response time is spent on the front-end.