Multitouch
Razorfish Aims to Simplify Touchscreen Creations - ClickZ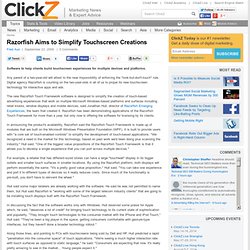 Fred Aun | September 23, 2009 | 0 Comments inShare0 Software to help clients build touchscreen experiences for multiple devices and platforms.
Multi-touch, Multitouch
Where the Multitouch Devices Are | Larry Larsen | Channel 10
Video Exclusive: Schematic's multi-meter, multi-touch, mult
Trevor Kaufman of design haus Schematic passed along this shiny, produced video showing off their new "Touchwall" project that's the sequel to a previous multitouch panel they built. As it happens, we're the first to get a look at it. Multitouch is in a weird spot.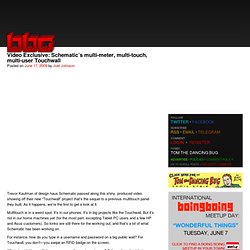 http://www.zima.ch/tangent/
Jeff Han on Pixelsumo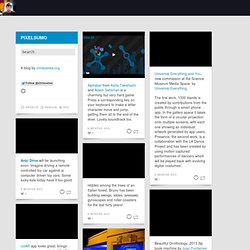 Alphabet from Keita Takahashi and Adam Saltsman is a charming but very hard game. Press a corresponding key on your keyboard to make a letter character move and jump, getting them all to the end of the level. Lovely soundtrack too. Universal Everything and You, new commission at the Science Museum Media Space, by Universal Everything.
Natural Interaction - SensitiveWall Website
SENSITIVE.WALL
Multi-Touch Screen for LCD large screen, plasma TV display - Tou
The latest PQ Labs G4S Multi-Touch overlay not only boasts a finger-width frame size it also incorporates over three years' of product improvements and innovation. With its incredible coin thickness and near-flush surface design, G4S offers an elegant and accurate touch experience for both integration or as an overlay to an existing monitor. Celebrating 3 Years of Technology Advancement: • 2010 - Finger Width Slim Bezel (G3 Integration Kit)