Multitouch
Razorfish Aims to Simplify Touchscreen Creations - ClickZ. Fred Aun | September 23, 2009 | 0 Comments inShare0 Software to help clients build touchscreen experiences for multiple devices and platforms.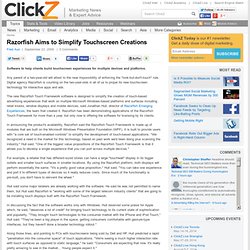 Multi-touch, Multitouch. Where the Multitouch Devices Are | Larry Larsen | Channel 10. Video Exclusive: Schematic's multi-meter, multi-touch, mult. Trevor Kaufman of design haus Schematic passed along this shiny, produced video showing off their new "Touchwall" project that's the sequel to a previous multitouch panel they built.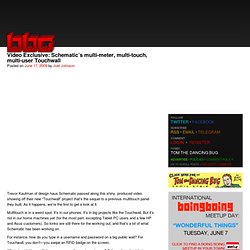 As it happens, we're the first to get a look at it. Multitouch is in a weird spot. MultiTouch - Modular MultiTouch LCD. Jeff Han on Pixelsumo. Natural Interaction - SensitiveWall Website. SENSITIVE.WALL. Multi-Touch Screen for LCD large screen, plasma TV display - Tou. The latest PQ Labs G4S Multi-Touch overlay not only boasts a finger-width frame size it also incorporates over three years' of product improvements and innovation.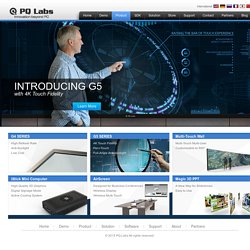 With its incredible coin thickness and near-flush surface design, G4S offers an elegant and accurate touch experience for both integration or as an overlay to an existing monitor. Celebrating 3 Years of Technology Advancement: • 2010 - Finger Width Slim Bezel (G3 Integration Kit)
---