ImportedBookmarks
HP's giant Multi-touch wall on Pixelsumo
Joe Stegman's WebBlog : Jelly Source Code
Control.MouseDoubleClick Event (System.Windows.Controls)
[This documentation is for preview only, and is subject to change in later releases. Blank topics are included as placeholders.] Occurs when a mouse button is clicked two or more times. Namespace: System.Windows.Controls Assembly: PresentationFramework (in PresentationFramework.dll) XMLNS for XAML: http://schemas.microsoft.com/winfx/2006/xaml/presentation, http://schemas.microsoft.com/netfx/2007/xaml/presentation public event MouseButtonEventHandler MouseDoubleClick < object MouseDoubleClick = " MouseButtonEventHandler "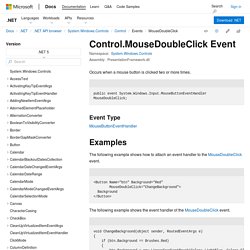 Channel9 Wiki: LearningWPF
I just posted three new hands-on labs for Expression Blend that were created for MIX but haven't been posted for the world yet. There's lots of little nuggets in there worth checking out, things like creating a user controls, databinding, triggers, styling controls, using web services, paging, data input and more. The more I use Blend, the more I love it, but it has its own learning curve , above and beyond WPF. The first lab is a UI for Windows Live Search, including Image Search. The second lab is a color swatch lab. The third lab is a recipe viewer application.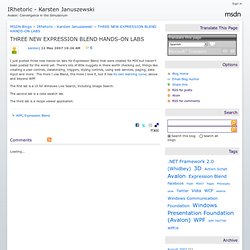 IRhetoric - Karsten Januszewski : THREE NEW EXPRESSION BLEND HAN
Canadian User Experience : WPF/Silverlight and Expression Resour