Ecommerce
Chat
Holiday Web Shoppers Hit Social Networks. US Internet users will be doing plenty of online research about holiday gift giving this year.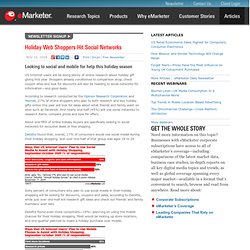 Shoppers already conditioned to comparison shop, check coupon sites and look for discounts will also be heading to social networks for information—and good deals. According to research conducted by the Opinion Research Corporation and Yesmail, 27% of online shoppers who plan to both research and buy holiday gifts online this year will look for ideas about what friends and family want on sites such as Facebook. And nearly one-half (45%) will use social networks to research items, compare prices and look for offers.
About one-fifth of online holiday buyers are specifically looking to social networks for exclusive deals or free shipping. Deloitte found that, overall, 17% of consumers would use social media during their holiday shopping. Search Til You Drop: Google Launches Hosted Commerce Search For. Searching retail sites can be frustrating at times.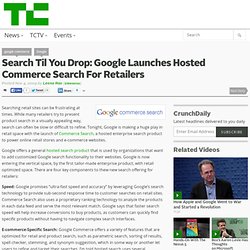 While many retailers try to present product search in a visually appealing way, search can often be slow or difficult to refine. Tonight, Google is making a huge play in retail space with the launch of Commerce Search, a hosted enterprise search product to power online retail stores and e-commerce websites. Google offers a general hosted search product that is used by organizations that want to add customized Google search functionality to their websites. Google is now entering the vertical space, by the first tailor-made enterprise product, with retail optimized space. There are four key components to thew new search offering for retailers: Keys to E-Commerce Success. Visitors to retail e-commerce sites are most likely to be heading to online stores in order to learn, rather than to shop or buy. iPerceptions' "Retail/E-Commerce Industry Report Q2 2009" found that 38.6% of e-commerce visitors were at the initial information-gathering phase at the top of the purchase funnel.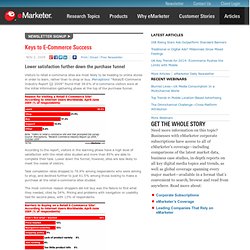 According to the report, visitors in the learning phase have a high level of satisfaction with the retail sites studied and more than 85% are able to complete their task. Lower down the funnel, however, sites are less likely to meet the needs of visitors. Increasing Online Sales: Simple Usability Problems To Avoid « Sm. Advertisement When designing an online store, you have to consider many different types of customers: repeat customers, first-timers, people in a rush, etc.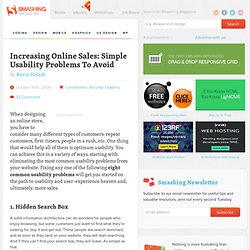 One thing that would help all of them is optimum usability. You can achieve this in a variety of ways, starting with eliminating the most common usability problems from your website. Fixing any one of the following eight common usability problems will get you started on the path to usability and user-experience heaven and, ultimately, more sales. What should be above the fold on an e-commerce site? | Blog | Ec. As a number of usability studies have shown recently, the fold on a webpage doesn't have to be a barrier to users, and people are willing to scroll down to see more.
However, the area above the fold is the first thing visitors to your website will see, so what should be above the fold? Here are a few suggestions, with e-commerce sites in mind... According to this insightful article from cxpartners, having watched more than 800 user testing sessions, the fold was only seen to be a barrier in three of them, which is a pretty convincing statistic. 15 Common Mistakes in E-Commerce Design « Smashing Magazine. Advertisement Selling online can open up huge new markets for many businesses.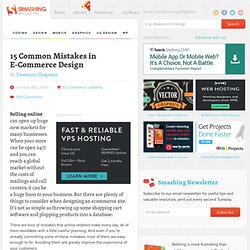 When your store can be open 24/7 and you can reach a global market without the costs of mailings and call centers, it can be a huge boon to your business. Tv LIVE. The 37 things I want to see on a product page | Blog | Econsulta. I've been working on a new community-orientated startup lately, which also has an e-commerce / marketplace element to it.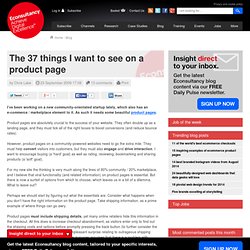 As such it needs some beautiful product pages. Product pages are absolutely crucial to the success of your website. Showcase of Fresh and Well-Designed Online Shops | Design Showca. M-Commerce Is Still in Its Infancy. More than 70 million US mobile phone users will access the Internet from their device in 2009, eMarketer forecasts.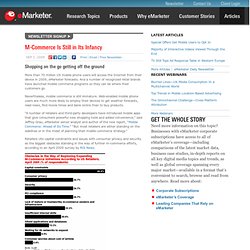 And a number of recognized retail brands have launched mobile commerce programs so they can be where their customers go. Nevertheless, mobile commerce is still immature. Web-enabled mobile phone users are much more likely to employ their devices to get weather forecasts, read news, find movie times and bank online than to buy products. Amazon Services - Amazon Business Solutions. Publications SEO or PPC 08/13/2009. 23 Excellent Examples of How to Design Online Stores - Inspect E. 3rd August, 2009 Tom Kenny Articles Online stores can often be confusing and hard to use which can turn potential customers away.
There are some very simple things you can do to keep your users focused on your site. Here are some great examples of sites doing just that. Could Your Multichannel Marketing Do More? Today, while many retailers conduct business in multiple channels—brick-and-mortar stores, Websites, catalogs and call centers—few are adept at coordinating the various channels.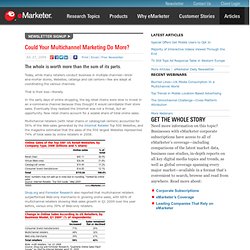 That is their loss—literally. In the early days of online shopping, the big retail chains were slow to invest in an e-commerce channel because they thought it would cannibalize their store sales. Eventually they realized the Internet was not a threat, but an opportunity. CHART OF THE DAY: Amazon Runs Away With Retailing. Japan's Rakuten: Can The Biggest E-Commerce Site You Never Heard. The term "e-commerce" still lacks a universally valid definition, but even if you just bundle B2B and B2C transactions under it, it's a multi-trillion dollar business globally. Last year, Nielsen found [PDF] 86% of the global web population made an online purchase already (North America: 92%).
For the US alone, B2C sales are expected to grow from $130 billion this year to over $200 billion by 2013 (excluding travel). In North America, Amazon is the 800-pound gorilla in the B2C arena – by very, very far. Centros de Estudos e Conhecimento — E-Consulting. Centro de Conhecimento e Inovação para Negócios, o SRC (Strategy Research Center) é um think tank de estudos estratégicos e análise de mercados focado em pesquisa, formulação conceitual e proposição metodológica. Seu papel é auxiliar as empresas, governos, organizações, academia, imprensa e profissionais a melhor perceberem, entenderem e decidirem a partir das estruturas, lógicas, indicadores e tendências dos diversos mercados e indústrias, assim como adquirirem competências, expertises, formação e conhecimento sobre a evolução das práticas de gestão e das práticas digitais.
O SRC está estruturado em 3 grupos de conhecimento, práticas e monitoramento: Monetization for the Masses from PutACart, a Shopping Cart for t. Sometimes, all you need is a MySpace profile and a dream. And a shopping cart. For casual Internet users who are all over the social web but don't have the knowledge, resources, or desire to set up and market full online storefronts, there's PutACart, which democratizes the long tail of e-commerce, allowing users to peddle their wares from a plethora of the most popular social destinations online. The PutACart setup is simple. ToldYa's Social Media Storefronts: Sell on Facebook, MySpace and. Social Media Marketing: Sears and Kmart Step It Up. The New Social Engagement: A Visit to Zappos. Publications Online Ratings, Recommendations and Reviews Influen. Online Ad Preferences Vary by Age; Discounts Appeal to Everyone. Survey: More than a pretty face. TurnTo On Trusted References For SNC 012309. Retailers Take Note: Video Sells!
Ecommr: a collection of e-commerce interface and design elements.
---