Corporate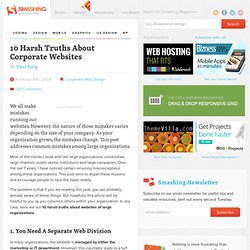 Advertisement We all make mistakes running our websites. However, the nature of those mistakes varies depending on the size of your company. As your organization grows, the mistakes change. This post addresses common mistakes among large organizations. Most of the clients I work with are large organizations: universities, large charities, public sector institutions and large companies.
10 Harsh Truths About Corporate Websites | How-To | Smashing Mag
Tech firms turn to social media to reach consumers | Technology
SAN FRANCISCO (Reuters) - Recognizing the limits of traditional advertising, established technology companies are diving headlong into the sometimes chaotic landscape of social media to promote their products. Companies ranging from PC maker Dell Inc to storage equipment maker NetApp Inc are increasingly turning to outside blogs, viral videos and websites such as FaceBook, Twitter, FriendFeed and Digg -- and their tens of millions of users -- to reach consumers. These social networking sites harness the age-old power of the word-of-mouth recommendation and can be potent marketing tools.