content
Get flash to fully experience Pearltrees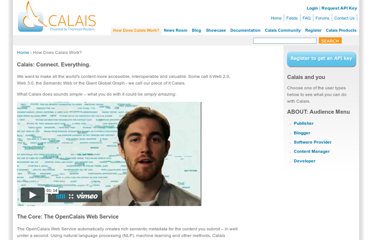 Calais: Connect. Everything. We want to make all the world's content more accessible, interoperable and valuable. Some call it Web 2.0, Web 3.0, the Semantic Web or the Giant Global Graph - we call our piece of it Calais.
Fred Davis is a senior partner at the entertainment law firm Davis Shapiro Lewit and Hayes Throughout this country, throughout the world, in conference room after conference room and boardroom after boardroom, executives of content companies are analyzing data that shows the dwindling numbers associated with owning content. For the recent generation, this has been mostly reflected in CD and DVD sales. More recently, iTunes downloads have been added to the analysis.
It's difficult to find much value in content with no strategy behind it. Without a content strategy plan, your intended audience is unlikely to find your copy, let alone read it. During the MIMA Summit last week, the importance of a content marketing strategy was the topic of a session presented by Rachel Lovinger of Razorfish. For this week's 5 Tips post, I've translated some of Rachel's valuable points into actionable steps for creating an effective content marketing strategy. 1. Discover In a nutshell, do your homework:
One of the great trends were seeing at ITSMA is increased automation of the lead process. It's great because the software acts as a battering ram for alignment between marketing and sales. But this trend has an unintended side effect: it exposes our content development processes (or lack thereof).
Google is developing a micropayment platform that will be "available to both Google and non-Google properties within the next year," according to a document the company submitted to the Newspaper Association of America. The system, an extension of Google Checkout , would be a new and unexpected option for the news industry as it considers how to charge for content online. The revelation comes in an eight-page response to the NAA's request for paid-content proposals, which it extended to several major technology companies and startups. It's surprising, given the newspaper industry's tenuous relationship with Google, that the company was involved at all. In the document, which you can download here , Google outlines its "vision of a premium content ecosystem" that includes subscriptions across multiple news sites, syndication on third-party sites, accessibility to search, and various payment options, including small fees for access to individual pieces of content (known as micropayments).