Tea
Magic Matcha: From Tea Leaf to Green Tea to You | Samovarlife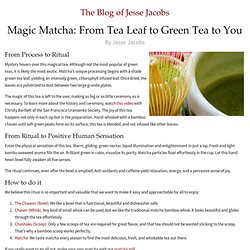 From Process to Ritual Mystery hovers over this magical tea. Although not the most popular of green teas, it is likely the most exotic. Matcha's unique processing begins with a shade grown tea leaf, yielding an intensely green, chlorophyll infused leaf. Once dried, the leaves are pulverized to dust between two large granite plates. The magic of this tea is left to the user, making as big or as little ceremony as is necessary.
Rishi Tea: Organic Fair Trade Tea
JAS-eTea.com is your friendly neighborhood online tea shop. We offer over 300 premium teas and quality tea-related products. Don't take our word for it; read our customer reviews.
Pu-erh Tea - Premium Chinese Teas - JAS eTea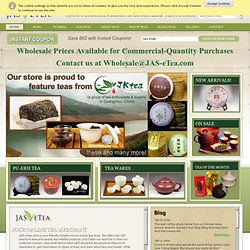 ::GENERATION TEA :: ONLINE STORE
Tea Finely Brewed
Experience the ritual of tea at our San Francisco Tea Lounges and Online Tea Shop
Numi Tea