Social Media stuff (pln, ple ...)
Facebook use 'makes people feel worse about themselves' 15 August 2013Last updated at 09:11 ET The study found people spent more time on Facebook when they were feeling lonely Using Facebook can reduce young adults' sense of well-being and satisfaction with life, a study has found.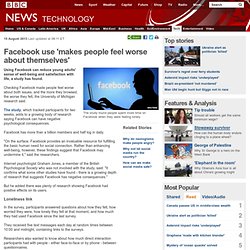 PLE Diagrams. How Can Teachers Prepare Kids for a Connected World? Educators are always striving to find ways to make curriculum relevant in students' everyday lives.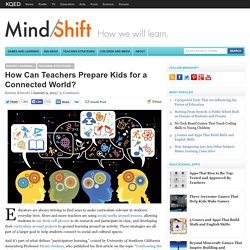 More and more teachers are using social media around lessons, allowing students to use their cell phones to do research and participate in class, and developing their curriculum around projects to ground learning around an activity. These strategies are all part of a larger goal to help students connect to social and cultural spaces. And it's part of what defines "participatory learning," coined by University of Southern California Annenberg Professor Henry Jenkins, who published his first article on the topic "Confronting the Challenges of Participatory Culture," in 2006. 50 Ways to Use Twitter in the Classroom. Many critics of Twitter believe that the 140-character microblog offered by the ubiquitous social network can do little for the education industry.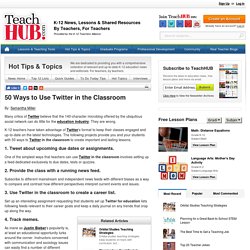 They are wrong. K-12 teachers have taken advantage of Twitter's format to keep their classes engaged and up-to-date on the latest technologies. The following projects provide you and your students with 50 ways to Twitter in the classroom to create important and lasting lessons. 1. Tweet about upcoming due dates or assignments. Curation - home. DML Hub. Connected Learning Infographic. An Educators Guide To Twitter. 20 Tips for Creating a Professional Learning Network. Networking is a prime form of 21st century learning.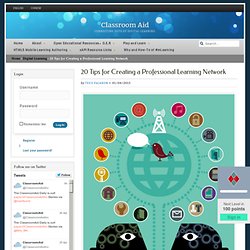 The world is much smaller thanks to technology. Learning is transforming into a globally collaborative enterprise. Take for example scientists; professional networks allow the scientific community to share discoveries much faster. Just this month, a tech news article showcased how Harvard scientists are considering that "sharing discoveries is more efficient and honorable than patenting them." Five-Minute Film Festival: Twitter in Education. I think it's fair to say that Twitter can no longer be dismissed as a trivial passing fad.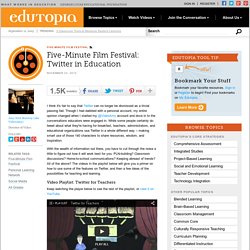 Though I had dabbled with a personal account, my entire opinion changed when I started my @VideoAmy account and dove in to the conversations educators were engaged in. While some people certainly do tweet about what they're having for breakfast, teachers, administrators, and educational organizations use Twitter in a whole different way -- making smart use of those 140 characters to share resources, wisdom, and inspiration.
With the wealth of information out there, you have to cut through the noise a little to figure out how it will work best for you. PLN-building? Our Guide to Twitter's Language. The beauty and challenge of Twitter is stuffing your most sophisticated thoughts and feelings into a measly 140 characters (or less).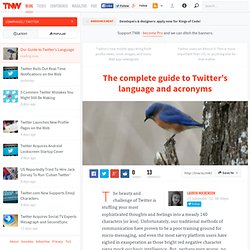 Unfortunately, our traditional methods of communication have proven to be a poor training ground for micro-messaging, and even the most savvy platform users have sighed in exasperation as those bright red negative character signs mock our basic intelligence. But, perhaps even worse, no good tweet is ever going to be 140 characters because it's impossible to share, respond or reference a tweet that's already at it's max. If you want to make a big statement with a small message, you have to trim the fat. Thankfully, a special subset of finite abbreviations and techniques have cropped up to help optimize your own Twitter lingo.
These handy snippets of language — some no more than a single symbol — have been instrumental in fostering more sophisticated sharing and discourse simply because they are small. Academia.edu. Videos you like. Social media news, strategy, tools, and techniques. Colleague Home Page. Maple. Classroom 2.0. Welcome, Michael! The 21st Century Teacher. The Educator's PLN - The personal learning network for educators. The Site for Books & Readers - Shelfari. Bumathman's Channel.
Welcome to Flickr! Mike Nantais (mnotta) on Pinterest. Tagboard.
---