Misc.
How It Works. Tour. Don't forget a thing Add a checklist to keep on top of all those little to-dos.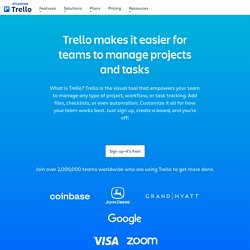 There's also a nice, big progress meter, because who doesn't love a nice, big progress meter? Your files, right where you need them Got a relevant file, image, or document? Attach it right to the card, and you'll never have to go scrambling through your inbox looking for it later. Bring your board to life Attach photos, drawings, sketches, and mockups to quickly illustrate ideas at a glance.
Life
Gapminder: Unveiling the beauty of statistics for a fact based world view. Terms of Service; Didn't Read. Edge.org. This Is Your Brain on the Internet: Syllabus, Contract, Schedule. Here is the full syllabus, schedule, and grading contract for this year's seminar, "This Is Your Brain on the Internet.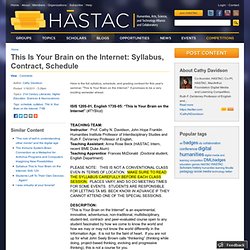 " It promises to be a very exciting semester ahead. ISIS 120S-01, English 173S-05: "This is Your Brain on the Internet" (#TYBIcd) TEACHING TEAM:Instructor: Prof. Cathy N. Davidson, John Hope Franklin Humanities Institute Professor of Interdisciplinary Studies and Ruth F. DeVarney Professor of English,Teaching Assistant: Anna Rose Beck (HASTAC Intern, recent BME Duke Alum)Teaching Apprentice: Frances McDonald (Doctoral student, English Department) PLEASE NOTE: THIS IS NOT A CONVENTIONAL CLASS EVEN IN TERMS OF LOCATION. 10 Awesome Music Videos Made Before MTV Existed.
---