Misc.
Update December 3/09: There has been much interest in this list so I have transferred this resource to a wiki. This post will remain, but I would be happy if others contributed to the wiki version found here. Thanks for your interest in media education. Over the past few years, I have been collecting interesting Internet videos that would be appropriate for lessons and presentations, or personal research, related to technological and media literacy. Here are 70+ videos organized into various sub-categories. These videos are of varying quality, cross several genres, and are of varied suitability for classroom use.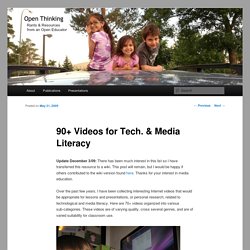 We are a user rights initiative to rate and label website terms & privacy policies, from very good Class A to very bad Class E. Terms of service are often too long to read, but it's important to understand what's in them. Your rights online depend on them. We hope that our ratings can help you get informed abour your rights.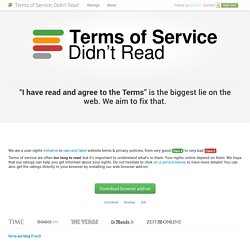 "Take a look. No matter who you are, you are bound to find something that will drive you crazy." —The New York Times, January 14, 2014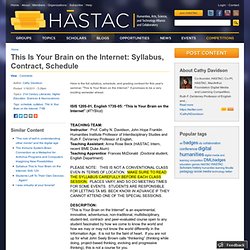 This Is Your Brain on the Internet: Syllabus, Contract, Schedule
Here is the full syllabus, schedule, and grading contract for this year's seminar, "This Is Your Brain on the Internet." It promises to be a very exciting semester ahead. ISIS 120S-01, English 173S-05: "This is Your Brain on the Internet" (#TYBIcd) TEACHING TEAM:Instructor: Prof. Cathy N. Davidson, John Hope Franklin Humanities Institute Professor of Interdisciplinary Studies and Ruth F. DeVarney Professor of English,Teaching Assistant: Anna Rose Beck (HASTAC Intern, recent BME Duke Alum)Teaching Apprentice: Frances McDonald (Doctoral student, English Department) PLEASE NOTE: THIS IS NOT A CONVENTIONAL CLASS EVEN IN TERMS OF LOCATION.
10 Awesome Music Videos Made Before MTV Existed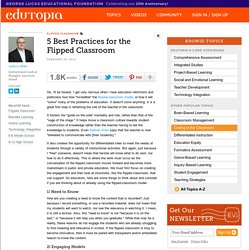 Ok, I'll be honest. I get very nervous when I hear education reformists and politicians tout how "incredible" the flipped classroom model, or how it will "solve" many of the problems of education. It doesn't solve anything. It is a great first step in reframing the role of the teacher in the classroom.
Related Quotes Science Statistics Learning Back to School If people do not believe that mathematics is simple, it is only because they do not realize how complicated life is. ~John Louis von Neumann
Math Quotes, Sayings about Mathematics