Articles & blog posts
Critical perspectives on Educational Technology. I was in Vancouver at AERA 2012 last week, where I had the opportunity to present some of my recent work and catch up with colleagues.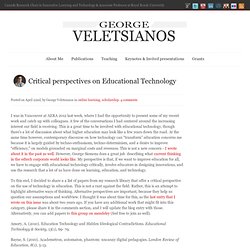 A few of the conversations I had centered around the increasing interest our field is receiving. This is a great time to be involved with educational technology, though there's a lot of discussion about what higher education may look like a few years down the road. At the same time however, contemporary discourse on how technology can "transform" education concerns me because it is largely guided by techno-enthusiasm, techno-determinism, and a desire to improve "efficiency," on models grounded on marginal costs and revenues. This is not a new concern - I wrote about it in the past as well. However, George Siemens does a great job describing what current thinking in the edtech corporate world looks like.
Frontload Your Lessons with Social Media. At a recent education conference I learned a simple yet powerful strategy…frontload your lessons with social media.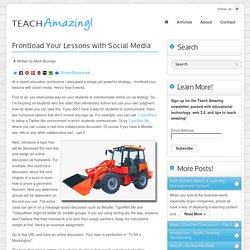 Here's how it works. First of all, you need some way for your students to communicate online (or via texting). Turning Students into Good Digital Citizens. 21st Century Literacy | In Print Turning Students into Good Digital Citizens Schools have always been charged with the task of producing good citizens.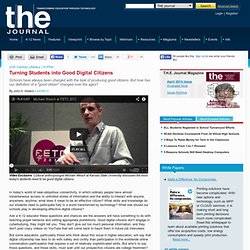 But how has our definition of a "good citizen" changed over the ages? By John K. Flipped learning: A response to five common criticisms. By Alan November and Brian Mull Read more by Contributor March 26th, 2012 One of the reasons this debate exists is because there is no true definition of what "flipped learning" is.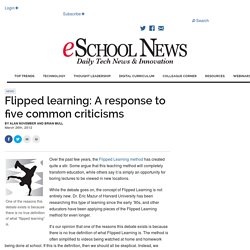 Over the past two years, the Flipped Learning method has created quite a stir. Some argue that this teaching method will completely transform education, while others say it is simply an opportunity for boring lectures to be viewed in new locations. Innovative Learning. Jane McGonigal shows how games make us resilient | Geek Gestalt. AUSTIN, Texas--If you want to lose weight or overcome the effects of asthma, Jane McGonigal thinks she has a solution you might not have considered: a game.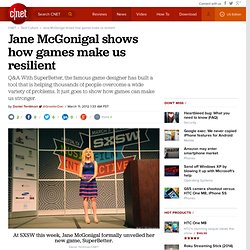 At the South by Southwest festival here this week, the world-famous game designer formally launched her latest project, SuperBetter, a project that is designed to help players attack any of a wide variety of personal challenges. It's not a quick fix. McGonigal and her team built the game with a sense of reality: nothing important happens overnight. But commit to taking on challenges, and a game like SuperBetter can help just about anyone tackle issues that have cowed them for years.
Digital Game-Based Learning: It's Not Just the Digital Natives Who Are Restless (EDUCAUSE Review. © 2006 Richard Van Eck EDUCAUSE Review, vol. 41, no. 2 (March/April 2006): 16–30.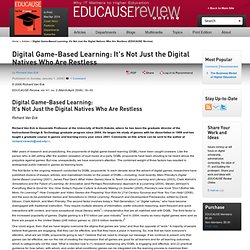 Richard Van Eck Richard Van Eck is Associate Professor at the University of North Dakota, where he has been the graduate director of the Instructional Design & Technology graduate program since 2004.
---