Designs
The Armada House. Overhead + Under Bed = Space-Saving Shelving & Storage. Saving space is not something we do for its own sake – in this case, a cutting-edge media room was the goal, and cleverly lofting and concealing of books, CDs and DVDs provided the floor space to make this dream den a reality.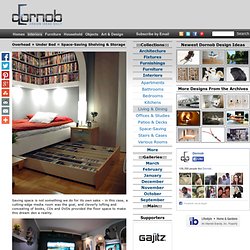 Johan wanted to use ever spare bit of wall surface for a larger television and smaller wall-mounted computer screen – no dressers and few shelves getting in the way, nor objects behind the couch to cramp the distance between seating and screens. Wrap-around shelving features thicker top and bottom borders, creating a dynamic series of stripes that animate and decorate the space – being pushed out from the wall, these in turn allow for under-shelf indirect lighting in addition to a central overhead light fixture.
Audiophiles and film fanatics may find this cozy corner nook to be of secondary concern, but its existence enables the rest of the open-plan redesign … and for those of us who like little lofts and interior hideaways, it looks like a lovely space to read. Awesome Above-Ground Outdoor Pool (10 pics) Who Doesn't Want To Live In This Dream House? Screw the 557sq m Central Park duplex, the $US100 million house in South Kensington or the 17th-century apartment with views to Notre Dame.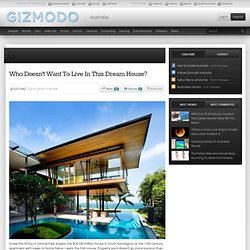 I want the Fish House. Property porn doesn't go more luscious than this. Tangga House by Guz Architects. By Eric • Mar 23, 2011 • Selected Work The Tangga House is another Singapore's dream home designed by Guz Architects.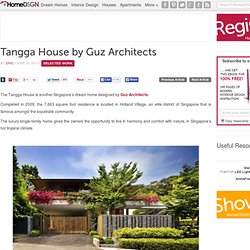 Completed in 2009, the 7,663 square foot residence is located in Holland Village, an elite district of Singapore that is famous amongst the expatriate community. 50 Useful Poster Designing Tutorials. 34 Cleverly Designed Inventions. HomePortfolio - Home Design, Home Design Ideas, and Home Design Products. My first project. Adobe Flash Player 10 or newer must be installed - Download the latest version here.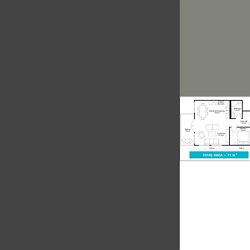 Create your floor plan before you complete any do-it-yourself home improvement. Get home design inspiration. 20 creative guerilla marketing campaigns. We are so overwhelmed with advertising everywhere that it becomes hard for creative agencies to make ads that stand out.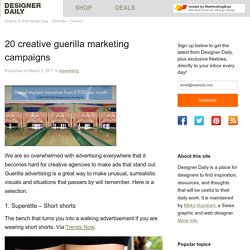 Guerilla advertising is a great way to make unusual, surrealistic visuals and situations that passers by will remember. Here is a selection. 1. Superette – Short shorts The bench that turns you into a walking advertisement if you are wearing short shorts. §. 25 Spectacular Business Card Designs. Cipher - Drinking glass. Psychic. | relogik.com. Project info Type:Personal, conceptField:Product designDate:Feb, 2009Phase:Concept, Visual prototypeShare: twitter facebook delicious digg stumbleupon friendfeed tumblr Awards / Publications:2009 - reddot design award winner 2009Info / Description:An empty glass resembles a meaningless colorful mosaic, until a liquid is poured into it, revealing its name.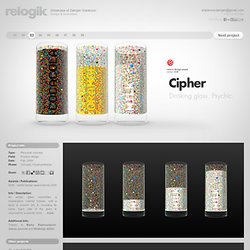 Each side of the glass is reserved for a specific drink. … moreThe Dekrypt glass though complex in appearance in fact runs on a very simple idea. Differently colored shapes are scattered across the glass surface in a seemingly random pattern, however their position is hardly accidental.
---