Contribuer à Fennec
Firefox | Firefox for Android | Download Firefox to your mobile device. A superior Web experience With high-performance, advanced cross-platform features and the latest in security, our top-rated browser offers an alternative to closed platforms, giving you the flexibility to design, distribute and charge as you see fit.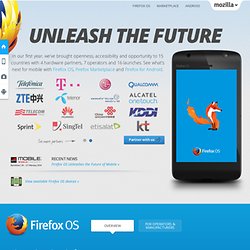 Learn more about partner opportunities. Strengthen customer relationships Create your own unique branded sections of Firefox for Android and Firefox Marketplace for a more engaging user experience and to increase the visibility of your brand. Create new value for both you and your users. Mobile. On Mobile devices there are essentially two initiatives Firefox Mobile and FirefoxOS.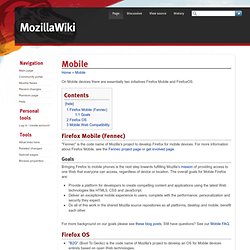 Firefox Mobile (Fennec) "Fennec" is the code name of Mozilla's project to develop Firefox for mobile devices. For more information about Firefox Mobile, see the Fennec project page or get involved page. Mobile/Fennec. MozillaWiki Navigation Personal tools.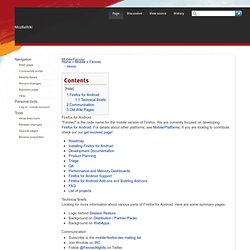 Mobile/Build.
---