Blogs ed and lib
Edubeacon
Happy Birthday Author
Amity Middle School-Bethany Book Blog
20 heroic librarians who save the world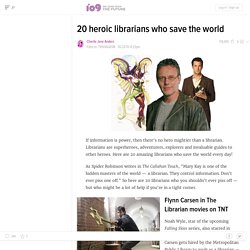 SExpand If information is power, then there's no hero mightier than a librarian. Librarians are superheroes, adventurers, explorers and invaluable guides to other heroes.
Musings of a Teacher Librarian and Puppeteer -
"Killing Librarianship" Keynote New England Library Association Annual Conference, Burlington, VT. Abstract: What might kill our profession is not ebooks, Amazon or Google, but a lack of imagination. We must envision a bright future for librarians and the communities they serve, then fight to make that vision a reality.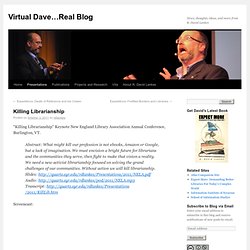 Killing Librarianship blog
8. Ask an expert. You pay a mechanic to service your car, even though you may be able to do it yourself. You can colour your own hair, but when you pay a hairdresser to do it the result is much better. There are experts in all areas whom you can pay for service or advice, and this includes experts on books and reading. But there is one difference: you can get advice on books and reading for free.
The reading rules | bigbookcase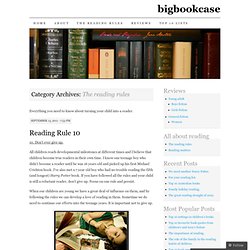 SCIS | Seven strategies to develop your advocacy toolkit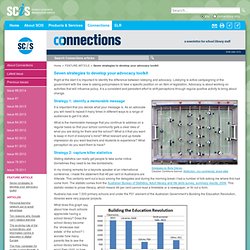 Right at the start it is important to identify the difference between lobbying and advocacy. Lobbying is active campaigning of the government with the view to asking policymakers to take a specific position on an item of legislation. Advocacy is about working on activities that will influence policy.
joycedownunder.wikispaces
springfieldlibrary.wikispaces
[[include page="zzstyle"]] [[image:data:image/png;base64,iVBORw0KGgoAAAANSUhEUgAAABAAAAAQCAYAAAAf8%2F9hAAAB30lEQVQ4EZVTSy8DURT%2BZjpm6GhL0pKQphYeCZF4hIVEWLDowsaCxMJC8AP8AMI%2FsBQWFhKPxMpGbIgFK6vWe0WoRVOPPihth3vmTm%2FTUuEs7r3zzfnO950zdySw6Nz6%2FKT9v3EyIknSX8idHiZSBRzcA1fP%2BTK%2FFiDiXBdQo%2BdI%2Fp00wklFALI4FRxm2oCl%2FnwypXS7E8gYGZH9YwFSHWvgOUehd0zsPYJ2CqcqI5lK8pdszXmxICIP1fGHueMXLAcS0BQNTW4bemqAu1gGhmElsy2vAKkWkl12F3RNR2UpJwUjKSisYDZEC44SYKqFw2SXlLNkQvuZ%2Bn3cwFkkzYppkCWeKwqQMhWhWAly26RMQV%2BhsQLYvXmHqqgwIMOwbo5ooa%2FWzDUXFxuUXmp5ZgjNhWLjIg67Wo50sRnwNGC%2Bx4mnwxQ%2BmMp0M7tEHjY8Zv%2BU9V%2FtUmG5N9OFg1CCJxJKn2p1IDcowm6jbHiygnaPzXRw%2FgRQF2IG69dAlCSLhNehYKpVx2Iv4PcBUuEQ6Y5P7mdMm1Qj%2BmFg8%2BoVg9thE%2FM6bBiu1zC%2B94a1ixSyv5%2B0cDmaJxtP6jh%2FaADtii0Nt%2BMR3sqQwJxlMXT4AswBp5lGCosU6eIbPNu0KX0BMmqe8Db%2Bbr8AAAAASUVORK5CYII%3D]]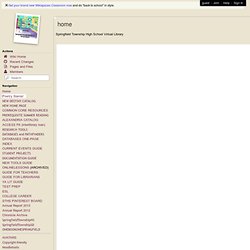 Introduction to fake websitesLibrarians and educators need to be able to illustrate to students and users alike that websites cannot always be trusted to provide truthful and accurate data. This page provides examples of websites that are full of lies, inaccuracies or false information - either for amusement or for more worrying reasons. The list does not include phishing sites however; these are intended to fool a person into believing that they are visiting a legitimate bank site for example; there are already plenty of links to these online already.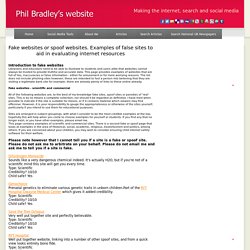 OZ Projects
VILLAGE SCHOOL LIBRARY ONLINE RESOURCES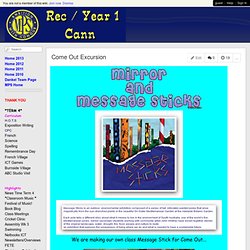 2011cann.marryatvilleps.wikispaces
You are not a member of this wiki. Join now Dismiss guest|Help|Sign In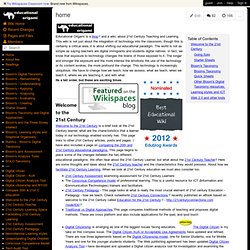 Educational Origami is a blog and a wiki, about 21st Century Teaching and Learning. This wiki is not just about the integration of technology into the classroom, though this is certainly a critical area, it is about shifting our educational paradigm. The world is not as simple as saying teachers are digital immigrants and students digital natives. In fact, we know that exposure to technology changes the brains of those exposed to it. The longer and stronger the exposure and the more intense the emotions the use of the technology or its content evokes, the more profound the change.
edorigami.wikispaces
Outstanding School Libraries
Linking for Learning - Home
Aberfoyle Park Campus Resource Centre
Teaching and Learning in the Digital Age
web 2.0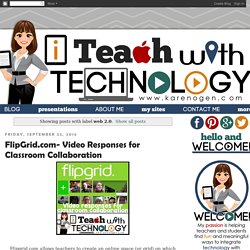 I was on Pinterest the other night just looking through classroom pins and, of course, many teachers were pinning ideas for the beginning of the school year. But what became apparent to me was that none of the ideas that I saw used any technology, but each idea could so easily be transformed into a technology-rich lesson. (Don't get me wrong- they are all GREAT lessons/ideas- I am just a Technology Integration Specialist- so looking for the tech- OK?)
Pathfinders or finding their own path?
You Are Never Alone - on posterous
I have never done a Best Books list, mainly because although I absolutely love to read these types of lists, I generally have a hard time choosing ten favorites from a given year. I read so much, but for me to put a book on a BEST list, it had better be damn good. And some years, as much as I read, I don't read ten great books.
Some Novel Ideas
Rhondda's Reflections – wandering around the Web
Children's Book Council of Australia