Tablet
PI Hardware/ Tablet, 12 modelli a confronto - Android 3.0. I primi tablet con sistema operativo Android 3.0 sono ormai alle porte.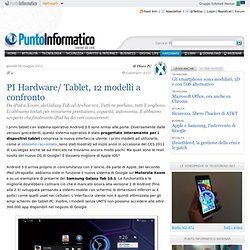 Diversamente dalle versioni precedenti, questo sistema operativo è stato progettato interamente per i dispositivi tablet compresa la nuova interfaccia utente. I primi modelli ad utilizzarlo, come vi abbiamo raccontato, sono stati mostrati ad inizio anno in occasione del CES 2011 di Las Vegas anche se sul mercato ne troviamo ancora molto pochi. The Google Chromebook Breaks Cover At I/O 2011, Hits Retailers June 15th. The Google Chromebook is here — for real, this time.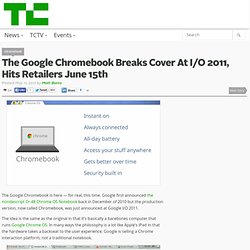 Google first announced the nondescript Cr-48 Chrome OS Notebook back in December of 2010 but the production version, now called Chromebook, was just announced at Google I/O 2011. The idea is the same as the original in that it's basically a barebones computer that runs Google Chrome OS. In many ways the philosophy is a lot like Apple's iPad in that the hardware takes a backseat to the user experience. Google is selling a Chrome interaction platform, not a traditional notebook. The hardware seems like a dream machine: built-in security, "all day battery", and multiple connectivity methods that keep the hardware always connected. 13 Alternative Ways to Consume Your News. How we consume the news has changed dramatically over the years.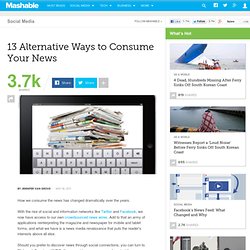 With the rise of social and information networks like Twitter and Facebook, we now have access to our own crowdsourced news wires. Add to that an army of applications reinterpreting the magazine and newspaper for mobile and tablet forms, and what we have is a news media renaissance that puts the reader's interests above all else. Apple iPad 2: 20 essential apps for your new iPad. Of Apple and Android: Running Scared. The smartphone space is turning into a textbook example of why patents not only do not promote innovation as their supporters claim so insistently (though never with any proof to corroborate that claim), but actively block the further development of a field.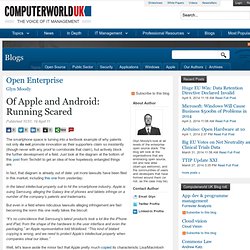 Just look at the diagram at the bottom of this post from Techdirt to get an idea of how hopelessly entangled things are. In fact, that diagram is already out of date: yet more lawsuits have been filed in this market, including this one from yesterday: In the latest intellectual property suit to hit the smartphone industry, Apple is suing Samsung, alleging the Galaxy line of phones and tablets infringe on a number of the company's patents and trademarks. The iPad 2 Rant. MartianCraft has a fair amount of Android work right now.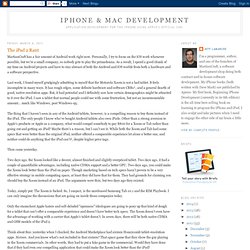 Personally, I try to focus on the iOS work whenever possible, but we're a small company, so nobody gets to play the primadonna. As a result, I spend a good chunk of my time on Android projects and have to stay abreast of both the Android and iOS worlds from both a hardware and a software perspective. Last week, I found myself grudgingly admitting to myself that the Motorola Xoom is not a bad tablet. It feels incomplete in many ways. First Impressions Using Android Honeycomb, Google's iPad Rival.
This morning Google held an event to showcase Android Honeycomb, the new version of the mobile OS that is focused on tablets.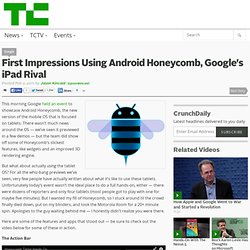 There wasn't much news around the OS — we've seen it previewed in a few demos — but the team did show off some of Honeycomb's slickest features, like widgets and an improved 3D rendering engine. But what about actually using the tablet OS? For all the whiz-bang previews we've seen, very few people have actually written about what it's like to use these tablets. Unfortunately today's event wasn't the ideal place to do a full hands-on, either — there were dozens of reporters and only four tablets (most people got to play with one for maybe five minutes).
But I wanted my fill of Honeycomb, so I stuck around til the crowd finally died down, put on my blinders, and took the Motorola Xoom for a 20+ minute spin.
---