Tablet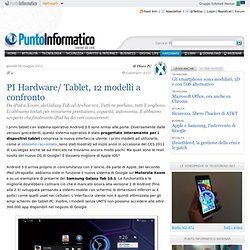 PI Hardware/ Tablet, 12 modelli a confronto - Android 3.0
I primi tablet con sistema operativo Android 3.0 sono ormai alle porte. Diversamente dalle versioni precedenti, questo sistema operativo è stato progettato interamente per i dispositivi tablet compresa la nuova interfaccia utente. I primi modelli ad utilizzarlo, come vi abbiamo raccontato, sono stati mostrati ad inizio anno in occasione del CES 2011 di Las Vegas anche se sul mercato ne troviamo ancora molto pochi.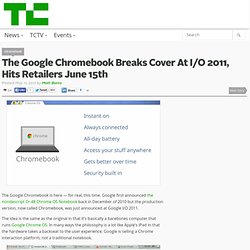 The Google Chromebook Breaks Cover At I/O 2011, Hits Retailers June 15th
The Google Chromebook is here — for real, this time. Google first announced the nondescript Cr-48 Chrome OS Notebook back in December of 2010 but the production version, now called Chromebook, was just announced at Google I/O 2011.
13 Alternative Ways to Consume Your News
How we consume the news has changed dramatically over the years. With the rise of social and information networks like Twitter and Facebook, we now have access to our own crowdsourced news wires. Add to that an army of applications reinterpreting the magazine and newspaper for mobile and tablet forms, and what we have is a news media renaissance that puts the reader's interests above all else.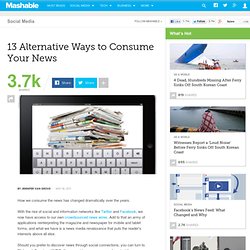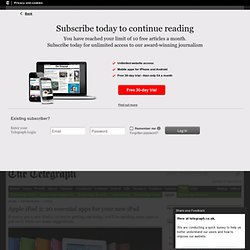 Jenga HDNatural Motion, 59p In addition to improved performance the iPad 2 contains a gyroscope. Jenga HD, the iPad version of the popular blocks game, shows that off.
Apple iPad 2: 20 essential apps for your new iPad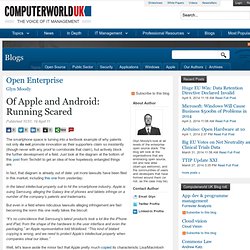 Of Apple and Android: Running Scared
The smartphone space is turning into a textbook example of why patents not only do not promote innovation as their supporters claim so insistently (though never with any proof to corroborate that claim), but actively block the further development of a field.
The iPad 2 Rant
MartianCraft has a fair amount of Android work right now.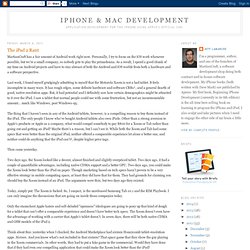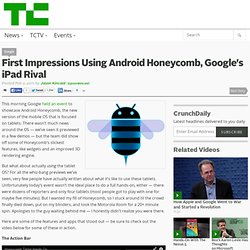 First Impressions Using Android Honeycomb, Google's iPad Rival
This morning Google held an event to showcase Android Honeycomb, the new version of the mobile OS that is focused on tablets. There wasn't much news around the OS — we've seen it previewed in a few demos — but the team did show off some of Honeycomb's slickest features, like widgets and an improved 3D rendering engine.