CSS
CSS Introduction. CSS in Action. 30 Most Popular CSS Websites of 2011 » Web Design » Design Festival. With 2011 done and gone, it is time to break out some reviews of what the year had to offer.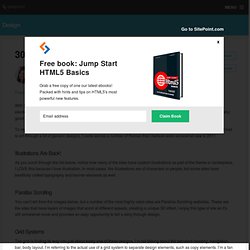 To pay homage to the 2012 election process, I thought it would be interesting to see the the difference between popular designs and (albeit subjectively) good designs – because we all know there's often very little correlation. To my surprise, the sites which allowed ranking of CSS designs did a good job of pushing solid design to the top. While I had to sift through a lot of generic designs, I came across a number of themes that I believe were somewhat new to 2011.
Illustrations Are Back! As you scroll through the list below, notice how many of the sites have custom illustrations as part of the theme or centerpiece. 50 Beautiful CSS-Based Web-Designs in 2006. Dynamic Page / Replacing Content. This article is an update to this old article, which had an ugly demo and a variety of techniques in it no longer probably considered good practices.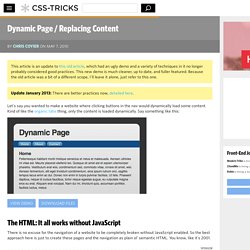 This new demo is much cleaner, up to date, and fuller featured. Because the old article was a bit of a different scope, I'll leave it alone, just refer to this one. Update January 2013: There are better practices now, detailed here. Let's say you wanted to make a website where clicking buttons in the nav would dynamically load some content.
---