Illegaal downloaden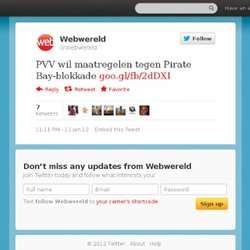 Webwereld: PVV wil maatregelen tegen
Have an account? Sign in New to Twitter? Join Today »
Have an account? Sign in New to Twitter? Join Today »
RTL Nieuws: Tweede Kamer ontkent illeg
Nederland Stemt: Nieuws Parool: PVV: vonnis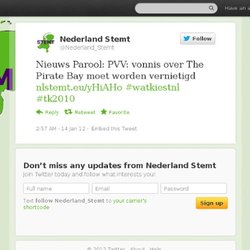 Have an account? Sign in New to Twitter? Join Today » Forgot password? Already using Twitter via text message? Language: English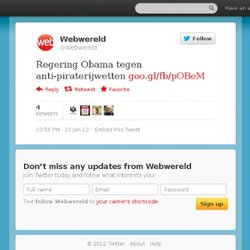 Have an account? Sign in New to Twitter? Join Today »
Webwereld: Regering Obama tegen anti-
Webwereld
Buma/Stemra: Buma is voor verbod illega
Have an account? Sign in New to Twitter? Join Today »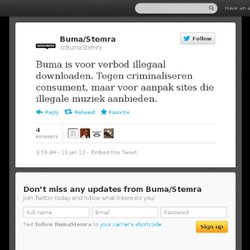 Buma/Stemra FOK!nieuws: Buma/Stemra beschuldigd va
Have an account? Sign in New to Twitter? Join Today »
Bestuurslid Buma/Stemra treedt terug 01-12-2011
'Machtsmisbruik bij Buma Stemra' 01-12-2011
Have an account? Sign in New to Twitter? Join Today » Forgot password? Already using Twitter via text message? Language: English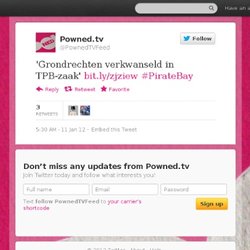 Powned.tv: 'Grondrechten verkwanseld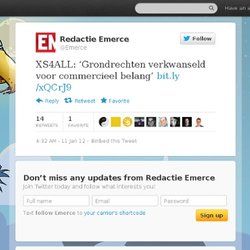 Have an account? Sign in New to Twitter? Join Today » Forgot password?
Redactie Emerce: XS4ALL: 'Grondrechten verk
Language: English Bahasa Indonesia Bahasa Melayu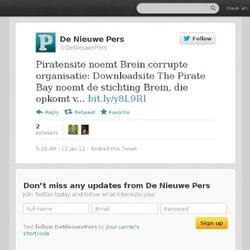 De_Pers: Piratensite noemt Brein co
Have an account? Sign in New to Twitter? Join Today » Forgot password?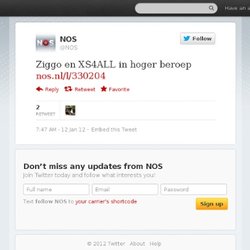 NOS: Ziggo en XS4ALL in hoger b
Webwereld: Aangifte tegen Brein om se
Have an account? Sign in New to Twitter? Join Today »
Have an account? Sign in New to Twitter? Join Today » Forgot password?
Webwereld: 5 missers in de Ziggo-zege
Spotify, gratis alternatief voor muziekpiraterij? « Jan Verkoyen
By Jan Verkoyen, on December 30th, 2011 Rijkelijk laat, maar vandaag toch maar eens uitgebreider tijd besteed aan de redding van de muziekindustrie? Spotify! Ik moet toegeven, ik nam altijd al een afwachtende houding aan en wel om twee redenen: ten eerste, mijn invite heb ik zo lang laten liggen totdat Spotify in falanx ten strijde trok met Facebook, ten tweede de afwezigheid van enkele van mijn favoriete bands waaronder AC/DC, Metallica, Prince, … Uiteraard een drogreden, want focussen op een aantal groepen en zich het gemak ontzeggen van een gigantische muziekcataloog waarin men anders nooit met zo'n eenvoudige klik kan grasduinen zegt alles. Met de private sessie in Spotify hoeft ook niet alles wat je beluistert naar Facebook gestuurd te worden.
Spotify
Spotify is een Zweeds bedrijf dat in 2006 is opgericht en dat muziek als stream aanbiedt.[1] Gebruikers kunnen uit een database van miljoenen nummers bepalen welke muziek ze willen beluisteren. Om opbrengsten te genereren wordt de uitzending door reclame onderbroken, maar tegen betaling is dit afkoopbaar. De dienst wordt gezien als alternatief voor iTunes.[2] Geschiedenis[bewerken]
LimeWire
Versies[bewerken] Het programma was beschikbaar in twee versies: een gratis basisversie.een uitgebreidere variant (PRO) die op commerciële basis werd aangeboden .
NieuwsTweeter: Woede om koppeling Spotify
Game over voor Ziggo en XS4ALL
Ban Illegale Games & Software
Torrent file
nieuwsfaal: Meest gedownloade games va
Webwereld: Pirate Bay ruilt torrents
Webwereld: Brein dreigt individuele u
Powned.tv: Pirate Bay geblokkeerd in
BREIN verbiedt The Pirate Bay - PowNews
Sluiting Pirate Bay in Nederland makkelijk te omzeilen
Blokkade Pirate Bay is bewijs minachting Politiek van Volk – alternatief is de Piratenpartij | Op zijn kop
'Pirate Bay-blokkade zinloos' - EditieNL - RTL.NL
Dossierdenhaag.nl - Internet-censuur treft Nederland
The Pirate Bay
XS4ALL Internet BV
Ziggo
Playstation Nieuws: #PS3 De meest illegaal ged
BREIN
Brein gaat u afsluiten
ThePirateBay Moet Blijven!!! Hyve - hyves.nl
Save the Piratebay
Goodbye Pirate Bay | Flickr : partage de photos !
90% vindt blokkeren Pirate Bay onterecht
Powned.tv: 'Rechter blundert in Pirat
Internet nieuws: Wie moet er bang zijn voor
Niels Huijbregts: Vonnis BREIN - XS4ALL bitt
Ziggo blokkeert Pirate Bay niet Hyve - hyves.nl
Ziggo en XS4All moeten The Pirate Bay blokkeren