Mens fashion
Men's fashion | Male clothing | Big and tall. Holiday Drop - Happy Socks. Men's Socks by Gina Karin. Men's Socks Click sock images for detail information Prince Charles iii offers: Socks, Men's Socks, Fun Socks, Striped Socks, Fancy Socks, Designer Socks, Socks made in Italy, Italian Socks, Vanise Socks, Chic Socks, Hippy Socks, Pretty Socks, Arrow Socks, Hound Socks, Net Socks, Polo Socks, Stairway Socks, Tic Tac Toe Socks, Red socks, orange socks, yellow socks, green socks, blue socks, navy sock, black socks, brown socks, white socks, plain socks, multi color socks, print socks, fashion socks, stripe socks, plaid socks, cool socks, bling socks, formal socks, unique socks, gina karin socks, prince charles iii socks Click Here for the official Prince Charles III Website.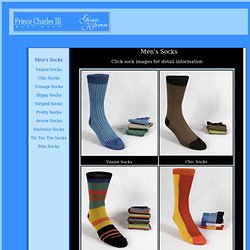 Men's Socks. Men | Featured | New Arrivals | Brooks Brothers. Collection An enthusiastic celebration of youthful preppy style with a more modern fit Gingham.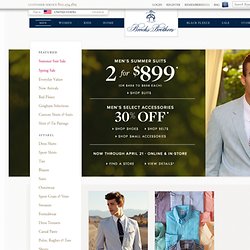 Brooks Brothers | Men's Clearance. Michael Kors - The official site and online store. Robert Barakett - Montreal Fashion Designer, Premium Quality Styles Collection Men's Fitness, Luxurious Fabrics, for the United States.
---