Musées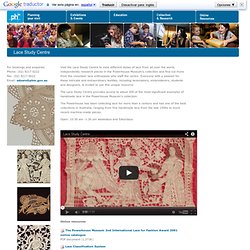 Visit the Lace Study Centre to view different styles of lace from all over the world, independently research pieces in the Powerhouse Museum's collection and find out more from the volunteer lace enthusiasts who staff the centre.
Powerhouse Museum | Lace Study Centre
Lacis
Documents administratifs et juridiques Arrêté du 25 mai 2004 fixant les normes techniques relatives à la tenue de l'inventaire, du registre des biens déposés dans un musée de France et au récolement (Fichier pdf) Note-circulaire du 19 juillet 2012 relative à la problématique des matériels d'étude et à la méthodologie préalable à l'affectation de ces biens aux collections des musées de France (Fichier pdf)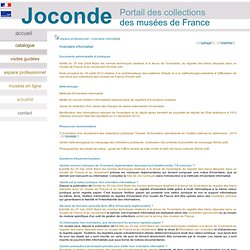 Joconde - espace professionnel - inventaire informatisé
Close Watch a video to find out. Register
Collections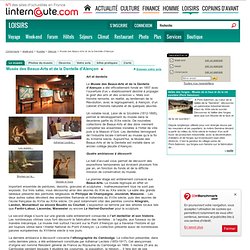 Art et dentelle Le Musée des Beaux-Arts et de la Dentelle d'Alençon a été officiellement fondé en 1857 avec l'ouverture d'un « établissement destiné à propager le goût des arts et des sciences » .
Musée des Beaux-Arts et de la Dentelle d'Alençon : avis concernant le musée
Blen
Centre d'exposition : L'Hôtel de la Dentelle
Musée des Manufactures de Dentelles / Médiathèque - Ville de Retournac (43)