Fils, toile, etc.
SH Plushies by alice-day on deviantART
The Textile Blog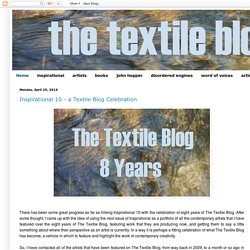 Illustration: Silk brocade from Regensburg, Germany, 12th century. People often think that pattern for decoration is either a random coming together of 'prettiness' or a jotting down of observations by the designer. While this may well be true of a certain amount of pattern work, in the history of decoration it can only be said to be a small part of the truth. Pattern has a much deeper root in our psyche, and has had a much more fundamental meaning to our various human cultures than we are often willing to admit.
Studio Tord Boontje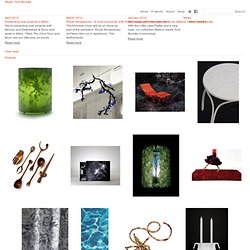 Studio Tord Boontje News April 2014 Presenting new projects in Milan We're presenting new projects with Moroso and Established & Sons next week in Milan.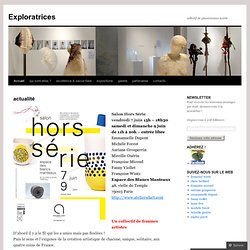 Salon Hors Sérievendredi 7 juin 15h – 18h30 samedi et dimanche 9 juin de 11h à 20h – entrée libre Emmanuelle Dupont Michèle Forest Auriane Grosperrin Mireille Guérin Françoise Micoud Fanny Viollet Françoise WintzEspace des Blancs Manteaux 48, vielle du Temple 75003 Parishttp://www.ateliersdart.com Un collectif de femmes artistes D'abord il y a le fil qui les a unies mais pas ficelées ! Puis le sens et l'exigence de la création artistique de chacune, unique, solitaire, aux quatre coins de France. Un collectif qui se construit avec lucidité, qui bouscule les codes, s'affranchit des techniques, invente, prend des risques. Quel que soit le matériau, c'est l'engagement artistique qui les passionne et auquel, à travers leurs créations, elles ont envie de répondre.
Exploratrices | collectif d'art textile
micheleforest | création textile
L'atelier de tapisserie d'Angers - Muriel Crochet
Actu & contact - Maïa Frey, plasticienne textile
Fanny Viollet
sophie guyot | objets textiles | parures & soieries contemporaines | atelier + boutique à Lyon depuis 2001
ID-Textiles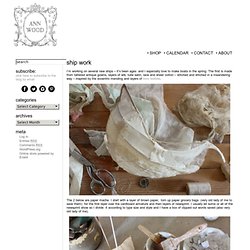 I'm working on several new ships – it's been ages and I especially love to make boats in the spring. The first is made from tattered antique gowns, layers of silk, tulle satin, lace and sheer cotton – stitched and stitched in a meandering way – inspired by the eccentric mending and layers of boro textiles. The 2 below are paper mache.
ann wood
Cécile Dachary
Avis d'Expo: "Les Ambulantes", expo-vente, Rennes, 22 et 23 Mars... Et voilà que se profile une nouvelle vente de créateurs: "Les ambulantes" "Péri'style", la boutique de créateurs n'étant plus, elle renait de ses cendres mais "hors les murs", sous forme "ambulante" et investie pour cette première édition un appartement vide en centre-ville de Rennes, Samedi 22 et dimanche 23 Mars....Donc tout bientôt! Le Bizou-Pointu et son crew de créations seront de la partie!!!
Bizou-Pointu
People at Work #1 « THIS IS NAIVE