Fils, toile, etc.
SH Plushies by alice-day on deviantART
The Textile Blog
Studio Tord Boontje
Exploratrices | collectif d'art textile
micheleforest | création textile
L'atelier de tapisserie d'Angers - Muriel Crochet
Actu & contact - Maïa Frey, plasticienne textile
Fanny Viollet
sophie guyot | objets textiles | parures & soieries contemporaines | atelier + boutique à Lyon depuis 2001
ID-Textiles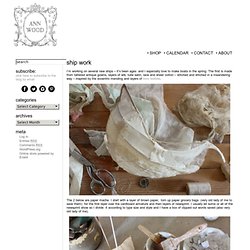 Wishing you a happy and merry new year, ann Abby Glassenberg makes wonderfully imaginative and incredibly well made toys and in her new book "Stuffed Animals: From Concept to construction" she shows you how to make them as well as how to create your own designs.
ann wood
Cécile Dachary
Bizou-Pointu
New year. New moon. New prescription with 24 herbs for flow and balance from Beijing Tong Ren Tang.
People at Work #1 « THIS IS NAIVE