Art etc.
Rebecca J Coles
'Stamps B' SOLD 700x700x90mm 'Weaver's Fritillary' Boloria dia SOLD 405x405x65mm 'Swallowtail 02' Papilo machaon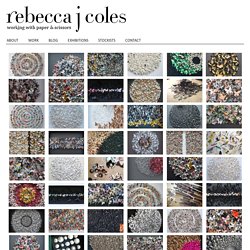 David Oliveira
Andreas Kocks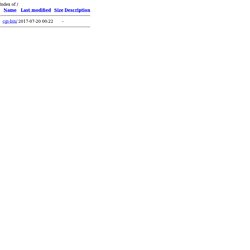 Vidéo : Process Par QRieuZ, Jeudi 16 janvier 2014 à 14:01 :: Animation «Process» est une vidéo réalisée par le studio Pluto basé à Birmingham et à Détroit. Alliant diverses techniques de réalisation et de post-production (3D, motion design, sound design…), «Process» traite de manière imagée des effets du processus de création sur l'homme.
Ateliers d'Art de France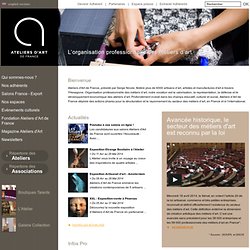 Bienvenue Ateliers d'Art de France, présidé par Serge Nicole, fédère plus de 6000 artisans d'art, artistes et manufactures d'art à travers l'Hexagone. Organisation professionnelle des métiers d'art, notre vocation est la valorisation, la représentation, la défense et le développement économique des ateliers d'art. Profondément investi dans les champs éducatif, culturel et social, Ateliers d'Art de France déploie des actions phares pour la structuration et le rayonnement du secteur des métiers d'art, en France et à l'international. Avancée historique, le secteur des métiers d'art est reconnu par la loi
Magda Sayeg - Knitta, Please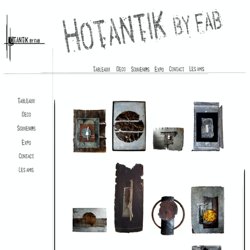 Hotantik by fab|création metallique
une artiste en acier trempé ou plutôt qui a trempé dans l'acier depuis son enfance puisqu'elle le dit elle-męme son grand père était féru dans ce domaine. Héritage ou pas, cercles de foudre ou de tonneau, cuves, bidons, citernes, pare-feu. Fabienne récupère et transforme. Elle tronçonne, découpe, boulonne, martèle, décape, ponce, polit, vernit, aplatit tord, écrase, plie et donne à tous ces vieux métaux une deuxième vie dans ses créations.
Accueil
Kathleen Dustin ...Exquisite Evening Bags become Wearable Art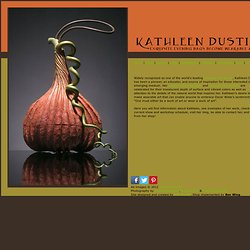 Widely recognized as one of the world's leading polymer clay artists, Kathleen Dustin has been a pioneer, an educator, and source of inspiration for those interested in this emerging medium. Her exquisite evening bags and polymer clay jewelry are celebrated for their translucent depth of surface and vibrant colors as well as attention to the details of the natural world that inspires her. Kathleen's desire is to make wearable art that can enable anyone to embrace Oscar Wilde's sentiment, "One must either be a work of art or wear a work of art". Here you will find information about Kathleen, see examples of her work, check her current show and workshop schedule, visit her blog, be able to contact her, and buy from her shop!
Ana HagopianI play with paper, cutting and sticking to create volumes and shapes. my source of inspiration is nature and its infinite creations, its limitless colours, its surprising textures. paper is contradictory, provocative and humble because it is ephemeral. using it as a material has its roots in the philosophy of arte povera, which restores the value of the idea, intuition, thought and the individual. when i'm creating my works, i unconsciously seek primal contact, the constant wonder of childhood, the magical vision that transforms the prosaic and everyday into something new and marvellous. my process is intuitive, through my hands i come into contact with the material, which guides me towards the final form.
Contemporary Jewelry by Ana Hagopian Barcelona Paper jewelry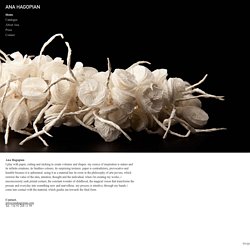 Emilia Forstreuter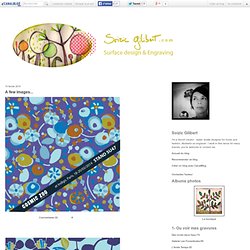 Calendrier 2014 Le calendrier 2014 est arrivé ! En format A4, à l'italienne, imprimé sur un papier couché 170g, relié par une pince à dessin et accrochable au mur. Il rassemble 12 nouvelles gravures. Il est vendu 18 € et pour 2 calendriers achetés je vous en offre un troisième ! (frais de port compris)
Soizic Gilibert
Albums photos de Louisa Boyd