Whoniverse
Accueil - The Doctor Who, Torchwood and Sarah Jane Adventures Image Archive
Home :: Contact :: Register :: Login Album list :: Last uploads :: Last comments :: Most viewed :: Top rated :: My Favorites :: By date :: Search Last updated albums
Vidéo Classic Doctor Who - Episode 114 - The keeper of Traken - Partie 1/4 VOSTFR de Navicule (Replay TV - Navicule
Premiére partie de la Trilogie de la regeneration du quatriéme Docteur, formée par The Keeper of Traken, Logopolis et Castrovalva. Le Docteur et Adric apprennent du trés vieux Gardien de Traken qu'un mal terrible est arrivé sur sa planéte, sous la forme d'un Melkur, une statue calcifié par la bonté ambiante et la force de Traken. Le Gardien de Traken, arrivant à la fin de son reigne et voyant ses forces se réduire, demande au Docteur d'empecher ce mal de prendre le controle de la Source, clé de voute de l'Union de Traken, civilisation la plus paisible de l'univers. Saison 18 - Quatriéme Docteur: Tom Baker.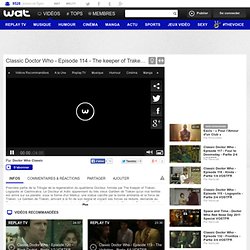 BBC - Doctor Who Adventures
Life, Doctor Who & Combom
Scotland! Well, sort of - "Tooth and Claw", obviously, is meant to be set there but was filmed entirely in Wales. While "Horror of Fang Rock" seems to be English (and was filmed in Birmingham, so about as far from an actual lighthouse as you could get), but the event that it's patterned after took place on the Scottish Flannan Isles.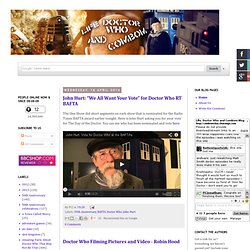 Life, Doctor Who & Combom: Doctor Who Series 5 and 6 Transcripts
Life, Doctor Who & Combom: Watch the Classic Series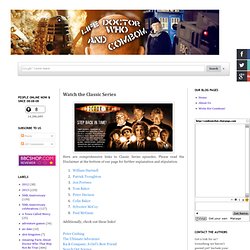 Any and all posts related to Doctor Who and the Whoniverse may contain spoilers at varying degrees. If you don't want to read spoilers, this blog is just NOT for you! We are not responsible for any spoilers you did not wish to read. Anyone is welcome to copy information and source posts from this blog, but a link to the original post—just as we do for others—is required. This means the full URL to the specific page referenced; our homepage is not the same as our post page. Nevertheless, please refrain from copying too many posts; copycat blogs just aren't clever or funny.
Filming began this week on Chris Chibnall's second story this series, which is set to be episode four and is currently titled "Cubed". The episode features Stephen Blything (pictured left) as Henry VIII in a story which sees the return of UNIT and also stars Law and Order UK's Jemma Redgrave (pictured right) as Kate. It's speculated that she might be playing one of Henry's wives, three of whom were called Catherine. In the story, a house is raided by...
Doctor Who Spoilers